WeChat
查看私信。
访问照片及视频。
获取二维码。
监控支出情况。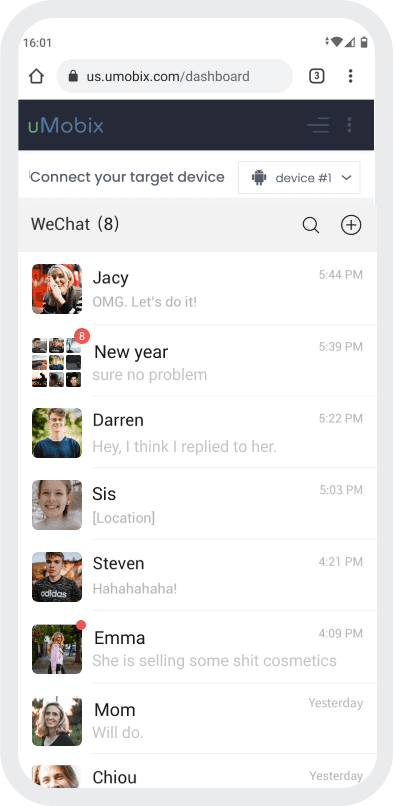 微信监控
微信可能是最大的多用途社交网络。
WeChat is used daily for messaging, buying goods, transferring money, ordering tickets, planning holidays, scanning QR codes, and much more. In fact, by monitoring WeChat, you can get insight into the user's whole life through this one application.
uMobix consolidates data and enables visualization regarding every action performed on WeChat. All the content posted by the user through WeChat Moments will be visible in your userspace. To start tracking the app, go to your userspace, tap 'WeChat.'All you can glean from this information is enough to learn everything about the target user's everyday activity.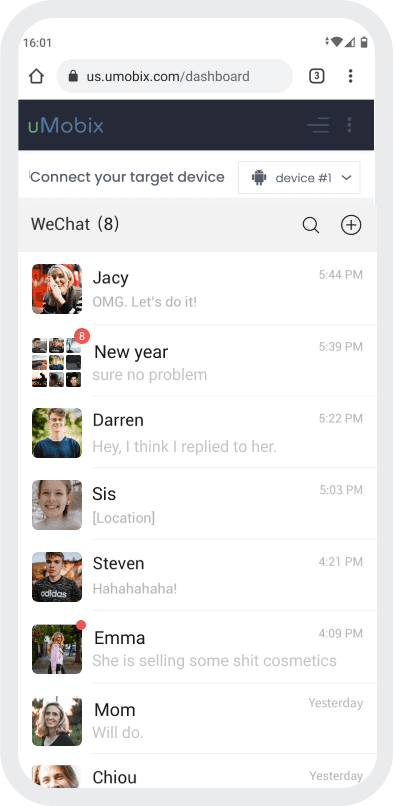 完成这三个简单的步骤就可以开始追踪了
注册

注册 选择合适的订阅方案。完成购买后,你将收到一封包含登录名及登录密码的电子邮件。

安装及设置

在目标安卓设备上安装uMobix,或者在帐号中提供目标iOS设备的iCloud信息。

监控

进入你的帐号后,等待我们发送的数据。祝你追踪顺利!
常见问题
如何监控微信私信?

选好了订阅方案之后,就可以开始注册。在你个人帐号你将看到有几个特殊的标签,每个标签都有自己的可视化显示。要开始跟踪微信,点击微信标签,等待数据可视化启动。这一部分将为你提供目标微信帐号的新鲜信息(每5分钟更新一次)。
可以查看已删除的消息吗?

uMobix会记录并保留所有的对话,包括已被用户删除的消息。
不安装软件就可以监控微信消息吗?

目前只有安卓设备的用户才可以安装我们应用。你需要在目标设备上安装uMobix,才能够远程监控。
Ready to begin?