WeChat
Read messages.
Access photos/videos.
Get QR Codes.
Monitor spendings.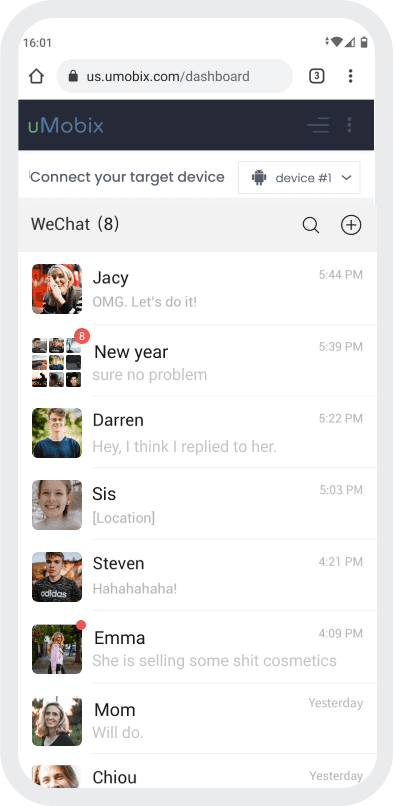 Monitor the "app for everything"
WeChat is probably the largest multipurpose social network that provides about every function you can think of. If you live in China, there is no way you can survive without WeChat.
WeChat is used daily for messaging, buying goods, transferring money, ordering tickets, planning holidays, scanning QR codes, and much more. In fact, by monitoring WeChat, you can get insight into the user's whole life through this one application.
uMobix consolidates data and enables visualization regarding every action performed on WeChat. All the content posted by the user through WeChat Moments will be visible in your userspace. To start tracking the app, go to your userspace, tap 'WeChat.'All you can glean from this information is enough to learn everything about the target user's everyday activity.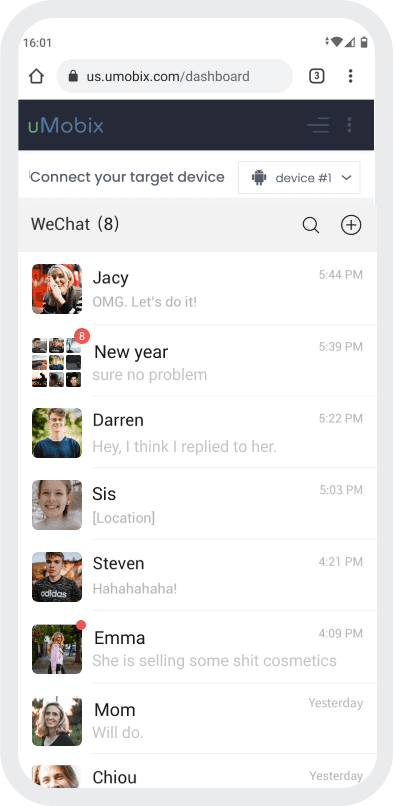 3 easy steps to start tracking
Register

Choose your subscription plan. Complete the purchase and receive the email with your login & password.

Install & Set up

Install uMobix on a target Android device, or provide iCloud credentials of a target iOS device in your user account.

Monitor

Go to your account and wait until we start sending data. Enjoy your tracking!
Frequently asked questions
How to track WeChat messages?

Once you've purchased your subscription, you proceed with the registration, log in to your userspace, and get acquainted with it. There are several tabs, each displaying its own visualization. To start tracking WeChat, tap on "WeChat" and wait until the data visualization is launched. This section will supply you with fresh-new information about what's going on in a target WeChat account (expect the data to be updated every 5 minutes).
Can I monitor deleted WeChat messages?

uMobix captures and retain all conversations. Even if the user deletes them, they are still displayed in your userspace.
Can I spy on WeChat messages without installing the software?

We offer WeChat tracking feature only for monitoring Android devices (so far). You'll need to physically install uMobix on a target device to be able to monitor it remotely.
Ready to begin?