Delete unwanted apps
Manage which apps your kid can use on their device.
Get remote access to any app on your kid's phone.
Delete any apps you find suspicious remotely.
Make your kid's smartphone safe and child-friendly.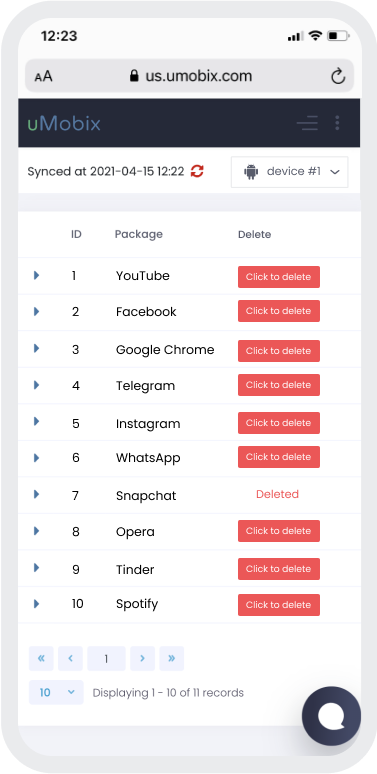 What is the delete unwanted apps feature for?
When you are searching for a perfect tool for parental control you want it to have all the possible features. uMobix team allows you to not only see every app that is installed on your kid's device, but you are also eligible to delete them when you want to. This is a feature that gives you permission to remove apps from android phone and even erase all apps. The unwanted app remover is available to you on two tabs. The first tab is responsible for all apps that are installed on your child's phone. You are free to decide about apps you should delete on your kid's device since all of them are relatively safe and harmless. The second tab is displaying any spyware or malware apps that appear on your kid's phone. While those apps can represent some threat, you can easily remove unwanted apps from android devices. This feature gives you a tool for managing your kid's device, by deleting apps from android and making their smartphone as safe and child-friendly as possible.The unwanted app remover from uMobix gives you the right to decide which apps can remain on your kid's device and which ones are better to delete.
Why do you need a tool to delete unwanted apps?
Your kid might be too young to detect if the app is good or bad. Or you want to postpone the moment when your kid starts to use certain apps. With the help of this feature you are eligible to decide for your kid which apps should not be installed and restrict unwanted apps installing without your permission. When you check which apps are installed on your child's smartphone you can see the name of tany app. If you see that not all of those apps are safe for your kid you can delete them right away from your kid's device. Deleting apps from android feature is a great tool for parents who want to keep their kid's environment safe even in the digital world. Ensuring your kid's safety is crucial, especially with the growing number of various apps. You cannot control every app your kid decides to download and use, but what you can do is to use uMobix software that allows you to delete any app that might hurt your child. uMobix unwanted apps remover is a perfect tool that gives you complete parental control over your kid's digital life and app usage.
How to delete unwanted apps?
If you want to detect any app on your kid's smartphone that you don't want your kid to use, you need to install uMobix software on their device. It will take you only a few steps and a couple of minutes to set everything up. Once you see that all the data from your kid's device is loaded on your usersace you can firstly review all the apps your kid uses. You found some unwanted apps and you may wonder how to remove unwanted apps from your kid's device. It is very easy to delete any apps, since uMobix dashboard is really user-friendly. As already said, there are two tabs where you can delete unwanted apps. In the first tab you will see all the safe apps, and if you want to delete, let's say, some social media app, you can click on delete app next to its name. In the second tab uMobix will display any spyware or malware app that was spotted on your kid's phone. You can also delete any of those apps right away by clicking just one button.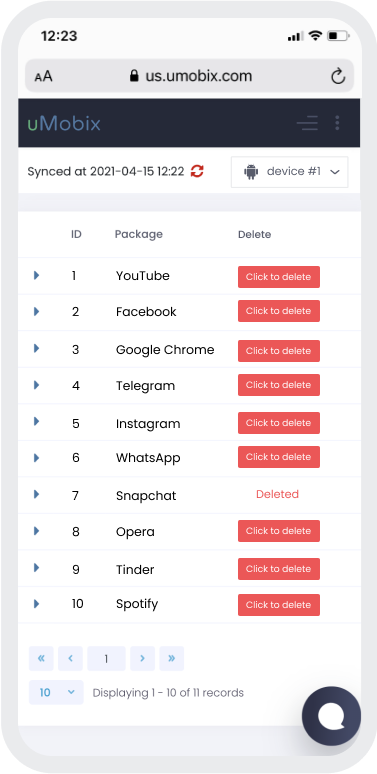 3 easy steps to start tracking
Register

Choose your subscription plan. Complete the purchase and receive the email with your login & password.

Install & Set up

Install uMobix on a target Android device, or provide iCloud credentials of a target iOS device in your user account.

Monitor

Go to your account and wait until we start sending data. Enjoy your tracking!
Frequently asked questions
How do I get rid of unknown apps on Android?

For this you need to go to the settings of your android device. Open the apps section and access the app you want to delete. There is also another way to find and delete unwanted apps. uMobix software will show you all the apps, including any spyware apps active on your android device and will let you delete them.
How do you uninstall an app that has no uninstall option?

Go to your phone settings, and open the security settings tab. Under the device administrators section you will see all the apps that have administrative rights enabled. When you switch them off you will now be able to uninstall them .Or you could use uMobix software to get full access to a device, including app deletion.
How do I stop unwanted apps from installing?

You need to go to the phone settings, open the security tab. Find there unknown sources and make sure you disable the allowed installation of apps from. This could be any unknown source. Additionally you can use uMobix software that will allow you to track and delete every unwanted app that appears on a tracked device.
Why are apps being downloaded without permission?

If you keep noticing any new apps that keep getting installed on your device with your permission, most likely this is a so-called rogue app that has some malware or tracking software hidden in it. Some tracking software like uMobix can help you detect such apps on your device and delete them right away.
Ready to begin?