GPS-Location
Determine your child's location in one second.

Keep an eye on your child during family trips.

Connect the target device in 5 minutes.

Track lost or stolen phone.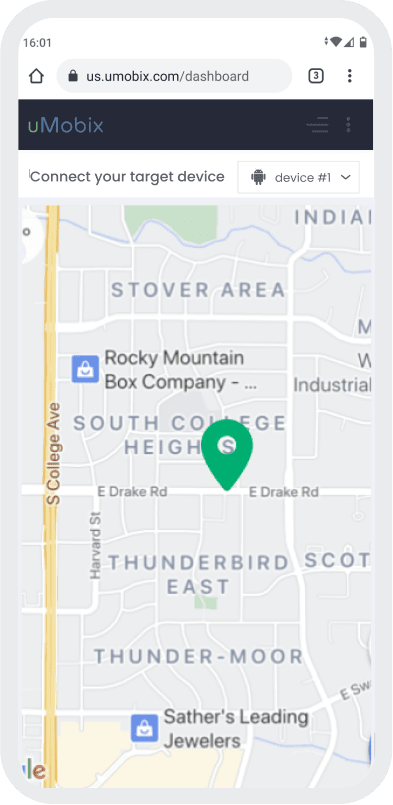 Watch your child from a distance
No more "Where have you been?" questions!
Pinpoint your kid's location from anywhere in just a few seconds. uMobix cell phone locator has multiple functions that you can utilize to ensure your kid's safety anytime. Whether they're going to school or hanging out with friends, uMobix can help to avoid any upcoming dangers to a great extent.
To start using the cell phone locator, open the "GPS Location" tab. There you can see your kid's exact location specified by the latitude and longitude coordinates. The list also represents places that your child visited in the past. By clicking on the "Map view", you can launch Google Maps and track a particular location on it. Use the map zoom controls to see a closer view of the place. If you want to get some more insights into your kid's whereabouts, go to your Dashboard at the top of the navigation menu > Locations > Last visited places. Get a highlight of your kid's recent activity.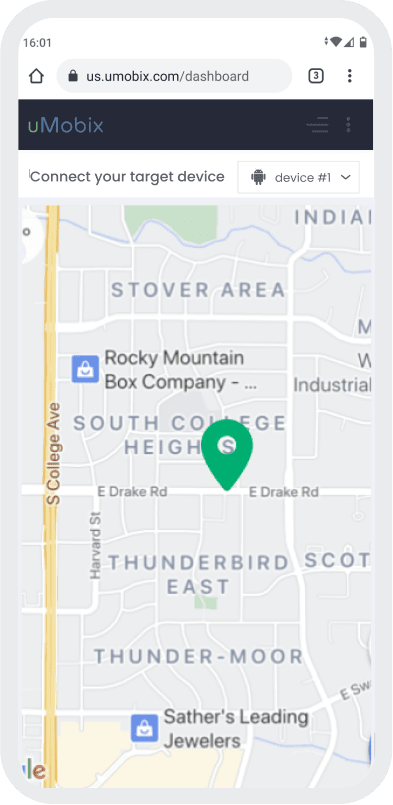 3 easy steps to start tracking
Register

Choose your subscription plan. Complete the purchase and receive the email with your login & password.

Install & Set up

Install uMobix on a target Android device, or provide iCloud credentials of a target iOS device in your user account.

Monitor

Go to your account and wait until we start sending data. Enjoy your tracking!
Frequently asked questions
How do I track a phone using GPS?

With the help of uMobix cell phone locator, you can locate the user on the map and view full location history. uMobix sends reports with details of each place their children have visited, along with the exact date and time.
How can I track someone's location?

The cell phone locator finds the exact GPS-coordinates of a user in a few seconds. It also records phone location history. This database of the places your child has been to is accessible from any browser on any device, including your desktop computer, iPhone, and Android devices.
Is GPS tracking your child illegal?

It is legal to track your children if you're the owner of the phone that is subjected to the uMobix software.
Can I track my child's phone without them knowing?

To start monitoring secretly, you'll have to install uMobix on a target Android device and configure the app in it. We'll be happy to help you if you need assistance at any step.
How can I find someone's location using their cell phone number?

No one can trace the GPS-location of a particular phone number, not even police. You can only locate the phone if it's connected to the Internet and has GPS turned on using Android device manager or iCloud in case of iPhones.
Can I ping a cell phone for location?

uMobix pinpoints user location, tracks location history, and transmits the concluded data to your userspace. You can access and view the device's current and past historical path, see the list of frequently visited places.
Do I need to install something on my kid's phone to track their location?

Yes, physical access to the target Android device is required. It takes up to 5 minutes to set up and configure the app.
Can I track the location of a cell phone for free?

Just like lunches, there are no free monitoring apps. Any software takes time and costs money to be developed. That's why if you've been offered to use a cell phone locator for free, — be sure, it's a scam.
How do I locate a phone number?

No one can trace the exact location of a phone by its phone number. Lawfully only the mobile provider is capable of doing such things under certain circumstances. The only method to locate the phone is to make sure it's connected to the Internet and has the GPS-location turned on.
Ready to begin?