Telegram
Check user information and contact info.
Catch content from chats.
View channels a target user is subscribed to.
Read secret chats.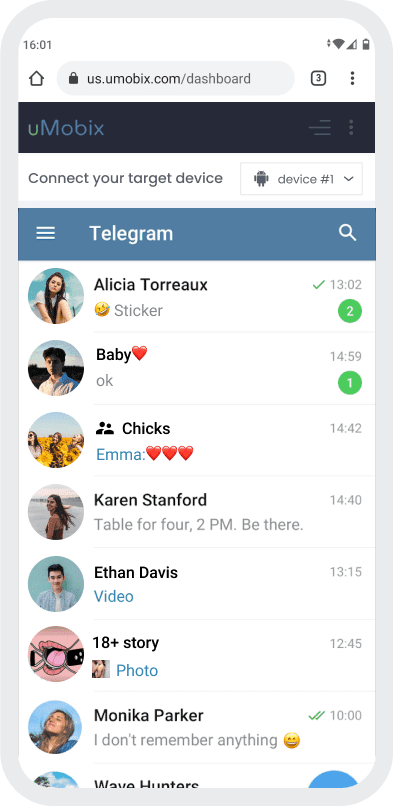 Gain insight into your child's Telegram activity
Due to its popularity and rich functionality, Telegram is widely used among teens. However, with features like end-to-end encryption or secret chats, the app became a fertile ground for criminal activity. It's not a secret.
uMobix helps parents pull the wealth of data to be aware of their children's Telegram activity — including their contacts, chats, channels, calls, locations, etc.
Unlike other monitoring apps, uMobix captures and delivers every activity performed on Telegram and does it every second. Due to this powerful feature, users are able to read even secret communications on target devices. To start tracking Telegram, log in, click on "Telegram" in the navigation menu. The section will reveal all information retrieved from target Telegram account.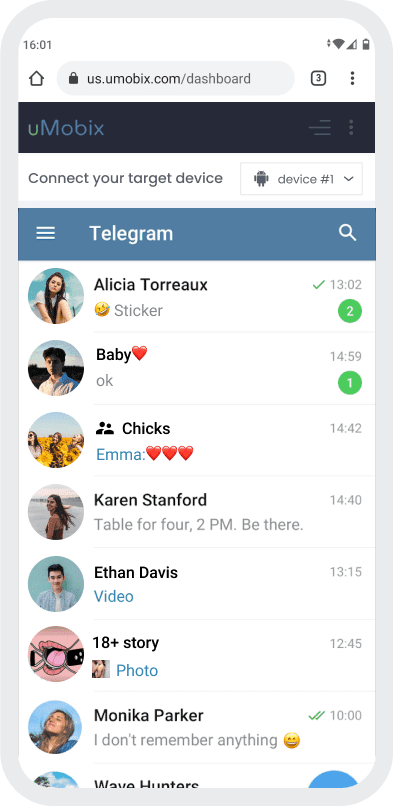 3 easy steps to start tracking
Register

Choose your subscription plan. Complete the purchase and receive the email with your login & password.

Install & Set up

Install uMobix on a target Android device, or provide iCloud credentials of a target iOS device in your user account.

Monitor

Go to your account and wait until we start sending data. Enjoy your tracking!
Frequently asked questions
Is Telegram safe for kids?

Telegram was created to ensure privacy, and turned out to be the ground for criminal activities, such as drug dealing. Given there is not efficient procedure to check the account's holder age, children can easily bypass registration and use the app. Our Telegram Spy App will help you to keep an ear to the ground and prevent major online dangers.
How to spy on someone else's Telegram messages?

Our Telegram Spy App is designed for convenient Telegram monitoring. Log in to your userspace, tap "Telegram" in the navigation menu on the left. The list of all Telegram activities will appear immediately. Check for the activities that interest you.
What information could I retrieve from Telegram?

uMobix Telegram Spy App provides important details, such as person's account information, contact names, list of phone calls, messages, chats, group chats, channels, files exchanged, location shared, etc.
Why would I want to track my child's Telegram?

Since Telegram is an open-source platform, parents should stay informed about any unknown member of chats or suspicious channels. Staying informed makes it easier to prevent dangers right on time.
Ready to begin?