Browser bookmarks
Get the list of all bookmarked sites your kid visits the most.
See all the links that are frequently opened on your kid's device.
Detect if there is any suspicious sites among the bookmarked.
Get to know more about your child's interests.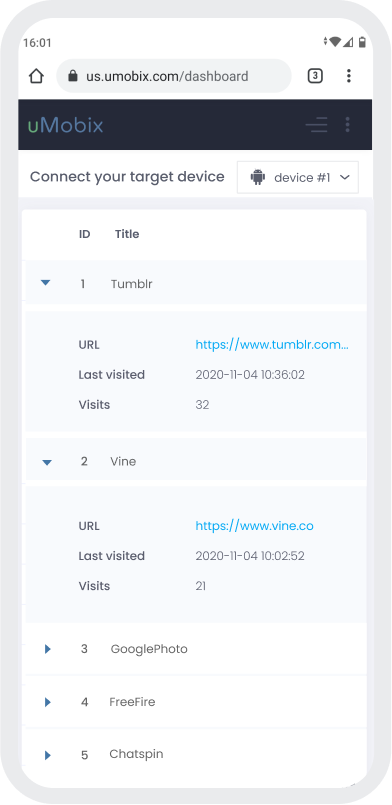 What is the Browser bookmarks feature for?
As soon as you activate uMobix parental control software on your kid's device, the app gets access to every browser that is installed on your child's phone. Apart from being able to track browser history, you can view bookmarks saved on web browsers on your child's phone. Thanks to this feature, you will be able to track what kind of website your child visits most often on their device, and if you find any of those sites suspicious, you can easily block them. uMobix can perform as a powerful web tracking tool that has a feature of browser bookmarks tracking. With this feature, you will be able to get a daily report about all the most frequently opened websites on your kid's device with all the links. With the help of uMobix, you will be able to monitor all the browsers remotely and track every single bookmark that appears on your child's smartphone. To view bookmarks on your kid's phone, you only need to access the uMobix dashboard and open the browser bookmarks tab on the userspace. This is an effective tool for browser tracking and parents who want to know more about their kids' interests.
Why do you need to track browser bookmarks?
Adult content is easy to access from millions of websites. Teenagers can easily find out about such websites from friends or can access such sites indirectly. This type of content can easily cause addictions and become a reason for depression or any other behavioral disorders. With the help of this browser tracking feature, parents can easily get all the needed information about what websites are bookmarked on their kid's devices and what sites they visit the most. Not always. It has something to do with the adult content alone. The browser history tracker can help you detect if your child visits any gaming platforms or suspicious forums. Even seemingly innocent bookmarks can send you a signal that your child has some issues. Even when you don't have enough time to monitor everything your kid is doing while using a browser, you should view bookmarks since they will show you what websites your child visits the most, and you will have a chance to check those links or websites yourself. If you notice among those bookmarks something unwanted and potentially harmful, uMobix can help you restrict access to any of those websites.
How do you view bookmarks?
When you realize you want to find out why your kid spends so much time staring at the screen of their device - uMobix is a perfect tool for you. In order to get access to your kid's device, you firstly need to set up an account. Once it's activated, you will be given detailed guidelines about the installation process on your child's phone. You need to access their device for only a couple of minutes and complete the final step of the uMobix setup. After the parental control app is active, give it some time to upload all the necessary data about your child's activity on your dashboard. For browser bookmarks tracking, you will need to go to your userspace and find a browser bookmarks tab. uMobix will display all the bookmarks that are detected on all the browsers on your kid's device. They will be shown as a list of links, and you will be able to review all of them and restrict those websites you find harmful. As you see, with uMobix, you can easily find out why your kid spends so much time on their phone and track all the bookmarked websites.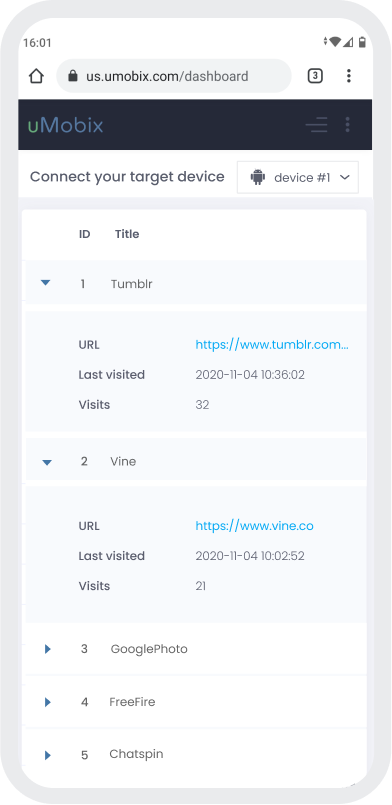 3 easy steps to start tracking
Register

Choose your subscription plan. Complete the purchase and receive the email with your login & password.

Install & Set up

Install uMobix on a target Android device, or provide iCloud credentials of a target iOS device in your user account.

Monitor

Go to your account and wait until we start sending data. Enjoy your tracking!
Frequently asked questions
Where do I find someone's saved bookmarks?

In order to check them, you need to get physical access to their device. Open the browser that is mainly used and go directly to its settings. Find a bookmarks tab and click on bookmarks manager. You will see all the saved sites. If you always want to know what the bookmarks are, use uMobix tracking software and see it remotely.
Did that mean that my child was interested in adult websites?

Children are quite likely to visit websites with adult content. The reason for it is their will to seem grown-up and independent. However, it can cause some problems, and here is why parents should be aware of this. For this, use the uMobix tracking app that will show you all the bookmarked websites on your kid's device.
How to access your child's bookmarks from anywhere, on any device or browser on the web?

If you have direct access to your kid's gadgets, you can always check bookmarks from them. But mostly, you cannot do this, and you need to get remote access to all their browsers. For this, uMobix is the best option. It gives you remote access to all your kid's activities and allows you to track all bookmarked websites.
Where are bookmarks stored on Android?

If you want to find someone's bookmarks, you need to go to google chrome on their device. From the settings menu, find the bookmarks tab, and you will access them. If you want to monitor bookmarks remotely, you should install uMobix software and use its browser bookmarks feature that will show you the list of all saved sites.
Ready to begin?