Restrict calls
Provide your kid with a safe and kid-friendly environment.
Don't let frauds or bullies reach your kid via phone calls.
Restrict calls to unwanted contacts in your kid's contact list.
Custom selection of restricted contacts.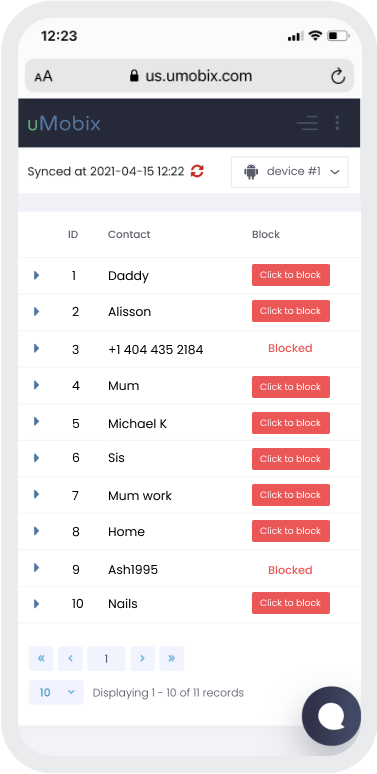 What can restrict calls feature do?
When you decide you want to use a parental control tool to monitor your kid's activities you need an effective tool that lets you protect your kid from outside threats. When you see that your kid receives a call from some unknown number, you can restrict phone calls from any number. You can easily block outgoing calls by clicking one button on your dashboard and make sure none of the unknown people can reach your child. uMobix is a software that allows you to not only monitor your kid's activities, but is also an app to block calls and messages. This feature allows you to restrict phone calls on your kid's smartphone and control who can reach your kid and who is restricted from contacting your child. So you could use uMobix as a so-called sms and call blocker and a monitoring tool to track every activity on your kid's device. With the help of this feature there is no chance a restricted phone number can reach your kid and potentially harm your child. Combine all the available features and make them into a powerful tool for ensuring your child's digital safety.
Why do you need to restrict phone calls?
Nowadays it's not hard to find out someone's phone number. Such databases are quite easy to purchase and can be used for various purposes. By accident your kid's phone number can end up being in such a database or can be simply found online and misused by frauds. With the help of uMobix software you will be able to control all the calling activity on your kid's device and restrict phone calls from any suspicious numbers. By monitoring with whom your kid talks, and seeing every communication attempt you can conclude who should be restricted from reaching your child. You have a powerful tool that gives you access to everything your kid is doing on their phone and manage those key activities. By using the restrict calls feature you can decide who can talk to your kid and who gets blocked. If you suspect that your child is in contact with an online predator or is being bullied by some unknown person you can always apply the restriction on calling for this number. Since your kid most likely is too young to decide who should be restricted, you can help your child and restrict those people who should not have a chance to reach your child.
How does the restrict calls feature work?
Before you can use uMobix parental control app you should first of all to install it on your kid's device. The installation process is very fast and easy. All you need is your own device and your kid's smartphone for only a couple of minutes. After you create your account you will need to follow the given guidelines and set up uMobix software on your kid's device. Once done, the system will need some time to start uploading the needed data on your dashboard. Once you detect a phone number that you want to restrict, you need to go to the call history tab and click the restrict button next to the phone number you want to block. If you are wondering how to block all incoming calls you only need to disable the whole device or better to restrict only certain numbers and leave yourself or other family members a chance to reach your child.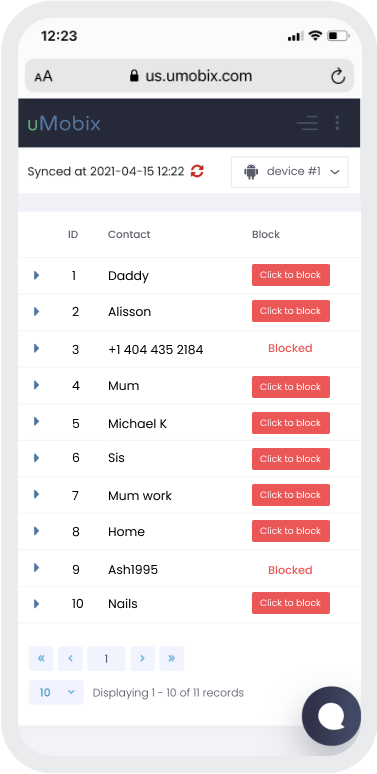 3 easy steps to start tracking
Register

Choose your subscription plan. Complete the purchase and receive the email with your login & password.

Install & Set up

Install uMobix on a target Android device, or provide iCloud credentials of a target iOS device in your user account.

Monitor

Go to your account and wait until we start sending data. Enjoy your tracking!
Frequently asked questions
How do I set an outgoing call limit?

You have two options for limiting calls. The first means applying the FDN mode on your or your kid's SIM card, which means whitelisting only a certain amount of numbers. The second option includes using parental control software, like uMobix and getting access to all the calling activity and restricting any phone number on a target device.
Is there an app to block outgoing calls?

There are multiple apps on the market that are allowing you to block outgoing calls. However, an app that has some extra functions, then only blocking calls will be way more useful. uMobix is a powerful tool that allows you to control and manage all the key activities, including monitoring call history and restricting incoming or outgoing calls.
Can I restrict my child from calling a number?

If you want to stop your kid from calling a certain number, uMobix software will help you here. With it's help you can easily monitor with whom your child keeps contact and restrict any number within one click on your dashboard. Additionally, you can monitor all the other activities and manage a lot of key functions of your kid's device.
How do you restrict all incoming calls that are not in contacts?

On most devices you can implement the needed setting directly on the device itself. If you want such settings to be active on your kid's device you need a tool that will allow you to do so. Otherwise, your kid can easily change these settings back. Use uMobix parental control app to control with whom your child talks on the phone.
Ready to begin?