Audio stream
Listen to the phone surroundings in stealth mode.
Use a phone speaker to hear what is happening to your kid.
Real-time access to what surrounds your child right now.
Make sure your kid is not offended by others at school.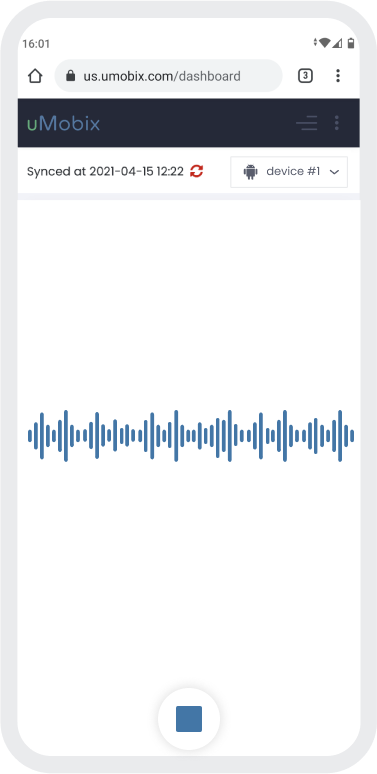 What does the audio stream feature mean?
If you have ever wondered if there is a tool that allows you to monitor everything your kid is doing on their phone and, on top of that, will enable you to listen to the phone surrounding, you came to the right place. uMobix can offer you a tool that allows you to remotely activate cell phone microphone and let you hear everything that surrounds your kid's device at the moment. This feature is a powerful tool for effective parental control that allows you to listen to phone surroundings. It was created for parents who want to know what surrounds their kids and if they get in any trouble while being outside. The audio stream feature shows you, with the help of a phone speaker, everything that is happening around your child at the moment. Anytime you want to know what your kid is doing, you can activate this feature and hear what your kid is up to in real-time. So, in this case, you can use uMobix to listen to conversations from a distance app. No matter where you are, you can always access your kid's surroundings and hear the same things your child hears.
Why do you need the audio stream feature?
The benefit of the audio stream feature is quite clear - it allows you to listen to phone surroundings and control your child's safety remotely. There is no need for you to be present where your kid is. If you want to know what they are doing, with whom they are talking, and what they are discussing - the audio stream feature will help you out. You can virtually be present with your child and make sure nothing threatens them. When you listen to phone surroundings, you can detect if your kid has contact with any bullies, frauds, or drug dealers. You even have a chance to find out how your child feels at school and if there are any problems you don't know about. The audio stream tool is a great assistant for effective parental control. The feature is activated within one click on your dashboard and allows you to hear what surrounds your kid's device right now instantly. Use this feature to ensure your child is safe and if they don't get in trouble while attending a school party.
How does the audio stream work?
You don't need any special skills to activate a cell phone microphone remotely. There are a few easy steps you need to do first. Create an account on uMobix and proceed to the software installation on your kid's device. This will take you only a couple of minutes, and the uMobix parental control app will be activated on your kid's device. To view your child's phone activities, you need to open the uMobix dashboard, where all the new logs will be displayed in chronological order. When you want to listen to phone surroundings, you only need to access your dashboard, find an audio stream tab, and turn it on. Once activated, you will hear in real-time everything that happens to your kid and will be able to detect any threat or bullying. With the combination of features you get with uMobix you get a powerful parental control app that gives you access to your child's surroundings with its audio and video streaming features. Even though you cannot save the recording for later, it's mostly enough to hear what your kid is up to in real-time.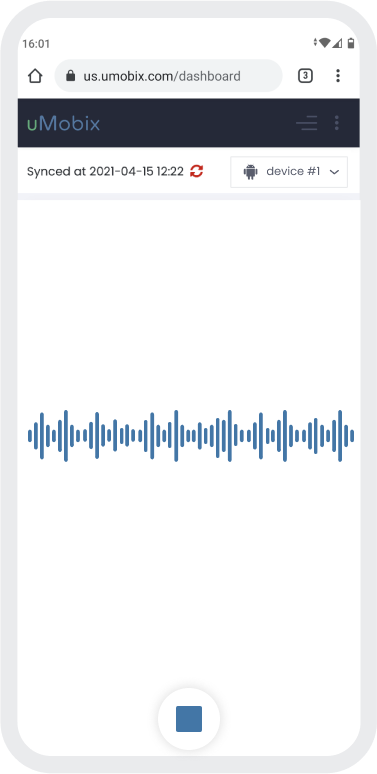 3 easy steps to start tracking
Register

Choose your subscription plan. Complete the purchase and receive the email with your login & password.

Install & Set up

Install uMobix on a target Android device, or provide iCloud credentials of a target iOS device in your user account.

Monitor

Go to your account and wait until we start sending data. Enjoy your tracking!
Frequently asked questions
Can a cell phone be used as a listening device?

You can easily activate a cell phone microphone remotely without even accessing the target device. To do this, you need to install tracking software on someone's device. With the help of this feature, you will be able to listen to your phone surroundings and use it whenever you want. Such software is easy to install and works in stealth mode.
Can someone hear you through your phone mic?

Yes, someone can get access to your phone's microphone and get a chance to hear everything around you. For these purposes, most likely a tracking software was installed. Such applications work in stealth mode and are hard to detect. With the help of these apps, someone can listen to your surroundings with you knowing it.
How to turn on an android microphone remotely? Is it possible with uMobix?

The first thing you need to do is to install uMobix software on a target device. It will take only a few minutes, and the software is ready to use. Since the app works in stealth mode, it is not detectable. When you need to turn on the android microphone remotely, you need to enable the audio stream feature through your dashboard.
How to listen to your child's conversations through walls? Is it legal?

From a legal standpoint, the most important question when recording calls is consent. As a general rule of thumb, it's polite to make sure that all parties involved in a conversation are aware that it's being recorded. However, in some states, only one person is required to know by law.
Ready to begin?