YouTube
Monitor all recently watched videos through the YouTube app.
Track search history and know what your kid wants to learn.
View every like or comment your kid leaves under any video.
Access every step they make while using the YouTube app.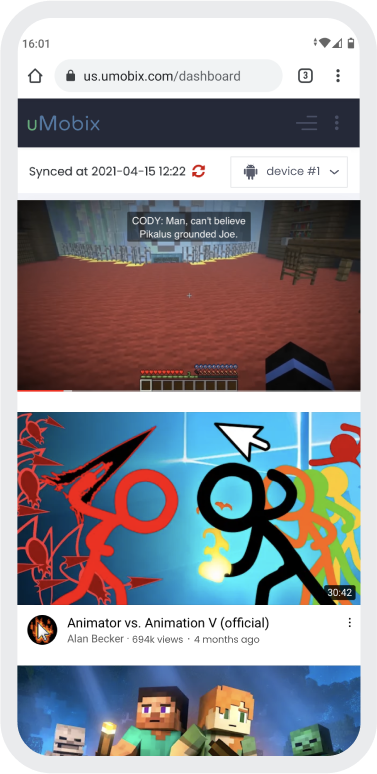 What is the YouTube control feature?
Modern kids belong to a so-called "digital native" generation. It means they were born in the era of technology. These kids know how to use a tablet while not yet talking. And this is a new usual way of life. Kids now have a different approach to information processing: they are more likely not to remember a fact but to remember where to find information about it. And for most of these kids, using YouTube is a routine now. Most likely, you know that the content on the YouTube platform is not always created for kids, and you still want to know how to monitor what your kid is watching there. The best way is to use a YouTube tracker. With the help of uMobix you will be able to track YouTube recently watched videos, see search history, and record likes and comments. This feature will allow you to track every step of your kid while using YouTube. uMobix team has developed this feature as an assistant to monitor YouTube activities and make sure your child doesn't watch any inappropriate content.
Why is monitoring YouTube important?
We all want to make sure that our kids' content on YouTube brings some value or educational benefit. But it's hardly possible to manage which content your child can watch. So what can you do to monitor the way your kid uses the YouTube platform? Installing the YouTube video view tracker can help you be aware of your child's every step on YouTube. It is created for those parents who want to know which content their kids view. You cannot always be next to your child and control every step, but what you can do - track YouTube activities remotely. If your child consumes some harmful or adult content on YouTube, you can always track it with the help of a scanning feature. uMobix will show you on your dashboard every viewed video, every like or comment, and every search history on your kid's device. The value of this feature is in its productivity - with the data update every 5 seconds, you will not miss any vital information. You will always be aware of what content your kid is watching on YouTube.
How can you track YouTube?
Since the age restriction on YouTube doesn't always work properly, you cannot completely trust the platform regarding recommended videos or search results. But what you can do - install uMobix YouTube tracker on your kid's device. Once the software is installed, you need to give the system a few minutes to upload the data. Afterward, you can go to your dashboard and open the YouTube section. As soon as your kid opens a YouTube app and starts watching it, you will see the added data every 5 seconds. The amount of information you can get with the help of this YouTube tracker is enormous. You will get access to the information about watched history on YouTube, all viewed videos, and all likes and comments. Based on the data you see, you can either talk to your kid and ask not to watch certain videos or restrict the app for some time. The content for kids on YouTube is not well regulated, so it means that accidentally your child can see some videos that can potentially harm your child. You cannot exclude the use of YouTube since it also has a lot of helpful content, but monitoring your kid is essential.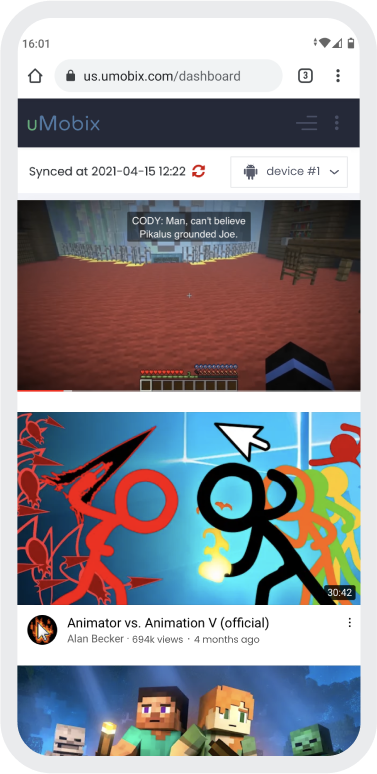 3 easy steps to start tracking
Register

Choose your subscription plan. Complete the purchase and receive the email with your login & password.

Install & Set up

Install uMobix on a target Android device, or provide iCloud credentials of a target iOS device in your user account.

Monitor

Go to your account and wait until we start sending data. Enjoy your tracking!
Frequently asked questions
Can I see what my child is watching on YouTube?

Yes, with the help of uMobix YouTube tracker, you can monitor what your child is watching on YouTube. Not only can you see what they watch, but also all the comments and likes left under any videos, as well as search history. All the data is available in user space and is updated every 5 seconds.
How can I restrict what my child watches on YouTube?

When you want to restrict your kid's content on YouTube, you can enable Restricted mode on YouTube through a browser. You can do it in your kid's account settings on all your kid's devices. Apart from allowing restricted mode, you can also install a YouTube tracker on your kid's device. uMobix will help to track every activity on your kid's phone.
Can you have a YouTube account under 13?

Officially, YouTube does not allow you to register an account for kids younger than 13. And between 13 to 17 years, you will need to have an account regulated by your parents. If you still decide to create an account for your kid, you should install a YouTube tracker on your kid's phone.
How do I change YouTube settings for kids?

Since you cannot create an account for your kid who is younger than 13, you can let your kid use YouTube with the help of Family Link. Your child will be able to see only a certain group of videos that fit the age category. If you don't want to use this method, you can use a YouTube tracker and monitor your kid's activity with uMobix.
Ready to begin?