Renamed contacts
Get notified every time your kid renames a contact.
Monitor all the changes in the contact list.
Find out if your kid has some problems in the personal life.
Track how renamed contacts were named before.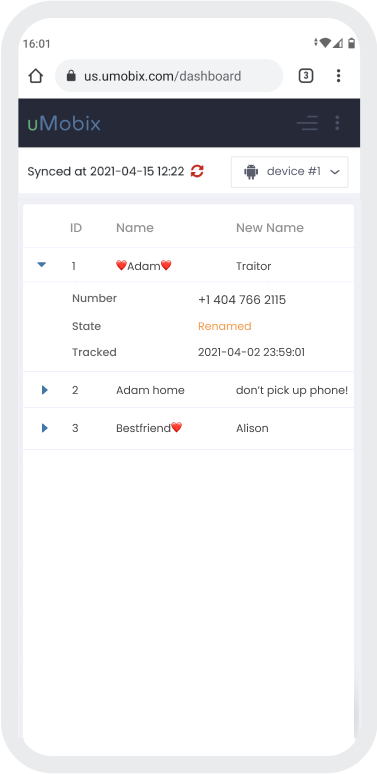 What does the renamed contacts feature mean?
When your kid gets a smartphone that belongs to them it's a big step for your kid's personal life. Your kid can have a whole life inside their phone, including some darker parts of it. The renamed contacts feature will help you track your kid's circle of surrounding people. When your child for some reason decides to make any changes from the contact book they will be displayed on your parental dashboard. Most likely your child renamed contacts for a reason, but you don't need to worry about it. With uMobix you have all the necessary tools to detect any changes in the contact book of your kid. The following feature is created to constantly monitor any changes in the contacts list, such as changes in the name or even a complete deletion of a phone number. There is no chance you will miss any of those changes, since all the new activities will be displayed on your uMobix dashboard. Renamed contacts can signal about any problem in your kid's life and uMobix is here to help you detect it on time and react in a proper way with supplying you all the needed information.
Why do you need to monitor renamed contacts?
Renamed contacts feature lets you know in what way your kid changed someone's name. Is your kid getting bullied at school? Or maybe your child is a bully and offends other kids. With the help of this feature you can get a hint about what is really happening in your kid's private life. The reason why your kid renamed contacts might be really different and even hard to guess. Here is why uMobix offers a comprehensive approach for effective parental control. With the combination of the right features it will be easy to give answers to all the questions you have about your kid's digital life. Even when you ask your kid an innocent question "What's my name in your phone?", they at first might be not confident with the answer, and then you see on your dashboard that your kid changed your name in their contact list. This might also tell you a lot about your child and help you determine on what level your relationship is with your child. uMobix tracking software will help you to know your kid better.
How do you use this feature?
To access the renamed contacts feature you need first of all to set up uMobix software on your child's phone. This won't take you long, since the installation process is easy and straightforward. There is no need for any additional skills. All the needed guidelines will be provided after you create your uMobix account. Your kid will not find out if there is any tracking software active on their device, since uMobix operates in stealth mode. To check if there are any renamed contacts on your kid's device you need to open the contact book tab. If uMobix detects a deleted contact among the existing ones, you will see it highlighted on your dashboard. You will be able to check how this contact was called previously, along with the current name and when the name was changed. This data will remain visible for you for the period of 90-180 days and will be accessible through your uMobix dashboard. With all the features available on uMobix, including a renamed contacts detector, the chance to miss some important information is extremely low.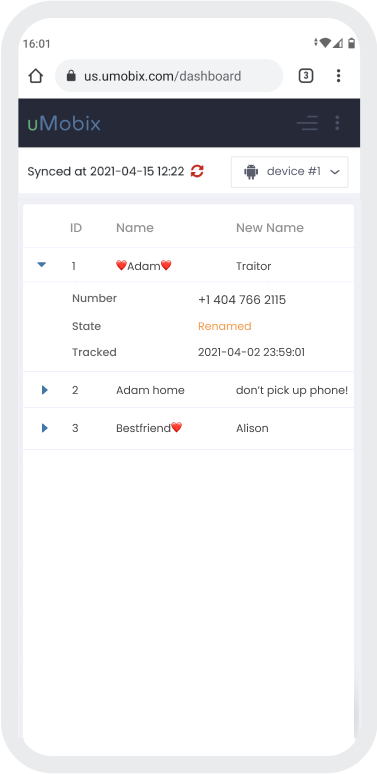 3 easy steps to start tracking
Register

Choose your subscription plan. Complete the purchase and receive the email with your login & password.

Install & Set up

Install uMobix on a target Android device, or provide iCloud credentials of a target iOS device in your user account.

Monitor

Go to your account and wait until we start sending data. Enjoy your tracking!
Frequently asked questions
Is it possible to know by which name someone has saved my phone number?

Unfortunately you cannot do this as long as you don't have direct access to the phone of this person. Such information is considered private, and is not accessible to the third party. However, in case you can install a tracking software, like uMobix, you will have access to the contact book, and detect any deleted contacts as well.
How to know if someone deleted your number on iphone?

It is quite hard to identify when someone deleted your number, since it's not the same as to get blocked. You can try to send this person a passage or give a call. If you cannot do this most likely you get either blocked or deleted from the contact list. It can also be that this person simply ignores your calls or messages.
How do I sort contacts by date added in Android?

You could try to sort them out if your contacts are synced with Google Contacts. If not, then it is quite hard to sort them like this, since such data is not usually stored. However, you could also try to use a tracking app, like uMobix. With this app you will be able to monitor the contact list and see the data when it was added.
How can I see when a contact was added to Android?

When you add a contact to your contact list your device most likely does not store the date of creation. And it is quite hard to list the contacts in a chronological order. The most effective way is to use a dedicated app, that monitors all the contacts, and saves information of when it was added.
Ready to begin?