Zoom
View zoom meetings.
Display meeting participants.
Read private messages.
Get data updated every 5 minutes.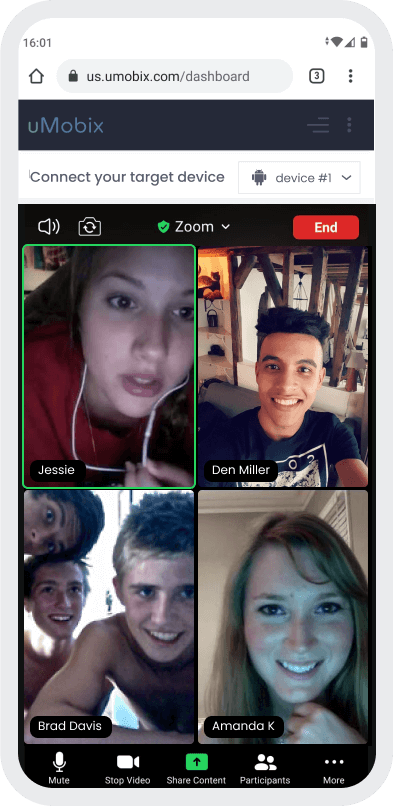 See who your child virtually meets
Zoom can be a treasure trove for finding out what your child is up to. Many teens are flocked to the app to communicate via video calls, launch conferences, and even plan remote parties. Because it's easy and free!


If you need to know what user is doing dropping into zoom calls, uMobix is ready to satisfy your interest. You can track video conferences, check is there any offensive material broadcasting, see people who joined the conference. uMobix captures screenshots of target activity every second and sends it to your userspace.


Track what's on the screen available to everyone else on the call, find out whether the user records calls or not, get timestamps of each conference. Quickly find contacts, messages, and files exchanged.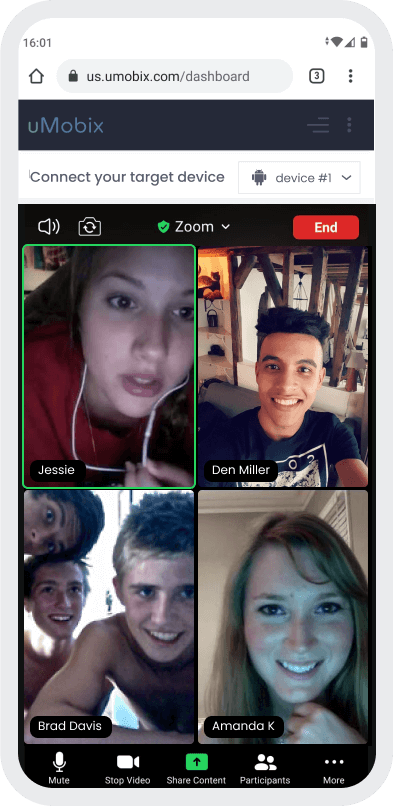 3 easy steps to start tracking
Register

Choose your subscription plan. Complete the purchase and receive the email with your login & password.

Install & Set up

Install uMobix on a target Android device, or provide iCloud credentials of a target iOS device in your user account.

Monitor

Go to your account and wait until we start sending data. Enjoy your tracking!
Frequently asked questions
Can I see private messages in Zoom?

uMobix Zoom Spy app captures every action performed on devices. You'll be able to see the entire conversation if needed.
Is my child using Zoom?

We don't know :) It depends on your child's age. Teens under the age of 16 cannot create a Zoom account, but basically anyone can join a meeting.
Can I see files shared via Zoom?

Because uMobix Zoom Spy app records every activity performed, you can track videos, documents or any other files that the user shares with other participants.
Is Zoom accessible from phones?

Zoom is accessed via laptops, tablets and mobile phones.
Why Zoom is so popular among teens?

Because it's free, easy, and fun. They can participate in conferences, change background image, reacting to what's being said with emojis. It's also very handy to play video online games.
Ready to begin?