Applications' time record
Manage your kid's screen time and application use.
Find out which apps are used the most and for how long.
Detect which apps your child prefers to use the most.
Analyze how much time your kid spends in one app.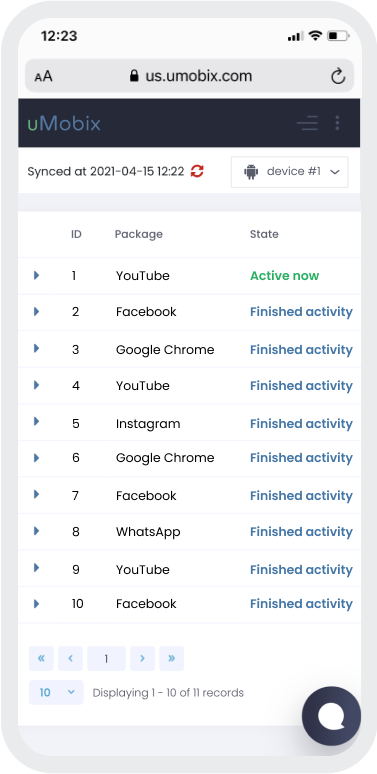 What is the applications' time record?
When you are looking for a tool that will help you monitor your kid's activities uMobix is a perfect choice. This is a feature that will provide you with an extensive amount of data about app usage performed on your child's phone. With the help of this phone usage app, you can manage how much time your child spends on their device. You will have a separate page on your dashboard where you will have a list of apps used recently. You will find information about when your kid launched any app, and when the user session was over.
Along with this, you can also check how long, in general, a certain app was used. uMobix team created this feature for those parents who want to monitor which apps their kids are using the most and how to prevent the development of phone addiction. When you know exactly which apps your kid uses the most, you can easily track if there is any risk of threat. Since you have access to all the key activities of your child, use this additional feature as an assistant in maintaining your kid's safety in a digital world.
How can it help you?
In modern society, gadgets became our go-to partners. We take them with us everywhere - while eating, showering, sleeping, working or studying. Our kids are not an exclusion. Children are more eager to develop an addiction to their gadgets at an early age since they cannot be fully responsible for their own actions. Knowing which apps they use and how long will manage to signalize you when overuse has come. As a parent, you want your kid to develop only healthy habits. This is why uMobix has a perfect tool to help you here. Use this feature as a phone time tracker. You can build real reports based on the given data and see if your child is overusing their device. With the help of this feature, you can find out which app is most attractive for your child whether they prefer playing games, watching youtube, or browsing on social media. Once you have a tracking app running on your kid's device, use this schedule of application use feature to track what your kid spends too much time on.
What is the way to use it?
When you need to check your kid's app usage habits, you only need to go to your dashboard. Find an application use tab, and review the data. There you will be able to check which app was used recently, when the user session has begun and when it was over, the estimation of time spent for one session. Based on this information, you will decide if it is too much or your kid doesn't overuse the gadget. If you find that your kid is playing games too much, you can also limit phone usage. The best way to use this feature is as a phone addict app. Knowing how much time your child spends using every app will tell you if it is close to getting addicted. uMobix will warn you if something goes wrong and will be capable of preventing any unwanted consequences. When you want to boost your kid's productivity and make sure their studies go well, use uMobix as an assistant. Be aware of how much and when your kid is using an app available on their device.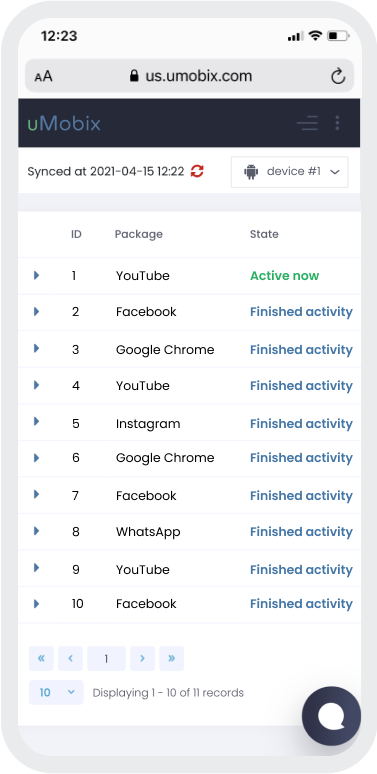 3 easy steps to start tracking
Register

Choose your subscription plan. Complete the purchase and receive the email with your login & password.

Install & Set up

Install uMobix on a target Android device, or provide iCloud credentials of a target iOS device in your user account.

Monitor

Go to your account and wait until we start sending data. Enjoy your tracking!
Frequently asked questions
How much time does the average person spend on their phone?

The average time a person spends looking at their screens is 5 hours a day. Yes, it seems a lot, but at the same time, our phones sometimes can replace our working tools now. If you want to be aware of how much your child spends on their device, use uMobix to monitor app activities and check if they might get addicted.
How to see recent activity on an android phone?

When you want to check your own activity, you will need to access the google account setting and find there an "activity and timeline" option. There you will find your activity organized by the date and time. If you want to track someone's activity, you should install uMobix and monitor which apps are used and when.
How much time have I spent on youtube?

If you want to check how much time you spent watching youtube, you need to go to the YouTube app. Find your profile icon and click "Time watched." On this page, you will see your daily average, today, and last seven days reports. You can also install a uMobix tracking software to monitor all app activity.
How to check how much data you have left android?

To check your mobile data usage, you need to open your phone settings. Find the "Network and Internet" option and click on mobile. Here you will be able to see how much data has been used already and how much data is still left. Or try to contact your provider to find it out.
Ready to begin?