Instagram
Get full access to Instagram account for iOS.
Track your kid's activities via screenshots for Androids.
Manage your child's account, restrict unwanted content.
Get information updated every 5 minutes.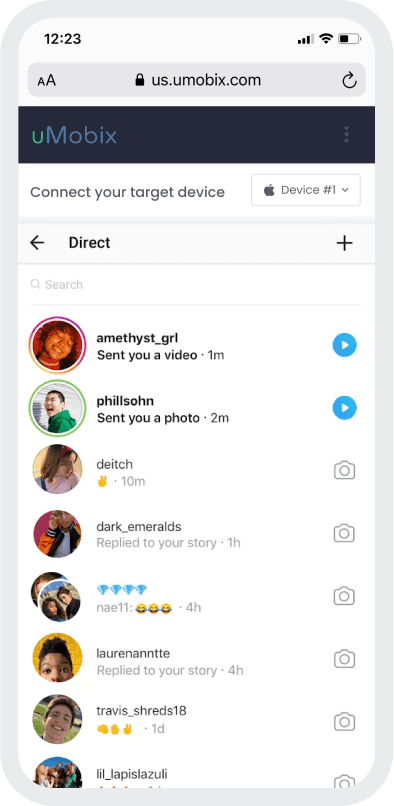 Full access to Instagram account
Instagram, as much as many other social platforms, harbors its unique capacity for harm. Unfortunately, it is one of the most popular platforms for bullying. Teens text things on Instagram that they would never contemplate saying into anyone's face in real life.
Despite us not being able to change the way it works, we have the capacity to spot the biggest dangers like kids ganging up on each other, or sending threatening messages, and stop it.
uMobix Instagram Spy App is your accountable friend in this endeavor. We're up to the task to help you detect inappropriate activities on Instagram and take measures right on time. For iOS devices, you'll receive FULL access to your child's account and will be able to navigate there freely as on your own. You will be able to block users, configure settings, unfollow inappropriate content. In other words, manage everything. For Androids, we present a unique feature of capturing every action taken on Instagram and reporting via screenshots.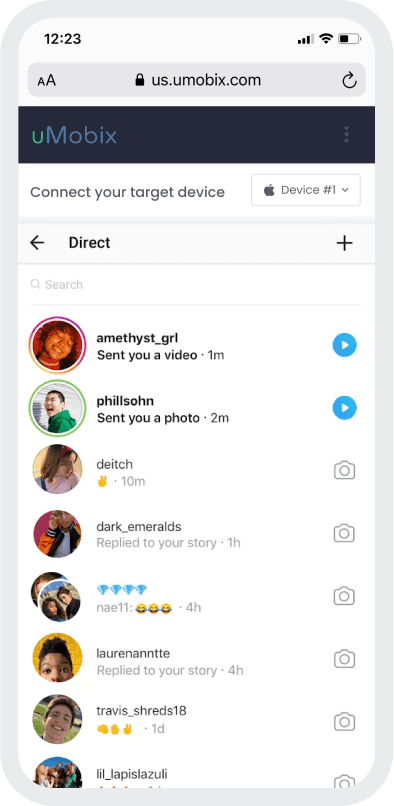 3 easy steps to start tracking
Register

Choose your subscription plan. Complete the purchase and receive the email with your login & password.

Install & Set up

Install uMobix on a target Android device, or provide iCloud credentials of a target iOS device in your user account.

Monitor

Go to your account and wait until we start sending data. Enjoy your tracking!
Frequently asked questions
Can I look through shared links and texts with uMobix instagram spy app?

Yes, you can see exactly what your kid is doing on Instagram, including shared links and texts with the help of Instagram Spy app.
How to spy on Instagram direct with uMobix Instagram tracker?

For iOS devices, we'll need you to provide iCloud ID and password to be able to link your child's device. Once it's done, you can open your userspace and wait for the data to start loading. For Android users, it is required to install uMobix Instagram Spy App on a child's device manually to be able to track all Instagram activities. The whole process is very fast & easy, besides, our support team is there to help you with any question.
How to view all sent and received texts and get access to my kid's Instagram Direct?

To start tracking Instagram Direct, go to the menu bar on the left of your userspace. Tap "Instagram" to view the list of messages sent or received through the Instagram direct..
How do I see what my child likes on Instagram?

uMobix Instagram Spy App is your way to track every activity on Instagram. If your child owns an Android, you'll get screenshots of activities every 5 minutes. Everything your child likes is captured and delivered to your userspace. For iOS devices (iPhones & iPads), you'll be able to log in to your child's account as your own.
Should I monitor my kid's Instagram?

Knowing what activities is your child engaged in on Instagram is not only a way to prevent real dangers; it gives parents an idea of how to provide a healthy counterpoint to Instagram addiction and how to help children develop healthy self-esteem. So, yes, keeping an ear to the ground is inevitable if you want to guard your child's online safety and well-being.
Ready to begin?