Spy apps detector
Detect if there any spyware or malware apps on your kid's phone.
Get notified if uMobix detects any spyware application.
Delete any spyware apps instantly from your dashboard.
No need to access your kid's device to protect their phone.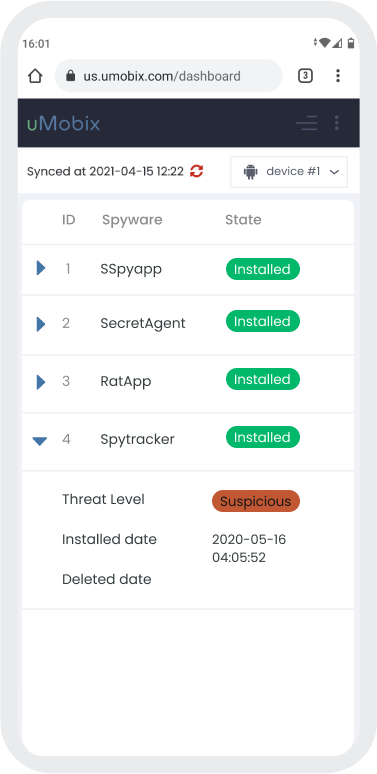 What is a spy apps detector from uMobix?
The app market is so big that you cannot be aware of all existing apps out there. With the spy app detector, you can easily keep track of any malware apps that might appear on your kid's device. Spyware scanner is a feature that will analyze every freshly installed app and will notify you if any of them is marked as suspicious. uMobix team is constantly monitoring the application market and has a certain list of applications considered malware or spy apps. As soon as any of them is uploaded to your kid's device, you will receive a notification. If you are looking for a spyware detector, don't hesitate to install uMobix on your kid's smartphone. Once you detect a spy app, you will instantly start monitoring what your child is doing in this app. The spyware scanner is more of an alert feature for a busy parent. When you want to monitor what your child is doing online, you cannot stay on your dashboard 24/7. Let uMobix monitor any suspicious actions.
Why is this feature so important?
You cannot protect your kid 100% from any threat they can face in their digital lives. But as a caring parent, you can monitor if there is any stalker app or any hacking app installed on your kid's phone. You can't control which links your child follows and with whom they talk on social media. It can always happen that your kid met a fraud or an online predator. Once you install an android spyware detection app, you will start getting instant updates about any malware that appears on your kid's device. Isn't it great that you don't need to check every app manually? With the uMobix spyware detector, you can sleep with a peaceful mind. Your kid will be protected from any malicious apps, and you will be instantly notified and will be eligible to delete those apps right away. With anti spyware app for android, your kid's online life will be protected. Before any malware app appears on your kid's phone, you can prevent this from happening by monitoring with whom your child talks and what they discuss.
How does it work?
To use a spyware scanner, you will need to install the tracking software on your kid's phone. From your dashboard, you can monitor everything your kid does online, including which new apps appeared recently and if there are any spyware apps among them. If uMobix detects a malicious application or software appearing on your child's device, you will know about it through a notification. To check more details about it, you will need to access your dashboard or open your android spyware detection app. If it turns out that the newly added app poses a real threat to your kid's online safety, make sure you talk to your child about it. Your kid should be aware of all the possible threats that can wait for him online and know how to react to them properly. To prevent any virus or malware from appearing on your child's device, explain to your kid that any suspicious links or downloads from the net are to be avoided. If your child knows the safety rules of using devices, the chances you will get an alert about freshly installed malware are extremely low. In any case, the spyware scanner will be protecting your child 24/7.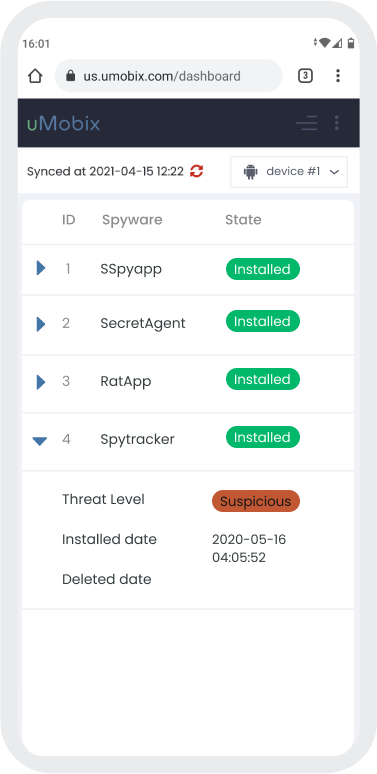 3 easy steps to start tracking
Register

Choose your subscription plan. Complete the purchase and receive the email with your login & password.

Install & Set up

Install uMobix on a target Android device, or provide iCloud credentials of a target iOS device in your user account.

Monitor

Go to your account and wait until we start sending data. Enjoy your tracking!
Frequently asked questions
How to detect spyware on an android phone?

Install a spyware scanner on your android device. uMobix will constantly be scanning for malware apps, and if any of them are installed, you will receive an instant notification. You cannot detect spyware using the default settings of your device. The only chance to find it out is to use a scanner or tracking software that will detect it for you.
How to tell if your cell phone is being tracked, tapped or monitored by spy software?

If your phone battery starts to die faster than usual or you keep receiving any suspicious messages - you should suspect that you are dealing with spy software. To check if you have you - install uMobix. With the help of this tracking software, you can detect if you have any malware installed on your device.
How to detect keylogger on android?

If you started noticing that your phone behaves weirdly - you are probably being tracked. To check your device for any keylogger, you need to use a spyware scanner, such as uMobix, or completely reinstall your smartphone. Out of 2 options checking your phone for spying software with a dedicated tool sounds more appealing, isn't it?
How to remove spy app from android phone?

When you find out your phone has some spying app running on it, you should delete it ASAP. To do this, install uMobix on your device and let it scan for any malware apps or software. Once detected, you can delete them from the dashboard and keep tracking for any new spy apps to appear.
Ready to begin?