Facebook Tracker
Receive full access to Facebook for iOS.
Track your kid's activities via screenshots for Androids.
Manage your child's account, restrict unwanted content.
Get information updated every 5 minutes.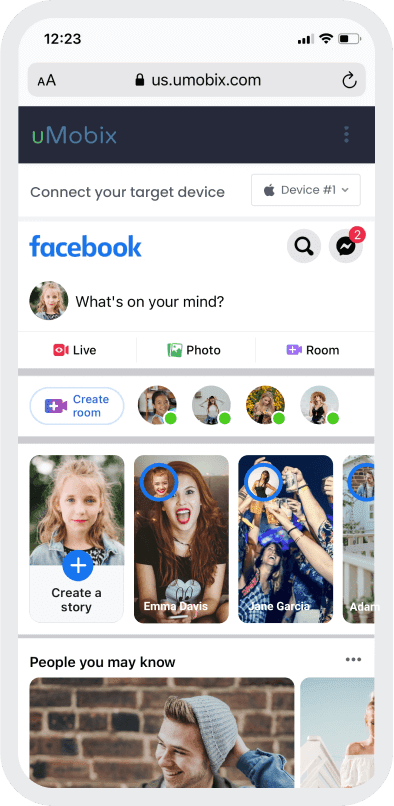 Full access to Facebook account
Have you ever wondered what type of posts your kid sees on Facebook? Now you can access your child's Facebook and check this firsthand.
uMobix is the only app that provides FULL ACCESS to a target Facebook account for iOS devices. Freely navigate the news feed from your userspace, view posts from pages, and people your child follows, restrict access to inappropriate content, block unwanted users. For Android devices, we offer a revolutionary feature that allows you to mirror exactly what's on your child's device in real-time.
Despite Facebook being considered an open social media platform, it also serves as a way for predators to follow victims. Unfortunately, harmful material also finds its way onto the site, and kids can stumble across it. With the Facebook tracker, it's much easier for parents to stay vigilant and protect their children from offensive content, scammers, bullies, and other potential threats.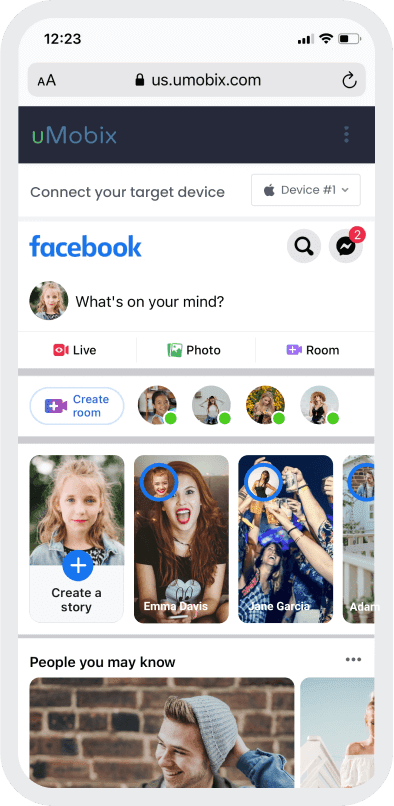 3 easy steps to start tracking
Register

Choose your subscription plan. Complete the purchase and receive the email with your login & password.

Install & Set up

Install uMobix on a target Android device, or provide iCloud credentials of a target iOS device in your user account.

Monitor

Go to your account and wait until we start sending data. Enjoy your tracking!
Frequently asked questions
Can I monitor Facebook messages without rooting the device?

The times when rooting devices was imperative for monitoring have long gone. With uMobix Facebook Tracker you enter the Apple ID and password of the device you wish to monitor and start tracking instantly.
How can I monitor deleted Facebook messages?

With iCloud Backup on, the user's messages are stored in iCloud and across all devices associated with the Apple ID. Once the message is created, it automatically uploads to iCloud and our servers. All messages are recorded & delivered to your userspace, so even if the user deletes a message, it is still present in your userspace and will never disappear unless you delete it.
How to see hidden friends on Facebook?

If you monitor an Android device, uMobix Facebook Tracker records its screen and delivers screenshots right to your userspace. Every activity performed on Facebook is captured, including hiding friends. If you track iPhone, you log in to the target Facebook, which means you will be able to see the friends list that is hidden. You can literally go to settings and check whatever you want. If you wish to check privacy settings, for instance, tap the three horizontal lines, go to Settings > Privacy > Who can see your friends list? Check who the target user prefers to keep away from seeing the friend list.
Can I track comments on Fb with the Facebook tracker app?

You can track comments, likes, and whatever you wish, because you receive the full control over a person's Facebook. uMobix Facebook Tracker lets you manage it as your own.
What are the benefits of Facebook Tracker App on IOS?

Full access to Facebook can be very helpful in plenty of situations: for instance, when parents are tired of dealing with outbursts and calls from the child's school, Facebook can reveal what's really hidden behind their child's misbehaving. For iOS devices, we offer full control over Facebook account: once registered, you provide iCloud credentials of your child's iPhone or iPad and start using their Facebook account as you own. You can not only view their activities but manage their accounts, restricting certain content or blocking users that you find suspicious. In other words, you fully control their Facebook activities from your computer or smartphone.
How do you check someone's likes on Facebook?

Facebook users are notified when someone likes or comments on their posts. When you open user's Facebook, you'll see notifications under the bell icon. Click on it to see who liked target user posts.
Ready to begin?