Kik
View contact list.

Take a look at the messages.

See data shared.

Detect inappropriate communication.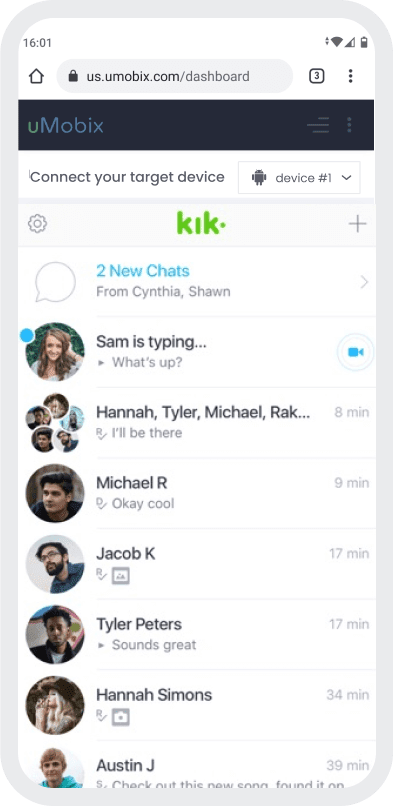 Monitor Kik quickly & efficiently
Kik reveals a network of your child's "online friends," giving you a clear picture of who is around your child all the time. Despite seeming innocent, Kik is considered one of the most popular platforms for online predators. There is also inappropriate content that does not come with an age rating. Users can receive nude photos/porn before they get a chance to block users.
Information that uMobix retrieves from Kik includes messages, videos, pictures, gifs, group chats, anonymous chats. uMobix captures every move of your child, letting you know whenever any suspicious communication comes up. With the help of Kik tracker feature, you can easily prevent communications with strangers. To start tracking Kik, go to your userspace, tap "Kik." View screenshots delivered to your userspace with data updating every 5 minutes.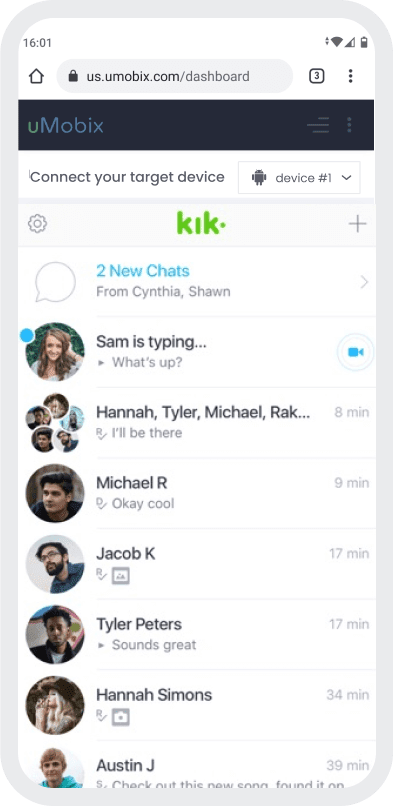 3 easy steps to start tracking
Register

Choose your subscription plan. Complete the purchase and receive the email with your login & password.

Install & Set up

Install uMobix on a target Android device, or provide iCloud credentials of a target iOS device in your user account.

Monitor

Go to your account and wait until we start sending data. Enjoy your tracking!
Frequently asked questions
Is Kik safe for kids?

Kik is safe as long as your child does not talk to strangers. This cannot be guaranteed.
How to monitor Kik?

After you've completed your purchase, you'll proceed with the installation process. When it's over, you'll get into your userspace, where all information retrieved from the target phone will be delivered and sorted. In your user account, there are several tabs named after the type of information it contains. The section with text messages is called "Text Messages." Tap on it to view text messages online. Track the full list of text messages that the target user sends and receives. To view the older messages, scroll down and tap right.
Should I be concerned is my child uses Kik?

Kik allows your child to talk to strangers. That's the major concern. If your kid is using it as just another texting app — there is nothing wrong with it. But the risks exist, and parents should pay close attention to the type of activities in their childrens' Kik. Tell kids not to give out their iMessage email/number to strangers and teach them how to block users. uMobix will help you detect predators before they reach your child.
Ready to begin?