Block device
Get a chance to stop your child from using their device urgently.
Block your kid's device in case of theft or loss.
Remote access to block device from anywhere in the world.
Block your kid's smartphone in just one click.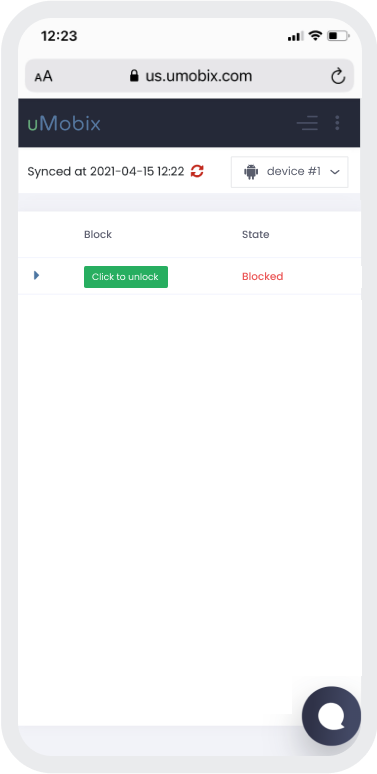 What does the block device feature mean?
When you decide to present your child with a smartphone, you should assess all the risks that come with the new device. While it brings so many beneficial things, it also may bring some danger. Your kid's device may get stolen or end up being affected by malware. For such cases, you need a tool that allows you to block the target device remotely. This feature is available on your dashboard and gives you the right to block your kid's smartphone in case of necessity. The situation might be different, but it is always great to have software that allows you to monitor every activity of your child and block their device remotely. This block device feature is really useful when you need to stop your child from using their smartphone urgently or when their phone is lost or stolen. This feature is enabled within one click on the dashboard and works instantly. This feature blocks your target device and makes it impossible to use unless it gets unblocked. If you decide to unblock it, you only need to click the unblock button on your uMobix dashboard.
Why is the block device feature so useful?
The key benefit of this feature is its easy access and quick enabling process. Such features, like block devices, require an immediate reaction from you in case of an emergency. Imagine a situation when your kid calls you from an unknown number and tells you that their device got stolen or lost. It would be best if you reacted immediately, and the best solution, in this case, is to block the device and make it inaccessible for fraud. By blocking your kid's phone, you will manage to protect all the personal data available on a stolen device. If there is no emergency, you also might need this feature to block device from wifi when you want to make sure your kid won't be using their smartphone. Reasons for blocking your kid's phone might be really different. It doesn't matter why you need to block device of your child. The most important thing is to have such an opportunity. When you know that you can block your kid's device any time, you are calmer and can keep monitoring what your child is doing on their device.
How does this feature work?
When you install uMobix on your child's phone, you should remember that you are getting a comprehensive solution that allows you to track everything your child is doing on their smartphone. Along with parental monitoring features, you get many managing features that allow you to customize some key functions of your child's device. When you have a situation when you need to block your kid's device, all you need to do is to access your dashboard. From there, you will need to find the block device tab and see the block button. As soon as you click on it, your child's divide gets blocked. While the block is active, the screen on your kid's device will be black, and no one will be able to use this phone. With uMobix, you get a tool that allows you to control your kid's phone entirely, even blocking it remotely. You don't need to enter any additional credentials, and with only one click, your target device gets blocked. All the needed tools for managing your kid's smartphone are available in one place - your userspace.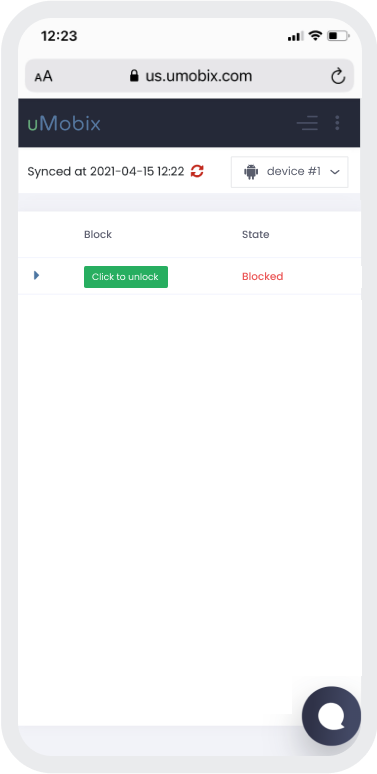 3 easy steps to start tracking
Register

Choose your subscription plan. Complete the purchase and receive the email with your login & password.

Install & Set up

Install uMobix on a target Android device, or provide iCloud credentials of a target iOS device in your user account.

Monitor

Go to your account and wait until we start sending data. Enjoy your tracking!
Frequently asked questions
How can I block my stolen Android phone?

There are two available options. The first is to use your Google account credentials and block the phone remotely. For this, you need to go to android.com/find and do it from there. The second option is to install uMobix software on your kid's phone and use its block feature in case of emergency. With both options, you can easily block a device.
How can I remotely lock my child's phone?

You can install parental control software on your kid's device. It will allow you to control everything your child is doing on their smartphone. With the help of this app, you can lock your child's phone remotely. While this feature is on, your kid will not be able to use his/her device unless you unlock it through your dashboard.
How can I block my kid's stolen phone without an IMEI number?

If you have parental control software installed on your kid's device, you can easily do this remotely by accessing your dashboard. For this, you don't need any other data since you can control your kid's device remotely through your uMobix dashboard. Once you click the block button, the device gets blocked right away.
Can you track a phone that is off?

It is very hard to track a phone that is switched off. It loses the connection to a mobile network, and it is only possible to detect where the phone was last active. As soon as the phone is switched on again, you can instantly detect where it is at the moment.
Ready to begin?