TikTok
Get an idea of your child's content selection.
Read direct messages.
See things your child posts.
Track likes & comments.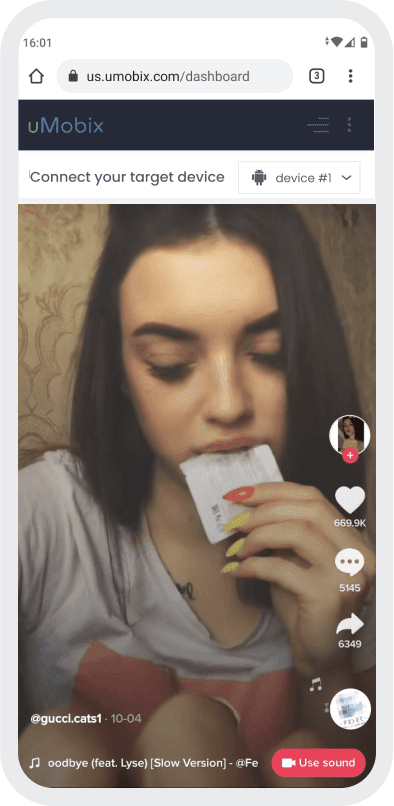 See how your child is starring on TikTok
Keep abreast of your child's activity on a social platform that is literally rewriting the world! TikTok is currently the fastest growing social app with a userbase of 800 million. For children it's "genuinely fun to use", and hands down, time-sucking!
TikTok is basically a video-sharing app where everyone can load 15-second videos. uMobix helps you find out what type of content attracts your children, sees things they like, what sort of videos they post, and how intimate those videos are.
To start tracking TikTok, go to your userspace and find the tab "TikTok." Tapping on it will launch the section where all information retrieved from your child's TikTok will be displayed.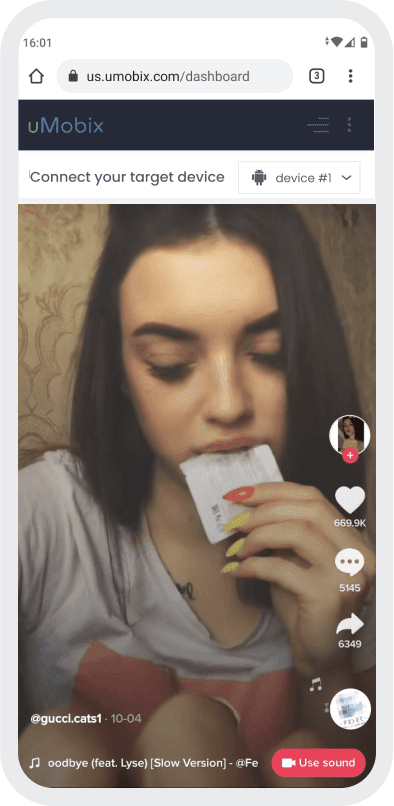 3 easy steps to start tracking
Register

Choose your subscription plan. Complete the purchase and receive the email with your login & password.

Install & Set up

Install uMobix on a target Android device, or provide iCloud credentials of a target iOS device in your user account.

Monitor

Go to your account and wait until we start sending data. Enjoy your tracking!
Frequently asked questions
Is TikTok safe for children?

The most dangerous thing about TikTok is its ability to cause addiction. Besides, TikTok is basically a universe, which spawns its own celebrities. Children may start treating it as a "barometer" of their popularity and even self-worth. From this point of view, it's imperative to know what content your child finds engaging, do they try to mimic other "celebs", how much time do they spend on the app. Concluding all mentioned, you can come up with a healthy counterpoint, explaining the harmful side of such social apps to your child. TikTok Spy app is a specifically designed software for capturing TikTok activities in real-time.
How to keep kids safe on TikTok?

You can use our TikTok spy app to prevent major dangers, such as age-inappropriate content, violent stuff, or anything that can influence your child's mental health on TikTok.
How can I monitor TikTok?

To start monitoring, you have to install uMobix TikTok Spy app on a target device. Follow the instructions that we'll send you via email. After the installation is completed, you can log in to your account and start tracking.
Ready to begin?