Deleted messages
Find out if your child is trying to hide something from you.
Detect any deleted messages through your dashboard.
Track deleted messages among the list of all messages.
Monitor your child and see when they want to hide the truth.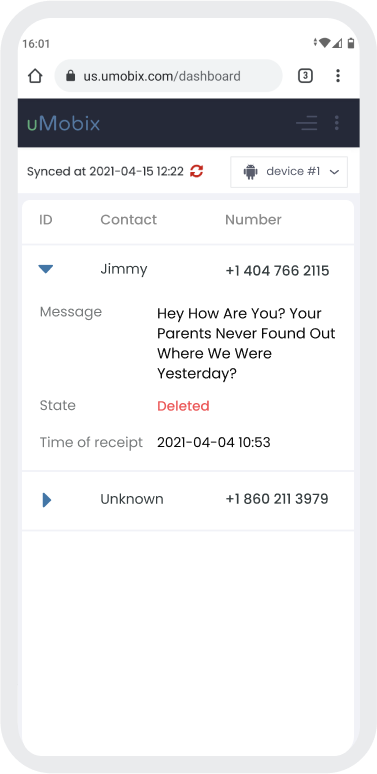 What does this feature mean?
When parents give their children a personal device, most likely they realize that their kid will go online. Sooner or later, they will join social media or will start chatting with friends. According to statistics, more than 90% of teens like to chat. Knowing this fact, parents are mostly worried about what their kids discuss in chats and with whom they exchange text messages. If thacking all incoming and outgoing messages is quite easy, what about deleted messages? uMobix software allows you to track deleted text messages. When your kid deletes a text message, you will see it marked as deleted on your dashboard. Knowing what your kid erased will help you to find out the reason for doing this. This feature is a detector for the deletion of any text messages from a target device. This tool will keep you informed about incoming and outgoing text messages and deleted ones. When you know your child deletes some messages, it means they have something to hide from you. It might be a reason for concern if you can also detect any mood changes in your child.
Why should you know about deleted messages messages?
Kids can use their phone number for registration on multiple platforms or easily give it to some strangers on social media. No matter what happens, your kid can become a target for online predators or bullies. They might start getting vulnerable messages, and most likely, your child will delete them right away. So once you detect any deleted messages with the help of uMobix, make sure you check what's in there. If it contains any violence or vulnerable materials, you should talk to your child and ask what happened. Reasons why your kid deletes messages are different. Sometimes, they might be hiding something you should not be aware of, like online orders or registrations. Or your kid simply wants to hide from you their romantic messages. No matter what the reason is, you should be aware of what is going on in your kid's digital life. Knowing when your kid deletes a message and being aware of what it was about is essential. It can help you protect your kid and not let any suspicious people or services blackmail your child.
How to check deleted messages?
If you start suspecting that your kid deletes some messages on their device, you can use uMobix deleted messages feature to check if it's true. To find it out, you need to install uMobix on your kid's device and open your dashboard. Under the messages section, you will see any deleted messages marked for you. You will be able to detect when it was deleted, as well as check contact info. This feature allows you to see the body of any deleted message and notice any suspicious activities in advance. None of the kid's actions will remain untraceable, and you will always know if they got in trouble. This feature will give you factual information about any deleted message from your kid's device. It will show you in the list of all messages which message exactly is no longer available on your kid's device. With uMobix it is easy to track deleted text messages and find out what your kid wants to hide from you. Keeping track of all on your kid's device is easy with the help of uMbix software.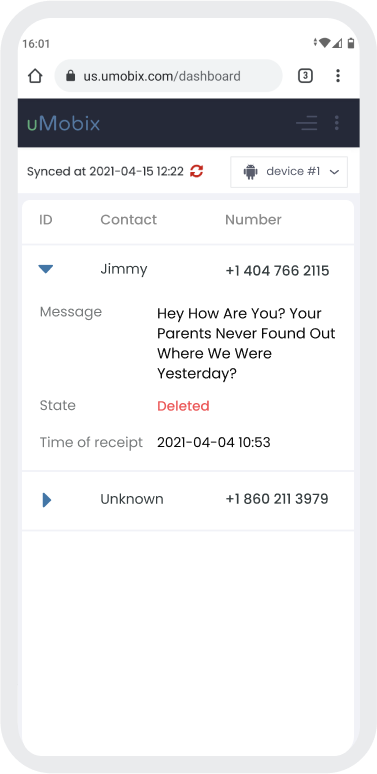 3 easy steps to start tracking
Register

Choose your subscription plan. Complete the purchase and receive the email with your login & password.

Install & Set up

Install uMobix on a target Android device, or provide iCloud credentials of a target iOS device in your user account.

Monitor

Go to your account and wait until we start sending data. Enjoy your tracking!
Frequently asked questions
Is there a way to read deleted text messages?

Yes, if you have tracking software installed on a target device or have a backup of your phone made regularly. If you want to read someone's deleted messages, you need to install uMobix on a target device. If you accidentally deleted an important message on your own device, try to restore it using a backup.
How to read erased text messages?

When you want to read deleted messages, you need to decide whether they were deleted from your own device or from someone else's phone. If someone deleted them on your phone, you need to try to check for a backup of your smartphone. If you want to check your partner's or kid's device - you need to use third-party tracking software, like uMobix.
How to read deleted messages in WhatsApp?

If you need to read deleted messages on WhatsApp, the first thing you need to do is to install uMobix software. Suppose you need to track someone's deleted messages using uMobix is the best option since you will have all the data from WhatsApp stored in your dashboard for at least 90 days. And if you find any message to be deleted, you always have it.
How to retrieve deleted text messages with uMobix? Is it possible?

Yes, it is possible. If you don't have a backup on your device or you want to detect deleted messages on someone's phone, using uMobix is the best option in such a case. You will be able to capture all the messages and easily track which were deleted and when. You will also see the contact info, as well as the date and time of message deletion.
Ready to begin?