Social Networks Monitoring
Full access to Facebook & Instagram for iOS.
Real-time tracking of social apps for Androids.
Monitor most popular social platforms.
Read text messages, view news feed, stay informed 24/7.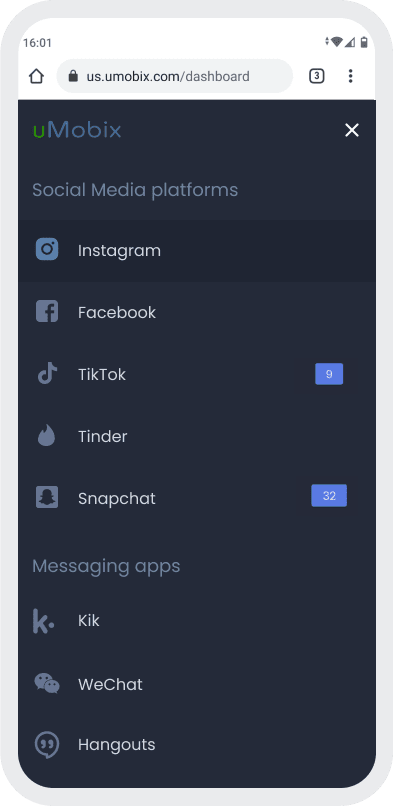 Social Apps for iOS
Be the boss of your kid's Facebook & Instagram accounts! Get full access to a target Facebook, view & adjust news feed, configure page settings, decide what content must be blocked, post & delete comments.
3 easy steps to start tracking
Register

Choose your subscription plan. Complete the purchase and receive the email with your login & password.

Install & Set up

Install uMobix on a target Android device, or provide iCloud credentials of a target iOS device in your user account.

Monitor

Go to your account and wait until we start sending data. Enjoy your tracking!
Frequently asked questions
How can I monitor my child's Social Media?

uMobix gives you full access to your child's Facebook & Instagram account if your child owns an iOS device. You become the supervisor of your child's Instagram and Facebook, receiving the power to decide what content should be restricted, what users must be blocked, or which comment should be deleted. For Android users, we offer a unique feature that allows you to view content that your child sees as if you two were looking at it at the same time! It works due to the recently designed advanced screenshot feature that captures every activity of your child and transforms it into screenshots that are delivered right to your userspace. This way, you "mirror" exactly what's on your child's device in real-time.
Can I really get into someone's Facebook with uMobix?

Yes, you can! Moreover, you can tell your friends about it :) If you have any doubts, you can always try this feature for $3 (the whole week of monitoring!)
Can I monitor someone's Facebook if they're on the phone?

Surely you can. uMobix runs silently in the background; the user will never spot the suspicious activity unless you leave some pretty noticeable traces, let's say, add or delete friends on Facebook, or post comments from the target user's account, read messages BEFORE the user, so they become viewed. Just be careful, and everything will be fine.
How can I monitor Facebook for free?

There is no such thing as a free monitoring app. They may not come with an upfront cost, but after a free trial, you'll get billed anyway 😊