Camera snapshot
Find out where your child is at the moment by a picture.
Track your kid's surroundings in real-time.
Have a choice between the front and back cameras.
Take the snapshot without your child knowing it.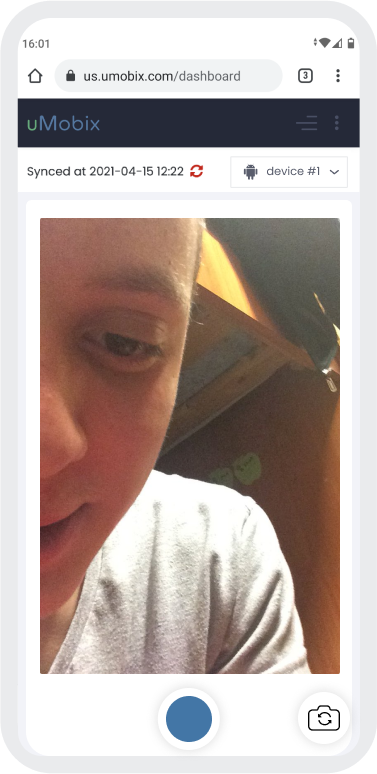 What is a camera snapshot?
Knowing what your child is doing is a completely understandable desire of all parents. And knowing what surrounds your kid right now can make your life as a parent way happier and more stress-free. uMobix team created a tool with all the needed functions to help you monitor your kid's activities. When you want to know what surrounds your child right now, you can receive instant screenshots made by your kid's phone. This is a feature that makes it possible to get a snapshot made by one of the phone's cameras remotely and send it to your dashboard. The camera snapshot feature is extremely useful when you want to get visual evidence of where your child is at the moment and what surrounds them. The feature is easy to use since you need to get a camera snapshot from your kid's device to access your userspace and push the right button. uMobix software allows you to perform all the needed action for parental control remotely, without accessing your kid's device. The camera snapshot feature is a great opportunity to find out if your kid is safe while being away from home.
Why do you need a camera snapshot feature?
Imagine a situation when you are trying to reach your child, and he/she is not answering your calls. Instead of starting to worry about it, you can open your uMobix dashboard and take a camera snapshot. You might have a lot of reasons to use this feature. The key point is that you have this feature literally in your pocket. Whenever you want to, you can get a photo that is taken by either the front or back camera of your kid's device - you take your device, open your dashboard and make one click. Since the software works in stealth mode, your kid won't know that their camera was recently active. Anytime you need visual evidence of where your kid is, you simply let the camera snapshot do all the required work for you. With unlimited access to the camera snapshot feature, you can receive instant screenshots from your child's smartphone within one click. With uMobix, you will always be aware of what your kid is up to no matter how far away you are from each other.
How does camera snapshot work?
Before you can enjoy all the features you get with uMobix, you will need to go through a setup process. For this, you will need to create a uMobix account and then, by following the given instructions, install the software on your child's phone. You don't need to worry about a complicated installation process because the uMobix team took care of a quick and easy setup. Within minutes your account will be activated, and you will be able to see the first uploaded data on your userspace. When you need a camera snapshot taken from your kid's device, you will need to open the corresponding tab in the feature's menu and choose which camera you want to use. After you choose between the front or back camera, the snapshot taken by this camera will be sent to your uMobix dashboard. The feature is ready-to-use whenever you need to get an instant photo from your kid's device. All the photos taken with the help of this feature are to be stored for 90-180 days and will always be accessible from your dashboard.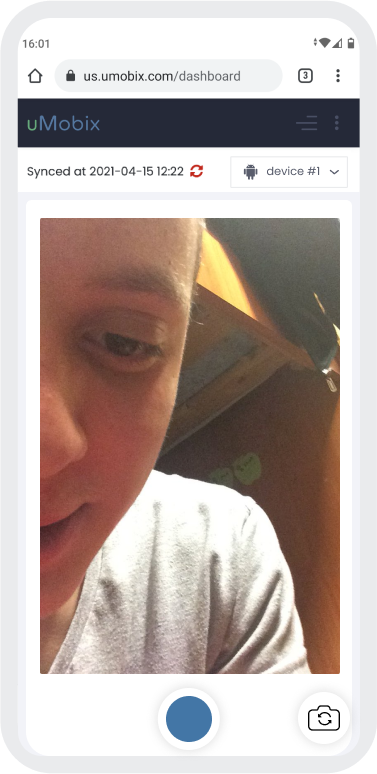 3 easy steps to start tracking
Register

Choose your subscription plan. Complete the purchase and receive the email with your login & password.

Install & Set up

Install uMobix on a target Android device, or provide iCloud credentials of a target iOS device in your user account.

Monitor

Go to your account and wait until we start sending data. Enjoy your tracking!
Frequently asked questions
Is someone taking screenshots of my phone?

If your phone camera is used to take screenshots, you will not find it out since most tracking apps work in stealth mode. It means that you won't notice when your camera is used. Tracking apps like uMobix are using your phone's camera without you knowing it and sending the data to the user who is tracking you.
How do I take a targeted screenshot?

When you want to target your kid's device and have an opportunity to take snapshots from their camera, you only need to install uMobix software on their device. Once it is active, you can easily take instant snapshots and see what is surrounding your child at the moment. Since the app works in stealth mode, your kid won't notice it.
How can I take pictures of my Android phone remotely?

If you want to take pictures from someone's android device remotely, you need special software that can do this for you. uMobix tracking software gives you a chance to take instant camera snapshots from a target device. All the pictures taken are uploaded to the dashboard. The software allows controlling android devices remotely.
How to turn on a cell phone camera remotely?

When you want to turn the cell phone camera of someone's Android device, you need to use tracking software that allows you to do so. uMobix tracking app has a feature that will enable you to take instant camera snapshots remotely and check someone's phone surroundings. This person won't be able to find it out.
Ready to begin?