Reddit activities control
Find out what your child is searching for on Reddit.
Monitor their reddit chats with other users and comments.
Track which subreddits your child follows and reads.
Use screenshots to see everything your kid does on Reddit.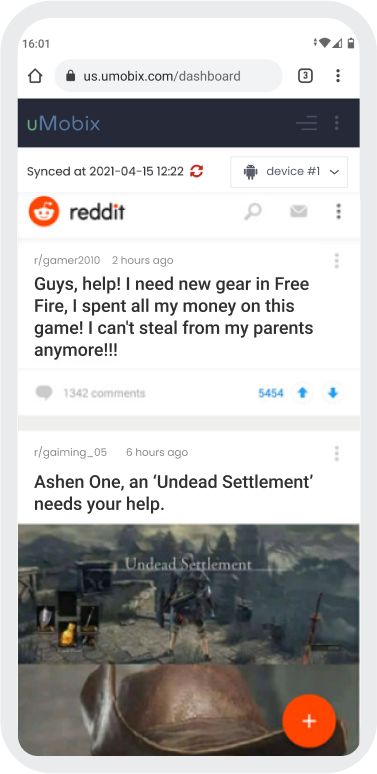 What is this feature about?
Reddit is a platform that is widely used for sharing information and community search. You can even call it a kind of social media, which is widely used as a communication and discussion platform among different users. And yes, anyone can create a Reddit account without any age restrictions. If you know that your child likes to use Reddit and you cannot really limit the type of content they are watching there, you can monitor their Reddit activities with the help of uMobix Reddit tracker. This feature will be scanning everything your kid does on the Reddit platform. You will be able to track what they search for, who texts them, which subreddits your child follows, and much more. Literally, any activity will be tracked and displayed on your uMobix dashboard. This feature will show you all the interests of your child on Reddit with the help of screenshots. The data will be uploaded to the Reddit tab on your userspace regularly, so everything you will see there will be up to date. Use to keep an eye on what content your kid consumes while using Reddit.
Why is this feature a must?
If you have ever used the Reddit platform yourself, most likely you already know what it is. And it seems like you know that potentially harmful content for kid's minds is so easy to access. Reddit platform does not call for any age restrictions or parental controls. All the account settings are extremely easy to change and adjust. This is the reason why you need to control Reddit and use a Reddit tracker to make sure your kid is safe. Of course, you can talk to your kid and explain all the upcoming threats and how to behave in the right way. Still, conversations alone will not prevent any porn or NSFW (not safe for work) content from showing up. The main reason to use a Reddit tracker app is to monitor which topics your child searches for and if there are any suspicious conversations in private messages. You can be 100% sure about your kid's preferences, but you cannot be responsible for other Reddit users that may want to harm your kid or steal their personal data. With the help of Reddit activities control, be aware of everything your kid does on Reddit.
How can you control Reddit activities?
It is essential to talk to your kid. You need to make sure your cold is ready to encounter any adult content. Of course, it is better not to even search for it, but it can accidentally pop up on the recommended page. Build your relationship with your child in the way they will share with you if they deal with things that make them feel uncomfortable. Reddit is a platform that is not well regulated for child use. Here is why you need a tool that will help you to monitor your child's activities. To use Reddit activities control, you need to open your dashboard. Under the Reddit tag, you will see the information about what your kid is doing there. With the help of the screenshots, you will capture every step and have a chance to notice anything bad going on. If you find out that your kid is viewing any unwanted content or chats with suspicious users, you can always restrict the use of Reddit or implement more strict control over your kid's online life.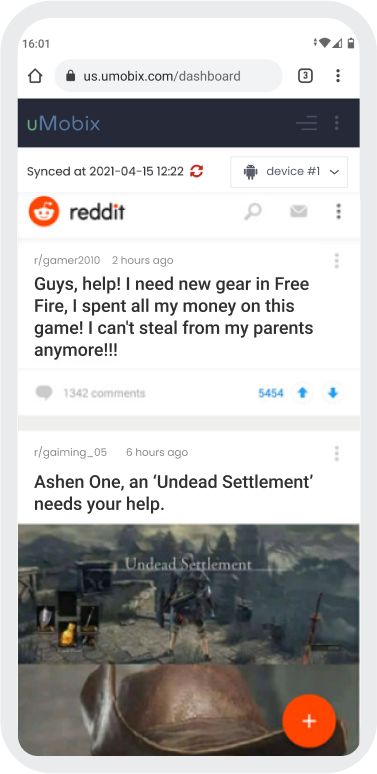 3 easy steps to start tracking
Register

Choose your subscription plan. Complete the purchase and receive the email with your login & password.

Install & Set up

Install uMobix on a target Android device, or provide iCloud credentials of a target iOS device in your user account.

Monitor

Go to your account and wait until we start sending data. Enjoy your tracking!
Frequently asked questions
Is Reddit a safe site?

Since Reddit was created for adult-only use, it means that the amount of potentially harmful content is overwhelming. In terms of content, you can find nearly everything on Reddit, including pornography, suicidal topics, bullying, and so on. This is why monitoring what your child does on Reddit is important. With uMobix, you can keep track of every step of your kid online.
How do I find Reddit user info?

When you want to find someone on Reddit, you need to go to the Reddit website or app. Use the search bar and type the username. If you don't know the exact username, try to reach this person's other social media accounts. You can find their profile in some communities and review their Reddit profile. You can also use tracking software to find out what they are doing there.
Can you see someone's Reddit history?

No. Other users can see which subreddits you were posting or commenting on. Also, in your account setting, you can enable or disable the visibility of your votes. If you don't want anyone to see what you upvote and downvote for - keep this feature disabled. Only you can see your own Reddit history.
How do you check someone's online status on Reddit?

Recently, Reddit has introduced a new feature that indicates your online status on the platform. Other users can see when you are online. A green dot will appear next to your username as soon as you are active. So if you want to see if someone is online - look for a green dot next to their username.
Ready to begin?