Additional app for parents
Get all the parental control features on the go.
Access your dashboard with the same features from your own device.
Manage key phone settings remotely and within one click.
Get instant notifications about the latest activities.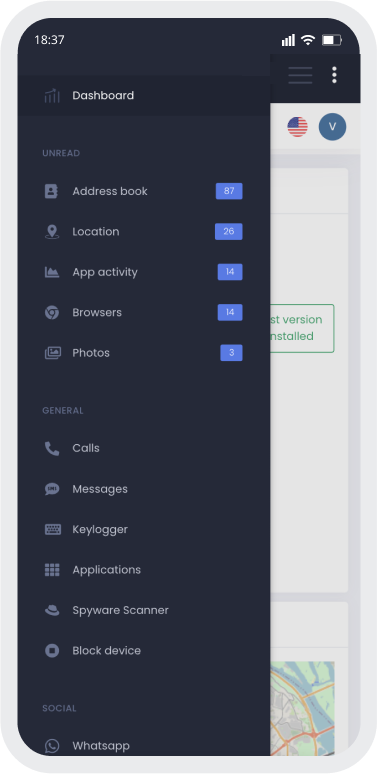 What is an additional app for parents?
When you decide to install parental control software on your child's device, your main concern is its efficiency and its convenience. Here is why the uMobix team developed an additional app for parents where you can check notifications and monitor your kid's activity on the go. This app makes it easy to view past notifications on Android and allows you to access all the needed data by only opening the app. With the help of this app, you won't need to open your browser and go to your dashboard every time you need to check your kid's phone activity. All the notification logs are available in a dedicated app and will keep you informed about every new update with the help of notifications sent on your phone. The additional app allows you to get access to your dashboard 24/7 and will not let you miss any important log. The Android notification history is available in this app and is displayed in chronological order. No matter where you are, you can easily open the app, review the android history log and manage your kid's phone settings. This app was created to make the use of the platform easier for parents.
Why should you install the additional app for parents?
You must admit that it is always more convenient to use any service or social media with the help of a dedicated app. In most cases, it has a user-friendly interface and brings you quick access to the service. You don't always have your PC with you, but most likely, your smartphone is always somewhere in your pocket. With this app, your android notification history is always on your smartphone, and you can review all the unseen logs about your kid's activity in just one click. The key benefit of this app - you get instant access to your dashboard without constantly logging in to your account every time you need to check what's new. All you need to do is to upload the app on your Google Play market, and you are done. You can easily monitor what your child is doing on their phone through the application for parents. It is the same dashboard as you see when you access it through a browser but is in its mobile version for more convenient use. Most importantly, the app stores all the android notification history for at least 90 days, and you can review everything you missed as soon as you enter the app.
How does this app work?
Before you can move on to the additional app installation, you need first to set up the main uMobix account. As soon as your account is created, you will be given the needed guidelines about how to install the parental control software on your child's phone. It won't take you a lot of time to set up the software on a target device. Once you are done, you should give the system some time to upload all the data from your kid's device. Once you start seeing some notification logs about the new activity - the software is 100% activated. Now you can go to the play market on your android device and download the additional application. You won't need to enter your credentials again since you are automatically logged in after you download the app. The app is ready to use right after the download is over. The app works in the same way as the dashboard you access from the browser. Additionally, it sends you notifications and is easier to access.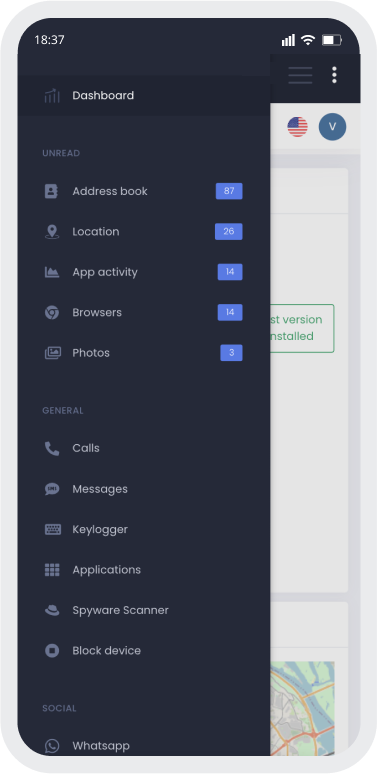 3 easy steps to start tracking
Register

Choose your subscription plan. Complete the purchase and receive the email with your login & password.

Install & Set up

Install uMobix on a target Android device, or provide iCloud credentials of a target iOS device in your user account.

Monitor

Go to your account and wait until we start sending data. Enjoy your tracking!
Frequently asked questions
How can I see deleted WhatsApp messages in notification history with uMobix?

Install uMobix on a target device, and access your dashboard. All the ongoing activity from WhatsApp will be stored on your dashboard for at least 90 days. So in case anything gets deleted, you will be able to see it and keep this information accessible through your userspace for 90-180 days.
How do I find a notification that disappeared with uMobix?

When you have an additional app installed on your device, you will be able to check all the unviewed notifications right in this app. This app stores all the notifications that you didn't manage to check on time and review all of them at once. Even if they disappear, you will still be able to check them.
How do I see old notifications on my iPhone that have been deleted?

You can check those notifications that you didn't see and deleted them from your lock screen. To check them, you should open your notification screen and scroll down until you see those deleted notifications. Additionally, you install uMobix on your kid's phone and make sure you don't miss any notification about recent activity.
How do you get back deleted notifications on Instagram?

Unfortunately, there is no way to get back notifications that were already deleted from Instagram. The only possibility of getting them back is if you have these notifications sent to your email and you didn't delete them there. If you don't find them in your email, then most likely, they are completely gone.
Ready to begin?