Mailbox scanner
Monitor every incoming and outgoing email.
Detect if your kid's email was used for any registration.
Find out what newsletters your kid receives.
Track who is on the contact list and if it is safe for your child.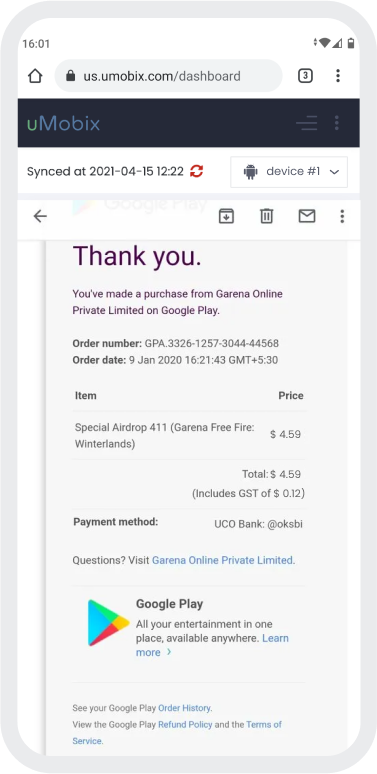 What does a mailbox scanner do?
Even though for most of the kids email is not their key source of communication, they still need it. Email is used for signing up to a lot of services or social media, so in the digital era, you cannot access the internet fully without having your own email address. Even though email seems quite a safe place from the first view, in reality, it isn't. If you want to keep your kid safe online, the monitoring email software will help you. Mailbox scanner is a tool that will help you to monitor the way your child uses email. This email monitoring feature will show you what websites your kid prefers, where they have registered recently, which email they receive and send. Online predators are often hunting for data like email addresses and inappropriately use them. While your kid is still too young and inexperienced, you are the one who can help your child deal with it. This is the case when you need an email spy tool to track every email or every action your child makes.
Why is scanning a child's mailbox so useful?
Predicting the way online frauds or predators will try to steal your personal data or implement any malicious software is nearly impossible. The best thing you can do is educate your kid about the possible threats and start monitoring email of your kid regularly. Your child needs to learn some basic rules of internet safety and that talking to strangers online might be dangerous. With the help of uMobix email spy, you will manage to track incoming and outgoing emails, detect any newly added contacts, and monitor any registration made using this email. The mailbox scanner allows you to spy on every email your child gets, as well as the sender info and spamming emails. The reason you need to implement emails monitoring is the easy access to your kid's email address by predators or frauds. While monitoring your child's email, pay attention to any email with attached media or from unknown senders. Such messages may contain harmful information or media files that might hurt your child. Even though you cannot restrict this kind of message, you can definitely track them and block any suspicious senders right away.
How does it work?
Monitoring the email of your child is not a hard task these days. You either access their inbox using the credentials or start using email monitoring software that monitors your child's activities while you are busy. The second option is way more effective because your kid can delete any messages, but you will still be able to check it since it will be saved to your userspace. To use the feature, you need to register your uMobix account and go through a fast installation process. Once the software is activated, you can start your spy. The information that uMobix will collect for you will provide you with a complete image of your kid's online behavior. You will get a chance to find out what your kid's preferred website is, detect if your kid signs up for some 18+ websites. All this data will be collected in one place on your dashboard and will be available for you within 90-180 days. This information will allow you to prevent your kid's data from being stolen and your kid being haunted by predators online.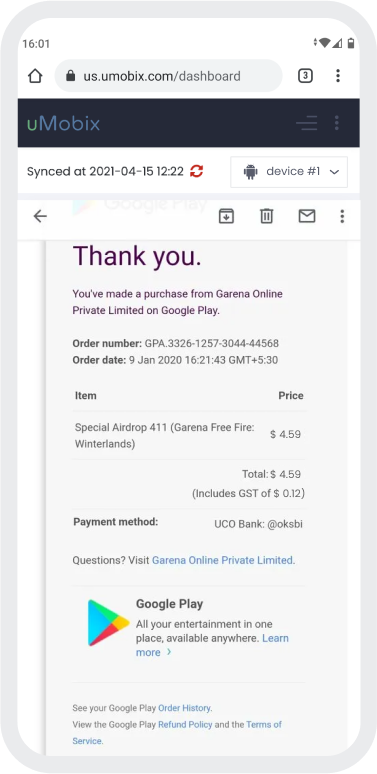 3 easy steps to start tracking
Register

Choose your subscription plan. Complete the purchase and receive the email with your login & password.

Install & Set up

Install uMobix on a target Android device, or provide iCloud credentials of a target iOS device in your user account.

Monitor

Go to your account and wait until we start sending data. Enjoy your tracking!
Frequently asked questions
Can I monitor email activity?

If the email is private and is not a corporate email to track this activity will be possible with the help of additional software. uMobix tracking software will be able to provide you all the information, such as incoming and outgoing messages, registrations on sites, social media use, newly added contacts, and even deleted messages.
Can Outlook emails be monitored?

Outlook can be monitored as well as any other email provider. You only need to install uMobix on a target device, and you are ready to start your monitoring. You will be able to track all sent and received messages, monitor spam and deleted emails, as well as check all the registrations.
How does email monitoring work?

Email monitoring is a feature that usually comes with dedicated tracking software. To start email monitoring, you will need to install this spying software on a target device. uMobix will provide you with an extensive amount of data that you will be able to use as proof. With the data update every 5 seconds, there is no chance you miss something.
Can you track someone with a Gmail account?

You cannot track someone without using additional tracking tools. There are a lot of ways to track someone with a Gmail account. One of them - install uMobix on a target device. With the help of this software, you will track everything your target user does online and on their email.
Ready to begin?