Restrict apps
Restrict access to certain apps on your kid's device when needed.
Control what apps your kid can use and for how long.
Manage screen-time on your kid's smartphone.
Help your child to develop healthy digital habits.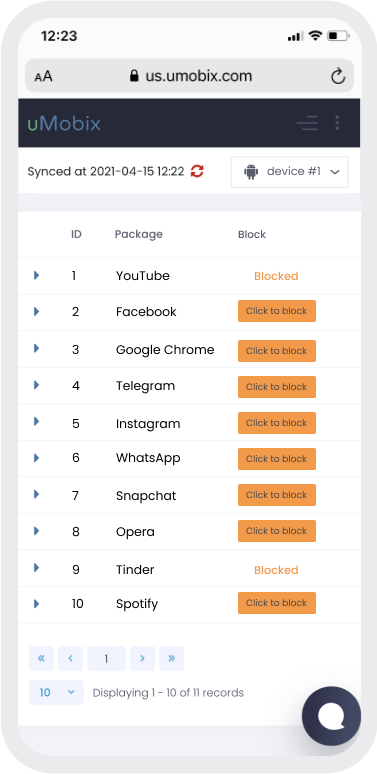 What is the restrict apps feature for?
The following feature is created for parents who want to restrict access to specific Android apps. This is an effective tool for customized screen time management. This is a tool that allows parents to block or restrict particular apps on your kid's smartphone. It means that when you want to limit access to some social media apps, like Instagram or TikTok, you can easily do it with the help of uMobix software. Since with uMobix, you get a powerful management tool over your kid's smartphone, you can disable apps on android any time when you feel that it is necessary.
Additionally to the android restricted mode, you can use the restrict app feature to provide you with a more effective parental control. The feature helps parents to control what apps their kid uses the most and for how long. It allows you to customize any app's screen time and control the digital habits of your child. You can easily manage application use on your kid's device with the help of a user-friendly dashboard and easy access to any uMobix feature. Android restrictions are easy to control and set up right from your own device.
Why do you need to restrict apps on your kid's device?
The number of apps that your kid has on their smartphone is quite big. Some of them are only for fun, some for learning something new, and some go online. You, as a parent, most likely feel responsible for the way your child uses their gadget. You want them to develop healthy digital habits and surround your kid with a child-friendly environment in the online world. Here is why uMobix software allows you to track and manage your kid's activity on their device. With the restrict apps feature, you can restrict access to any app on your kid's device. The reasons for it may be various. Maybe you don't want to let your child scroll the Instagram feed while being at school. Or you want to make sure your child goes to sleep and does not keep playing some games under the blanket. In any case, the Android restricted mode helps you to monitor and control your child's activities. With uMobix you can choose those apps that do not fall under android restrictions and manage your kid's screen time. With this approach, your kid can develop a healthy relationship with their gadget and are less likely to get addicted.
How can you restrict apps?
uMobix software has a user-friendly interface and is easy to set up on your kid's phone. You need to access your kid's device for a few minutes and go through a quick installation process. After you are all set, you should give uMobix some time to upload the first data from your kid's phone. All the information will be displayed on your parental userspace, and all the new activities will be marked as unread. When you want to apply any Android restrictions, you need to access the list of application tab. You will see all the apps installed on your kid's device and have a restrict button next to each app name. Once you click it, your child won't be able to open this app until you cancel the restriction from your dashboard. The key benefit of the uMobix platform is that you can manage your kid's device remotely without accessing the phone directly. All the restrictions you apply on apps will get activated instantly.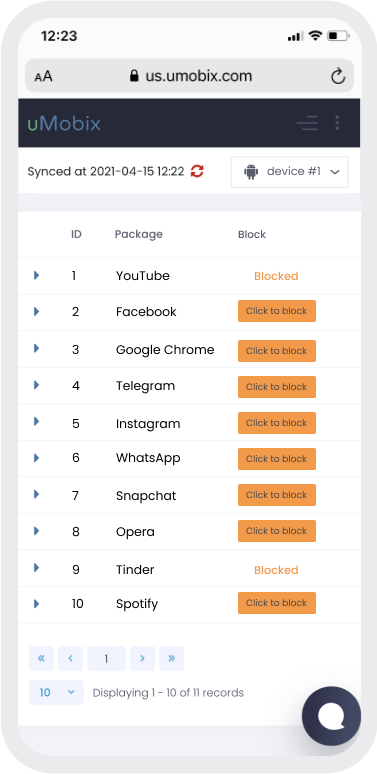 3 easy steps to start tracking
Register

Choose your subscription plan. Complete the purchase and receive the email with your login & password.

Install & Set up

Install uMobix on a target Android device, or provide iCloud credentials of a target iOS device in your user account.

Monitor

Go to your account and wait until we start sending data. Enjoy your tracking!
Frequently asked questions
How do I manage app permissions on Android?

To manage app permissions, you need to go to your account settings and enable restricted mode. Additionally, you can connect your kid's device to the Google Family Link and restrict apps from there. One more option that has a comprehensive solution is uMobix tracking software. With its help, you can restrict and even delete apps on someone's phone.
Can I restrict apps on Android?

If you want to restrict apps on your kid's device, you need to enable parental control on their device or connect their phone to a Google Family Link app. Additionally, you can install an app for parental control that will allow you to manage their screen time and restrict any apps you don't want your kid to use.
What app permissions are dangerous?

You could give certain permissions to apps that may affect the privacy of your data and the device's functionality. For example, such apps can access your camera, location, and microphone. To avoid it, use tracking software like uMobix that will detect any suspicious apps on the device.
How do I block certain apps from being downloaded on Android?

In order to prevent specific apps from being downloaded, you need to enable parental control settings on your Android device. Go to settings, and access the parental controls page. After this, you will need to set a PIN code. This feature won't let specific apps be downloaded. Additionally, install software for parental control, like uMobix.
Ready to begin?