Video stream
Monitor in real-time what is going on around your kid.
Activate the phone's camera remotely and see where your child is.
Get instant proof that your kid is safe while being out.
Determine your kid's surrounding, and see if there are bullies.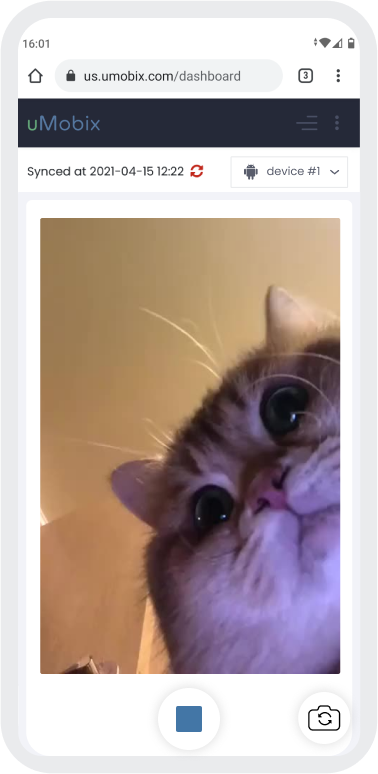 What is a video stream feature?
If you have ever wondered if it is possible to see for real what someone is doing with the help of their smartphone camera - the answer is yes. With the help of uMobix video stream feature, you can easily spy through a cell phone camera. When you want to check where your kid is at the moment and what is happening there now - use a phone camera spy as a tool to get all the needed information instantly. This feature will let you see all the surroundings of a target device in a matter of seconds. This feature was created for those parents who want to know that their child is safe while being out with friends or not bullied at school. With uMobix you can count on remote cell phone camera activation and see the streaming video from your target device on your dashboard. Usage of this feature will allow you to spy through a phone camera on what your kid is doing right now. To use this see-through phone feature, you only need to install uMobix software on your target device and access your dashboard.
What makes it unique?
You cannot always be with your child and accompany them no matter where they go, but knowing what your kid is doing is essential in this world full of danger. The list of possible threats waiting for your child can be pretty big. Bullies, pedophiles, frauds, drug dealers, and thieves can wait for your kid somewhere on the streets. And when you, as a parent, want to make sure your kid is all safe, you need to use a tracking tool. With the help of a phone camera spy, you will have a chance to spy on everything that surrounds your kid. You teenage kid went to a party, and you are afraid of any rape and drugs? Or your child goes out with friends, and you want to make sure there are no drugs and alcohol? Then, the phone camera spy will be a perfect solution for you. With the help of video spying, you have a chance to not only hear everything around your kid but also to see it. The key factor that makes this feature so effective is that you can detect if the camera on a target device is active and it's owner is being monitored.
How does video stream work?
Suppose you decide that a spy through a cell phone camera feature is what you need for effective monitoring of your child. To launch a video stream, you need to make sure the uMobix software is already installed on your target device and runs smoothly. When you open your dashboard, you will be able to see a video stream tab, and once you click on it, you can launch a stream from your target phone's camera. This feature will show you everything your target phone camera sees. You can choose whether you want to stream from a front or back camera to get a complete picture. This feature allows you to track when you want in real-time and stop the stream when you don't need it anymore. It won't be possible to detect from a target device that there is a video stream from that device, so you don't need to worry about being caught. Use this video stream function in those cases when you need to know 100% the real situation and find out where your kid is and what he/she is doing.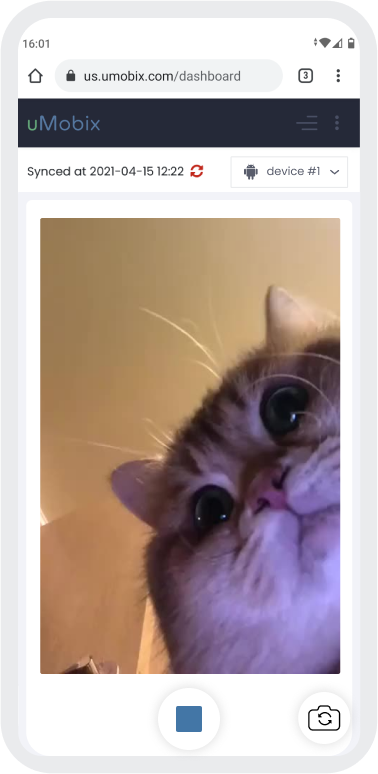 3 easy steps to start tracking
Register

Choose your subscription plan. Complete the purchase and receive the email with your login & password.

Install & Set up

Install uMobix on a target Android device, or provide iCloud credentials of a target iOS device in your user account.

Monitor

Go to your account and wait until we start sending data. Enjoy your tracking!
Frequently asked questions
How to remotely access an android phone camera?

If you want to access an Android phone camera, you need to download uMobix software. Following all the guidelines, you go through an easy installation process and install uMobix on a target device. After you are all set, you can go to your dashboard and open the video stream tab and start seeing in real-life what the phone camera sees.
How to remotely turn on a cell phone camera?

The only way to turn on a cell phone camera remotely is to install uMobix tracking software. Once you activate the software on a target device, you only need to log in to your dashboard and open the video stream tab. From there, you can choose to spy from a front or back camera of a target device.
How to know if someone is watching you through your phone camera?

When someone is watching you with the help of special tracking software, you cannot identify it since this software usually operates untraceable. You can only try to track your battery life or any phone glitches and if you feel suspicious, try to reset your phone. But such apps, like uMobix, work really secretly and are hard to detect.
Is there an app that lets you see through other people's camera?

Yes, you can find multiple tracking apps that allow you to monitor someone using their smartphone's camera. Apart from that, such apps have a very wide range of functions that enable you to watch someone's phone easily and see all the activities on target devices. uMobix app is an example of such a solution. The see-through phone feature is one of the multiple uMobix can offer.
Ready to begin?