Dream of every parent – to be aware of where your child is at any given time. It is easy to make this dream come true using cellular carriers, built-in phone features, or dedicated tracking software. So the question is, how do I enable geolocation on my child's device?
The A-go-go rhythm of life we have now doesn't give us too much spare time to spend with our kids. Loads of work and lack of free time make our kids more independent and free more than ever before. All this results in complications of controlling your children. Safety levels in cities decreased, the number of crimes against kids or teens is constantly growing. It all makes parents worried about their kids when they are not here. O one hand – it's crucial to respect your kid's will for freedom, and on the other – save your kid from existing threats in the surrounding world. This is why having location services on is vital.
How to Turn On Location Services on iPhone or Android
Wondering how to track your child's phone and be constantly aware of their location? It's easy to implement it online with built-in Google or iCloud features. The key requirement for them to work is to have location services enabled on your kid's device. Most likely, parents have access to their kid's accounts, and enabling these services can help knowing where your child is. Both platforms (iOS and Android) have all the necessary features that parents can use and monitor their kid's location in real-time. Enabling smartphone location features can tell a lot about your child and be beneficial for app developers.
Knowing where you are helping many apps do their job
Recently, nearly every app wants to get access to your location. They do have a reason for it since knowing your location gives loads of data and can potentially help companies have higher income or become even more efficient. Depending on the kind of app, they need your location for various reasons.
Camera: camera on your device or some other camera apps collect data about your location so that they attach location info to the pictures you take. This helps you to track location history on your media gallery.
Maps and travel apps: any navigation app needs your location to work efficiently. You cannot use any navigation app and get somewhere without enabling location tracking. Any travel apps need your location to make needed suggestions about places nearby or to order a service that you might need.
Weather app: such apps require your location to provide accurate data about weather conditions around you.
Social media apps: these apps want to know your location for those cases when you need to tag a place you have visited, or you need to find something using the app itself.
Health and Fitness apps: in cases when you want your phone to track your physical activity or monitor how many steps you made during the day – this is the case when you need to give these apps access to your location.
Games: such games like "Pokemon GO" might need your location so that you can have the best user experience while using these games.
You can always regulate which apps can access your location data or not. These features are easy to change on your phone settings. Some apps will not work without accessing your location data, so it is up to you to decide if to use them or not.
What Are Location Services and How Do They Work?
All modern devices have a GPS module built-in. This chip allows you to get connected to the Global Positioning System and collect needed data about your device's location. With this small detail, you can always be aware of where your phone is. Location Services is a group of settings that can track your location and provide this data to you. Many apps require your location to work properly ( Find my Phone or Google maps). Use location tracking to know where to drive, and as an emergency tool in case you have your device stolen, or you can always find the nearest gas station.
Using only a GPS module, it is hard to get a precise location. Hence, to get more accurate data, Location Services also use cellular data, Wi-Fi network, or Bluetooth to detect the more precise location of your phone. With the combination of these data sources, you have a powerful tool that can see your location up to a few meters. Moreover, the latest devices also have a built-in sensor or compass feature that even gives you a chance to detect the direction of your phone's movement.
How to Turn on Location Services on iPhone
The chances that you already have location services enabled are very high. During the first setup of your new iPhone, you are offered to allow location services for more accurate functioning of your new device. But in case you still didn't do this, turning them on is pretty easy. You need to go to your iPhone settings. Go to the Privacy section and click on Location Services. Swipe to turn on location services, and you are now done. Beneath, you will see the list of apps you have on your device, and you can configure which app can access your location data. You have three modes to choose from: Never, Ask Next Time, and While Using the App.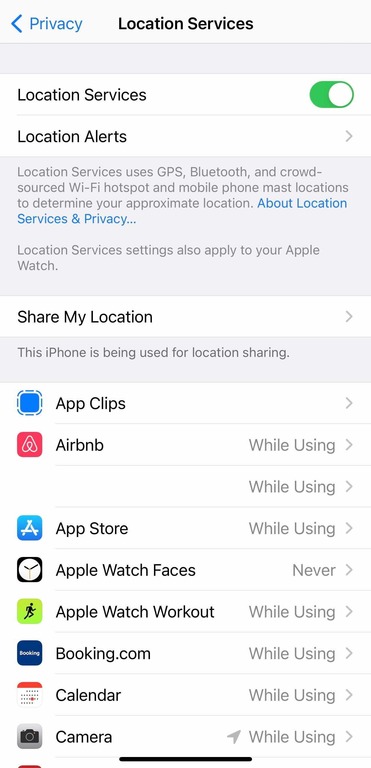 It's good to go through all the apps and restrict access for some apps if not necessary. Such measures extend your battery life. Once you want to monitor your kid's location on your iPhone, you need to use the Find My app. First, make sure that the Find My iPhone function is active, and then you need to send a request from your child's phone to your device. Once an invitation from your kid is accepted, you can now access your child's location all the time.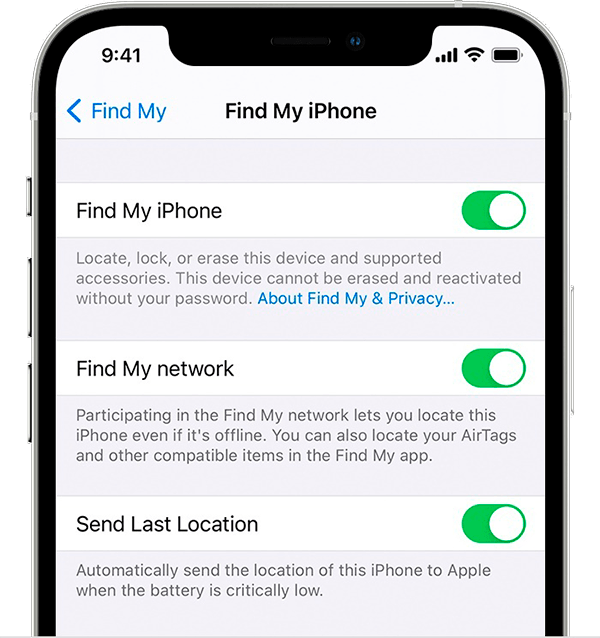 How to Turn on Location Services on Android
Like with the iPhone device, most of the time, Location Services are enabled during the first set up of your Android phone. But in case you didn't enable it for some reason, it's easy to fix. To make Location services on, you need to go to Settings. Choose the location and turn this feature on. Android offers you a few location modes to choose from:
High Accuracy: this mode implied using GPS, Wi-Fi, Bluetooth, and the cellular network to detect the accurate location of your device. Note that this mode will decrease your battery life, and this mode provides less privacy.
Power Saving: this mode uses only Wi-Fi and a mobile network to detect the location of your phone. Has lower battery consumption.
GPS only/device only: your phone will use the only GPS to detect the location.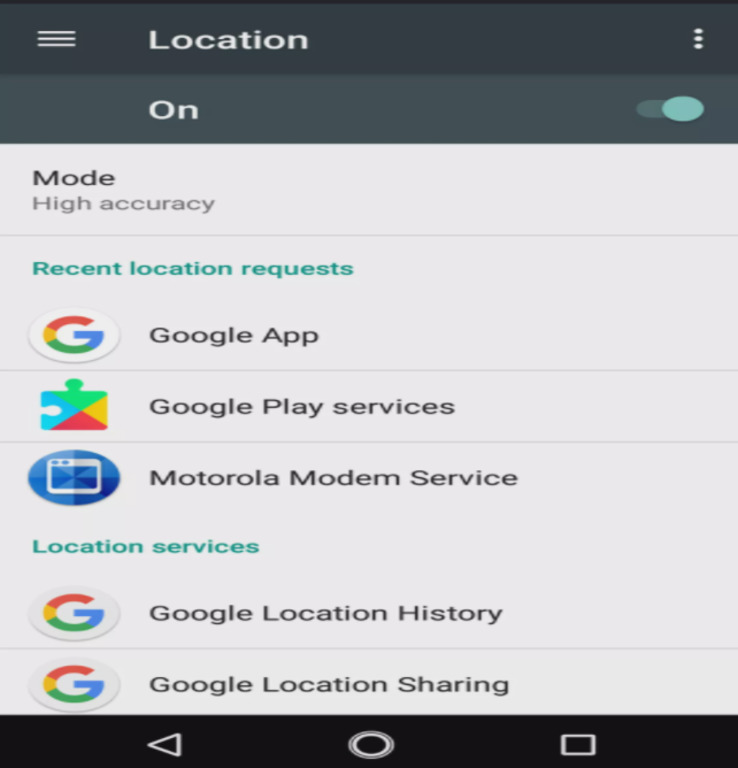 Along with these modes, you also have additional location-based services from Google. These services include:
Location accuracy: The same as High Accuracy mode requires the usage of GPS, Wi-Fi, Bluetooth, and the cellular network to detect the accurate location of your device.
Location History for your Google Account: this feature allows you to see the location history of every device connected to your Google account. You can always erase this data or disable this feature.
Location Sharing for Google maps: This feature allows you to share your location with others. Use this feature on your kid's phone. Once you add yourself to the people who can see your kid's location, you will always be aware of where your child is.
All these configurations allow you to customize location services on your Android device. When you want to be aware of your kid's location, enable location sharing feature, and you can be calm.
What To Do When Apps Ask to Access Location Services
Some apps ask for your permission to use your location. The app will ask you about this the first time you launch it. Even though you can always manage these settings, it is still worth thinking if this app really needs it. Some apps want to use your location info for their own purposes, for example, make more sales or apply targeted ads based on your location data. On both Android and IOS devices, you can manage these settings and change them at any time. It is always safer on your kid's device to allow apps to track a child's phone location only when necessary. For example, such apps like navigation or original apps like Find My or Google Maps.
Your Privacy Rights
Once you decide to give your kid their first device, you need to choose how you set it up for them. You decide if you set up your new phone using your account or create a separate account for your kid.
Standard Google account can be created with a minimum age of 13 years. But still, the best way is to create a separate account for your kid. In case your child is underaged, this Google has a good solution. Set up your kid's account in the web browser, and create your family group on families.google.com to join every family member together.
A similar process works for setting up an iPhone device for your kid. If your child is under 13 years, you need to go to Settings → Family Sharing → Add Family Member → Create a Child Account. In this way, your kid can use their iPhone device and use it with certain limitations. You, as a parent, can access their location all the time.
Accessing your kid's phone location can be an effective method of monitoring your child. But what in case you want to know more than only their location? It can be that you have a feeling that something is wrong with your child. Changes in the behavior, lousy mood, or no communication between you and your child can signalize that you missed something. This is the case when parental control software comes on stage. uMobix is a tool that will give you access to your kid's phone. Check what they do online, who they call or message, what they search for in Google, and with whom they chat on social media. Use uMobix to monitor your child's safety in a digital environment.
FAQ
– How do I stop my location from automatically turning on?
Some system apps can regulate the location use on your device. To check which app is doing it, you need to access Recent Location Requests in your phone settings. Once you find which app uses your location, you can disable it. You can always give or take away the permission for any app to use your location.
– Should location services be turned on or off?
It's always up to your decision if you want to keep it on or not. Modern devices are using Wi-Fi, a cellular network, and GPS to track your phone's location. This is done to provide more accuracy in the phone's location. If you don't need it and turn off the location services, your phone will use GPS only to detect where you are.
– How do I know if someone is tracking my location?
Android and IOS devices do not send you notifications if someone is tracking your location. You can only find out which apps are using your location. To check which apps have access to the location services, you need to go to your phone's settings. You can regulate which apps can track your location.
– Why do I see the location icon on my phone?
When you see a location icon on the top right corner of your screen, location services are currently active. If you want to check which app is using your location, you need to go to your phone settings and open Recent Location Requests. If you don't want some app to use your location, you can disable it any time.