Parents are getting the first devices for their kids quite early today. They are doing it for reasons of security and the necessity of keeping in touch with their child. But no matter how you cut it, your child sees their smartphone as a toy first of all. When your kid gets their first smartphone or tablet, you may start worrying about how much time they spend there or what they are doing on their devices. Luckily, the possibilities for parental controls keep growing and are here to help you ensure your child's online safety and prevent the harmful influence of the Internet. An Android operating system has its built-in feature that will allow you to control your child's smartphone. In this article, we will investigate the capabilities of Android parental controls as system features and usage of the external software used for the same purposes.
Ways to keep your children safe
A personal smartphone or a tablet that nearly every kid has nowadays is easy access to the extremely attractive but far from the safe digital world. Protecting your child from harmful content, limiting their screen time, spent playing or surfing the net – this is the point when you need to use android parental control.
The most straightforward way to protect your kid's digital life is to use built-in android parental control features. Each Android device has this function by default and operates on every device. There are two places where you can enable parental control on your kid's Android device – the Google Play Store app and Google Family Link app. With their help, you will restrict the content, games, or films your kid can watch. With the use of the Google Family Link app, you will be able to get more complex control over your child's phone. Here you can set screen time, locate a kid's device, block or allow apps. If these features are still not enough, and you want more control over your kid's activities, use additional parental control software for Android phones.
Google family link for parents (free)
By installing this app on your kid's device, you get a wide range of features that will help you to control your kid's activities on their android device. Before you start setting up the Google Family Link app to work on your kid's device, you need to make sure these steps are already done:
To use Google Family Link, your kid needs to have their google account. If your child still doesn't have an account, create it for them.
The account of your child needs to be a part of your Google Family Library. Connect it before you start setting up the Google Family Link app.
This account will need to be the only one connected to your kid's Android device. If there are multiple accounts, they will be erased with all the data while setting up Google Family Link.
To set up the Google Family Link app, you will need to have a parent and kid's device next to you since you will need to install it on both phones. So here is the step-by-step guide on how to set it up:
Download the Google Family link app for parents on your device, and then install the kid's version of it on your child's phone. Note that there are two separate apps.
Open the Google Family Link app on a parent phone and log in using your account. Select your child's account that you want to control. Then you will need to get your kid's phone, confirm your inquiry, and get the verification code.
Open this app on your kid's device and choose this device option. Then select your kid's account.
On both devices, you will need to verify the connection and enter security codes.
Now you can move on to set up control features, make sure you enable all of them.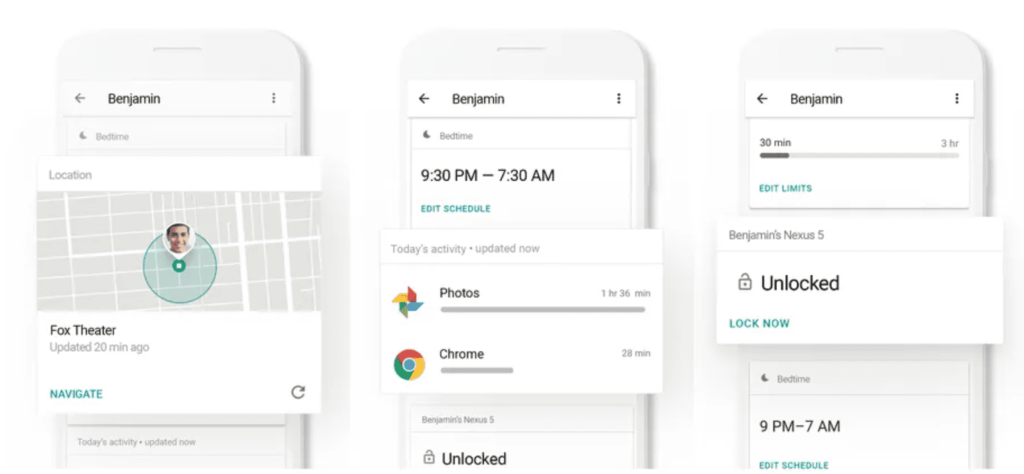 You can start using the Google Family Link app and control or regulate all your kid's activities from now on. Access GPS location tracker to track where your kid is precise. In the app settings part, you can manage which controls are enabled and configure them at any time.
How To Set Up Parental Controls on an Android Phone?
Right after your kid gets their first smartphone, you need to figure out how to track your kid's activities. Before you start using any additional apps for Android parental control, you can implement some basic restrictions directly on your child's phone.
One of the first things you can do – limit data usage for apps. You can limit data your kid can spend for using social media or Youtube in the phone settings. From the settings, go to Network and Internet → Data Usage → Mobile Data Usage → Set Data limit. What can also be effective – creating a restricted profile on your kid's device. This will give you additional controls and restrictions. But apart from these things, you can also use the additional tools mentioned down below:
Open the Play app
Many Android parental control features are hiding in the Google Play app, and if you want to manage how your child uses the smartphone, you should enable these controls. If you're going to give your child access to the Google Play store, you can either log in with your account or sign in with the child's google account. In both cases, you will be willing to apply certain parental controls there. To set parental control for an android phone, go to the Play Store app and click on three horizontal lines. Access Settings and click on Parental Control.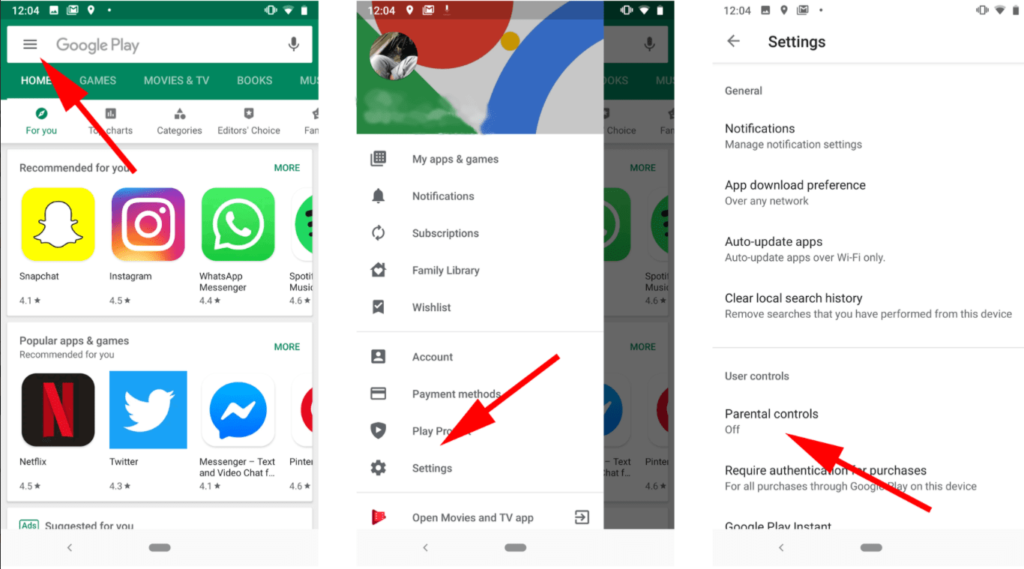 Push the button
You will need to turn on Parental controls on your kid's device. This feature is switched off by default, so as soon as you want to use it, simply turn it on.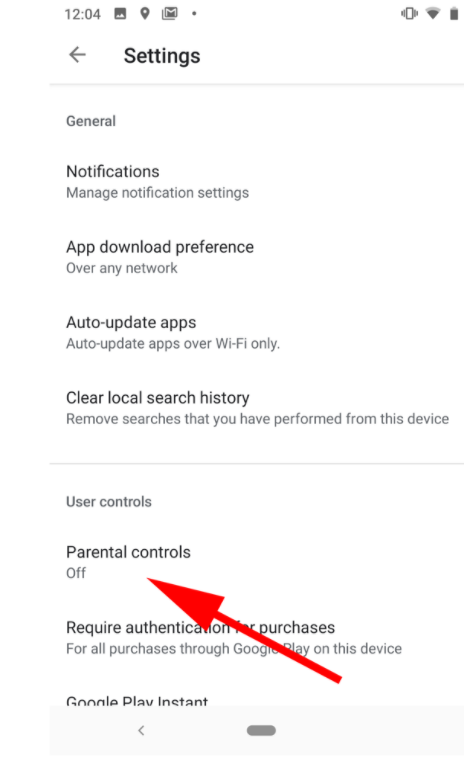 Pick a PIN
Right after you turn on Parental Controls, your Android device will offer you to create a PIN code. You will need this security code to ensure your child cannot disable any parental control restrictions without you. Make sure you memorize this code. Otherwise, you will not be able to modify any parental control settings.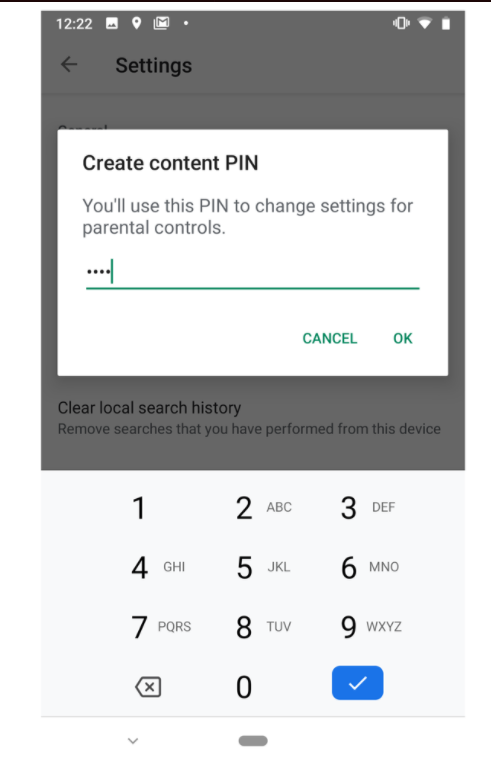 Select the content
Once the PIN code is set, you will see the tab with all the settings you can now manage. You will be able to access each section and set all the restrictions you want on your kid's device. You can manage Apps and Games, Films, TV, Books, and Music from the categories. Applying the needed age restrictions, you will make sure your child does not encounter any inappropriate content that does not fit their age group. So after you edit the parental control setting in each category, there will be no way your child can download any restricted content.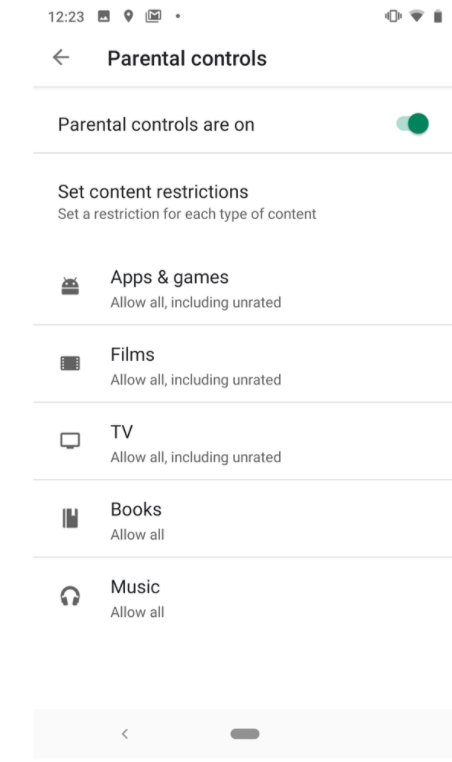 Set the age limit.
Now open each category, where you can apply any restrictions. You will see available age groups that you can set. Depending on the age of your child, you can set the limits. You don't always need to follow these age categories strictly. These restrictions are always up to your decision. Some categories require more strict regulations. Some of them don't.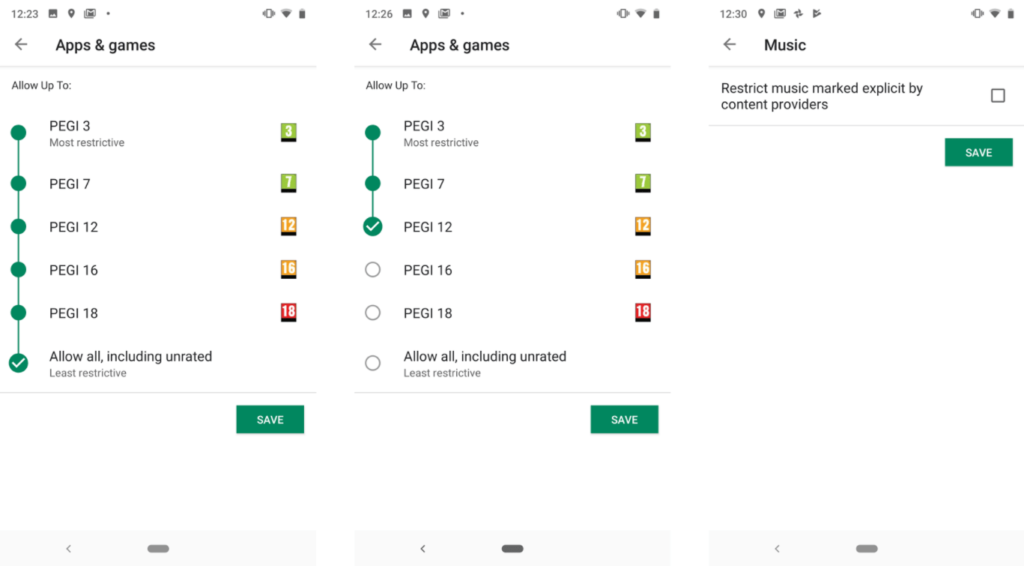 Limit purchases
Another important setting you should apply – is to manage your kid's purchases from the play store. Your child will most likely be using your card to purchase the apps, here is why setting purchase restrictions will help keep your balance high. What you can do is set a PIN code for purchases. Every time your child tries to purchase something from their device, you will need to either approve or deny it. Without your permission, your kid won't be able to upload apps or other content that costs money.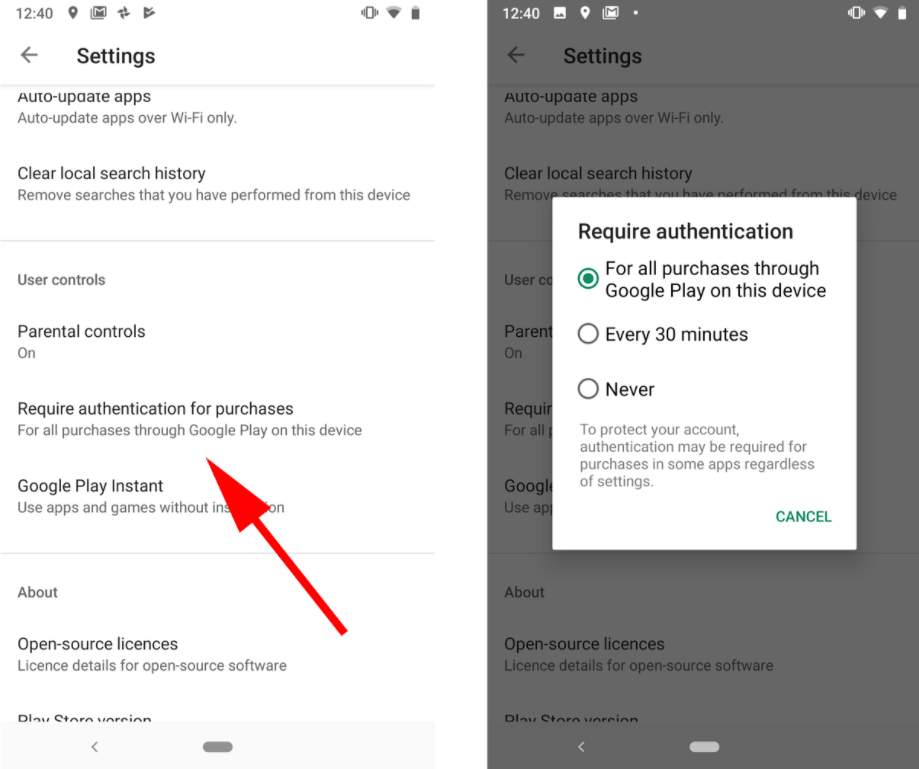 Install Family Link
As we already mentioned, another effective tool for android parental control is the Google Family Link app. You can use it to control the way your child uses their device. With the help of Family Link, you can manage all the apps your kid uses, control their screen time, and set a bedtime, when after a certain point, they cannot use their device till the next day. This app works until your kid turns 13. Afterward, they can be in charge of their own account and decide for themselves. Of course, Family Link is more as an additional tool that can help you keep your child's online life a safe place, but it cannot guarantee 100% success.
What about uMobix Android Parental Control App?
After you implement all the android parental control on your kid's device and still have a feeling of missing something, you can always use an add-on tool for parental control. uMobix is tracking software that you install on your kid's device. Apart from managing the use of the gadget, you can also monitor exactly what your kid is doing on their phone. With the help of uMobix you can monitor with whom they talk, check text messages online, see all their activities on social media apps, check the browsing history, and much more. This tool will give you access to all the information regarding your child's online activities. These days, when you cannot limit people who try to reach your child, the best you can do – keep track of what your child is doing while being too young to protect himself. You, as a parent, accept the role of teaching your kid how to behave online and protect their boundaries. Use uMobix tracking software additionally for your kid's Android device to maintain your kid's safety.
Making your kid's digital life safer is not hard these days. With the help of default android parental control features and additional tracking software, you can always keep an eye on what your child is doing on their phone. Apart from controlling the activities of your kid, use these tools to help develop healthy digital habits. Getting addicted to a device is easy, especially at a younger age. To prevent this, use screen time limitations and bedtime restrictions. Knowing what your kid does online and with whom they contact on social media can help you protect your kid from bullying, sexting, personal data theft, and mental problems. Do not miss the chance to help your kid learning how to use devices smartly before they grow up. You can find full review written about our product on the following link.
FAQ
How does the Google family link for parents work?
Google Family Link is an app that is installed on both devices – parental and kids. It allows parents to manage key activities on the android phone, such as setting screen time, block and allow apps, bedtime, etc. To use it, you need to create a Google account for your child and go through a setup process.
What can parents see on a family link?
Using the Family Link app will allow you to track your kid's exact location, even though it is disabled by default, but it is easy to turn on. You can also see the screen time, which apps are mostly used. Additionally, you can also control what your kid can access and how long they can use their devices.
Can your parents see your search history on the family link?
Your browsing history is saved in your Chrome settings. It means that your parents can check your browser's history by taking your phone and going into settings. Using Family Link does not disable ads you may see while using Chrome.
Is the Google family link for parents free?
Yes, Google Family Link is an absolutely free application. You can use this app on both android and IOS devices. It was created specifically for Android users. Parents use this app to help their kids using gadgets. Use it to monitor your kid's digital activity and ensure their online safety.