It's really hard to find a person or a kid who has never heard about YouTube before. A lot of kids grow up being glued to the screen, watching various content on the YouTube platform. But unfortunately, this innocent hobby may lead to some unwanted consequences, such as developing an addiction or seeing harmful content that was not created for the kid's view.
How to Set Up YouTube Parental Controls
If you see your child spending a lot of time watching YouTube videos, you should think about organizing a child-friendly environment and enabling YouTube parental controls. Modern YouTube is rather an encyclopedia of content about everything in the world. However, apart from unique and exciting content, your kid can face some videos that are far from educational. Once your kid enters the YouTube app, they can see videos that are not meant for a child to view. Even by opening the trends tab, you can find those videos that bring potential harm to your child.
If you are worried that your kid may confront harmful content or will simply be wasting time on useless videos – follow our guide on setting restrictions on YouTube. Luckily, there are a few methods that you can use to set parental controls on YouTube. In this guide, we will have a detailed look at each of them and decide the most effective way to implement parental controls for YouTube.
YouTube Dangers
Before we move on to ways to set parental controls on YouTube, let's first find out what is the reason why you need it so badly. Even though many parents have always been concerned about YouTube safety, these disturbances skyrocketed after Logan Paul's video was published. In that video, he walked into a famous Japan's "suicide" forest and showed a body hanging on a tree. This video launched a big wave of resentment and made many parents think of what their kids really watch on YouTube. 
Another frightening series of videos that appeared on YouTube is called "Elsagate." This is a poisonous type of content that is presented as kid's content.
These are only two examples of poisonous content that your kids can find accidentally. Even though YouTube algorithms have improved, they still can be tricked by creators. You can find malicious content sneaking into the YouTube Kids app, so relying only on YouTube parental controls makes the content safer for your child, but the risk is still there.
What You Should Do
If you decide you still want your kid to use YouTube since, apart from malicious content, it also has extremely useful and pleasant one – here are some recommendations on how to do it right. 
Check which content your kid watches yourself. YouTube allows its users to create playlists and subscribe to certain channels with acceptable content. You can find millions of kind, pleasant, and educational videos for kids. Here is why we suggest controlling the content your child can watch on YouTube. Agree with your kid that they can access YouTube after your permission, and let them watch those videos you know are safe. 
Switch off the autoplay function. You don't know which video will be offered to your kid next, so to protect your child from unwanted videos, disable autoplay. You can also edit the list of recommended videos and delete from the list those videos you find suspicious.
Report as soon as you see any malicious content. When you mark a watched video as inappropriate or report it, you help YouTube algorithms improve and protect other kids from seeing this. 
Turn on parental controls on YouTube and restricted mode on browsers. These steps will help you restrict those videos that do not follow your child's age category. Additionally, you can use monitoring software that will help you check what content your kid watches on YouTube. 
Browser-Based Parental Controls
The first step for YouTube parental controls is to enable "Restricted mode" on YouTube. It uses the video's title, metadata, description, and age restriction to identify if underage kids can watch it. Of course, it doesn't guarantee 100% protection from mature content since content creators can still find ways to bypass these restrictions and make their harmful content available to a bigger audience.
However, if it is only the first step you make in enabling YouTube parental controls, it works pretty well. The chance to see any harmful video gets way lower and the restriction mode is free and works on every YouTube account. It is easy to enable restricted mode on YouTube no matter what browser you are using. If your kid uses YouTube from multiple devices, with the help of a browser, make sure you turn on restricted mode on each of them.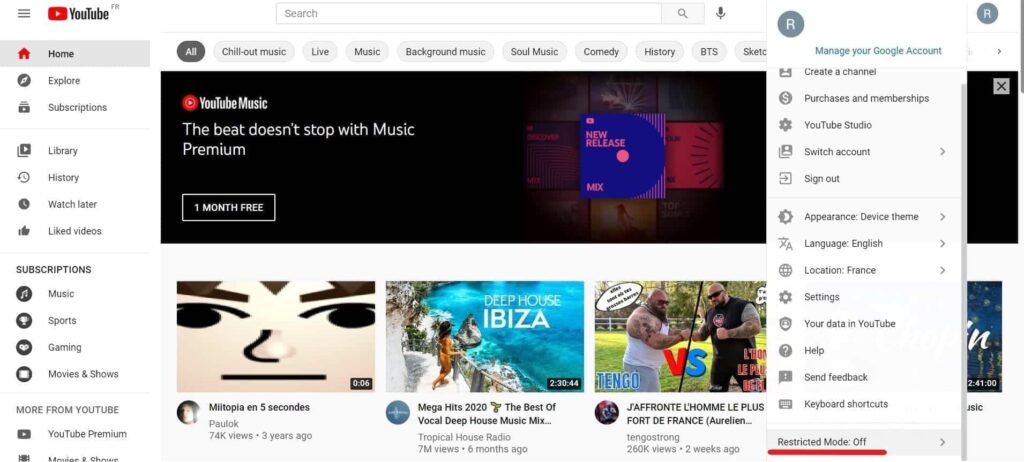 To turn it on, you need to open youtube.com on your browser and log in using a Google account. Open the settings, and in the drop-down menu, you will find "restricted mode," which is disabled by default. You need to turn it on and refresh the page for it to become active. 
A Different Process for Mobile
Most likely, your kid will be watching YouTube, not only using a browser. Here is why you also need to turn on the restricted mode on a corresponding YouTube app. Bear in mind that when you turn on parental controls on your account through a browser, it doesn't mean that the update will appear on all other devices connected to the same account. Here is why you need to turn on restricted mode on each device you plan your child to use.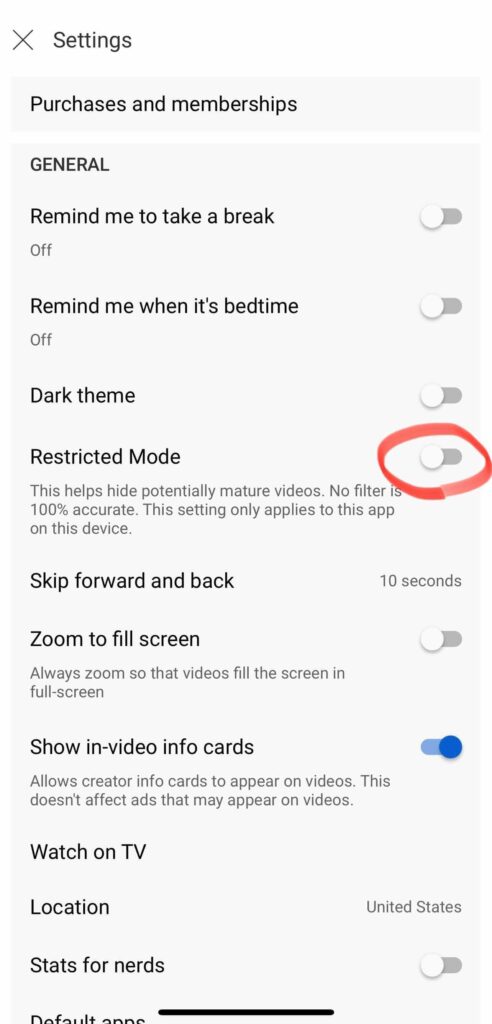 When you want to enable restricted mode on an app, you need to log in to your account, click on your profile picture, and enter your account. Then tap on settings, and you will see the Restricted mode option that you can turn on with only one swipe. Repeat the same steps on every device where you want parental controls to be active. The procedure is identical for both Android and IOS devices.
Protection Rules from Experts
For those parents who are worried about the content their kids can see while using YouTube, here are some recommendations:
If your kid is younger than 13 years and already owns a smartphone, you can create their own Google account through the Family Link app. Then your child will be able to use only certain apps, such as YouTube Kids. Family Link will restrict other apps for your kid's use until they turn 13.
Control YouTube screentime. 2-3 hours a day is more than enough to spend watching videos. The more time your kid spends on YouTube or other platforms, the higher the chance they develop kids' or teens' addictions. The Family Link app will also help you to monitor how much time is spent on YouTube. 
Subscribe to those channels that are interesting for your kid. Find genuinely exciting and educational channels to make sure your kid spends some quality time on YouTube. 
If you don't want your child to see any ads, enable the YouTube premium account. Apart from ad-free mode, you will be able to save videos and playlists on your device. This will allow you to watch YouTube videos with no connection and play them in background mode. 
Use the YouTube Kids App
When you want to go even more deeply into YouTube parental control, there is a solution right for you – install the YouTube Kids app on all your child's devices. In this app, created for kid's use, you can find different content: entertaining movies and shows, educational materials, and content from creators from all over the world. With the help of this app, you will implement more strict control over your kid's YouTube activities. With the kid's friendly interface, you can manage the content your child can access by setting the age in the application settings.
Additionally, the number of settings you can manage with parental controls is enormous. You can restrict unwanted videos and entire channels, enable or disable the search function, and choose which channels, videos, and playlists your kid can watch within the app.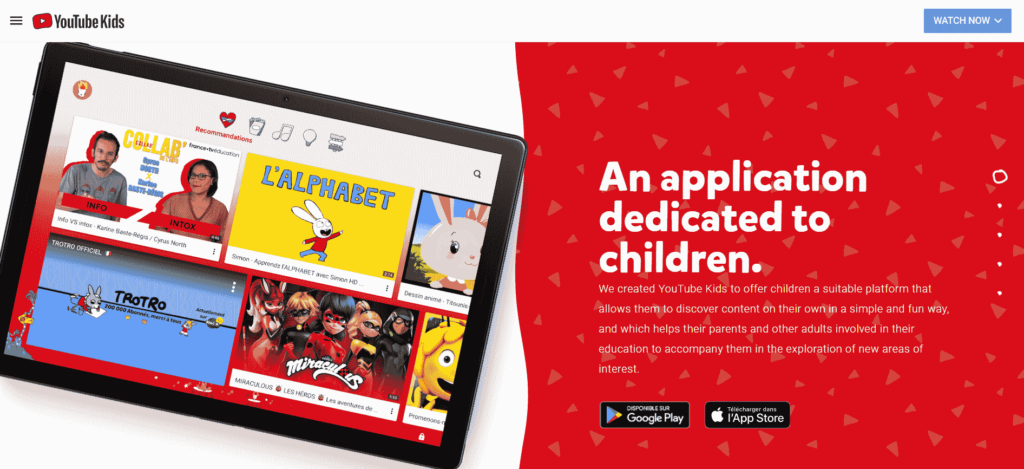 The YouTube Kids app is a place where you can be more relaxed concerning the type of content your child can watch there. Thanks to the YouTube algorithms, the content found on the YouTube Kids app is more safe and more suitable for family view. As already said, there is still a tiny chance that some malicious content can bypass all the controls, but the chance is way lower.
Turn on Google SafeSearch
Most likely, YouTube will not be the only source of information for your kid online. And apart from only watching videos, your child will try to access more information using the Google search engine. And children can see mature content also there. In case you don't want that to happen, enabling the Google SafeSearch feature will allow you to stay calm while your kid is surfing the net.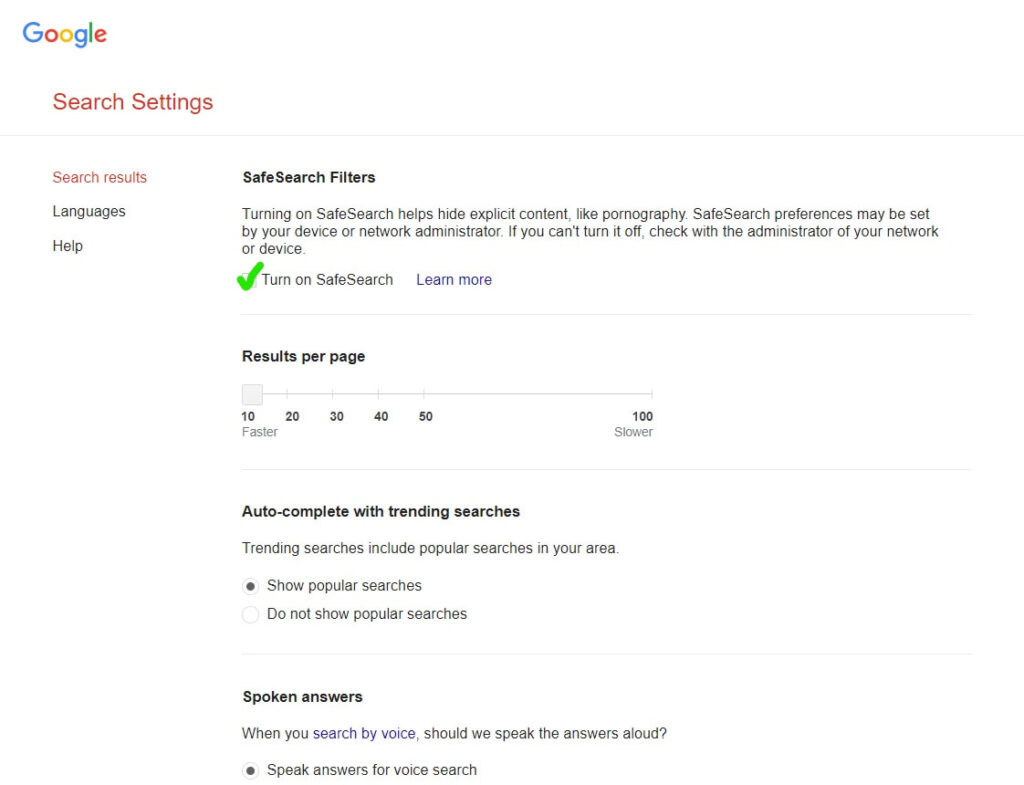 If you want to turn on the Google SafeSearch feature, you will need to open any browser your kid uses on their device. Go to their Google account and open the account's general settings. Find search settings and open them. You will need to turn on Google SafeSearch and lock this feature.
Switch to Other Apps, like Nick Jr, Noggin, or Netflix
Don't forget that YouTube is not the only platform with video content that exists online. If the use of YouTube Kids still makes you concerned, you can always switch to other child-friendly apps, such as Nick Jr, Noggin, or PBS Kids. You can also use Netflix to enable Netflix parental controls and set up an account for kids younger than 12. Such an account will be separate from yours, and the content there will be appropriate for your kid's age.
Add Some Extra Protection
Probably, the best solution for YouTube parental control and not only is to install special software on your kid's phone. One of the most effective software of such kind is uMobix. Using dedicated parental control software will allow you to control the use of YouTube and track your kid's activities on their device on a daily basis. uMobix allows parents to: 
Detect real-time location
Monitor social media activities
Track browser history
See all incoming and outgoing calls and messages
One of the key features of uMobix is an easy installation process that remains untraceable on your kid's phone and enables effective parental controls. Use uMobix software for additional security of your kid's digital life.
FAQ
How do I restrict YouTube content?
There are two common ways to restrict YouTube content. The first one is to turn on the restricted mode in a browser or a YouTube app. The second option is to use the YouTube Kids app created specifically for kids and family use with filtered content. If it is still not enough, you can install uMobix parental controls software on your kid's device.
Is there a kid-friendly version of YouTube?
YouTube Kids is a version of YouTube that was created for kids' use. With the help of the app, you can manage the content your kid can see since videos fit your child's age category. Additionally, it provides you with a lot of extra parental control settings. By implementing them, you make YouTube safer for your child. 
What can I do if my kid sees disturbing content?
Like on any other video hosting platform, there is a chance your kid can see sensitive content. But you can lower the chance of seeing it. Make sure to supervise the videos your kid watches, and if possible, join your child while watching video content. If you see any sensitive content, report it right away. 
Why do YouTube Kids have disturbing videos?
Even when a video seems totally kid-friendly, it can happen that behind it is hiding some disturbing content. Content creators find ways to bypass YouTube algorithms and post their videos for a wider audience. YouTube is constantly working on improving its algorithms to choose videos that are 100% suitable for kids.