Parental controls become an essential part of any reliable platform. These days it's even hard to find a service that doesn't offer any parental control functions. In the past, it was never the case to control or limit our kid's online activities. These days we want to protect our children from unwanted content and protect our systems from any kid's jokes. Over the last year, the tendency shows people spend much more time at home. Kids study from home using the internet, and you, as a parent, cannot prevent any inappropriate content from appearing on the net.
In this review, let's talk about Windows 10 parental controls: what it has to offer and what more to do if it is not enough. Windows parental controls feature offers basic restrictions and controls for your youngster. So it will be for you to decide if using only the Windows system as your parental control will be enough.
What Parental Controls Does Windows 10 Offer?
Windows 10 allows you to set the account for the whole family. From your account, you can add your kids and can regulate and monitor their activities. The question is what Windows has to offer for those who need parental controls?
Activity reports. Windows will let you monitor all your kids' activities in games and apps, browsing history, screen time, and all devices, including Xbox.
Screen time. Windows parental controls allow you to set customized screen time regulations. You will be able to decide daily how much time your kid can spend on their device. With the help of a report, learn your kid's online behavior.
App restriction. You can restrict the use of any app or game on your kid's device with the help of your windows parent account. This feature will let you block any unwanted apps or games.
Safe browsing. In case Microsoft Edge is set as a default internet browser, you can restrict certain content and websites. Once you want to use another browser, think about other parental controls systems.
Location tracking. You can see where your child is by installing a Microsoft launcher on the kid's Android device.
Restrict purchased from a child account. If you don't want your kid to make excessive purchases on the Windows store, you can limit them. Set your child's account so that your kid can make no purchases without your permission.
With the help of Windows parental controls, you can monitor and manage all the key activities of your child while using any device linked to your account. Of course, it doesn't cover every possible interaction with the digital world but does cover most of them.
How to Create a Child Account in Windows 10
It is easy to add a Child account to your Windows account that is already in use. You will need to set yourself as a parent and add younger family members as children with their dedicated accounts. To enable a new account, make sure you follow these easy steps:
From your dashboard, open Settings, and go to the Accounts section.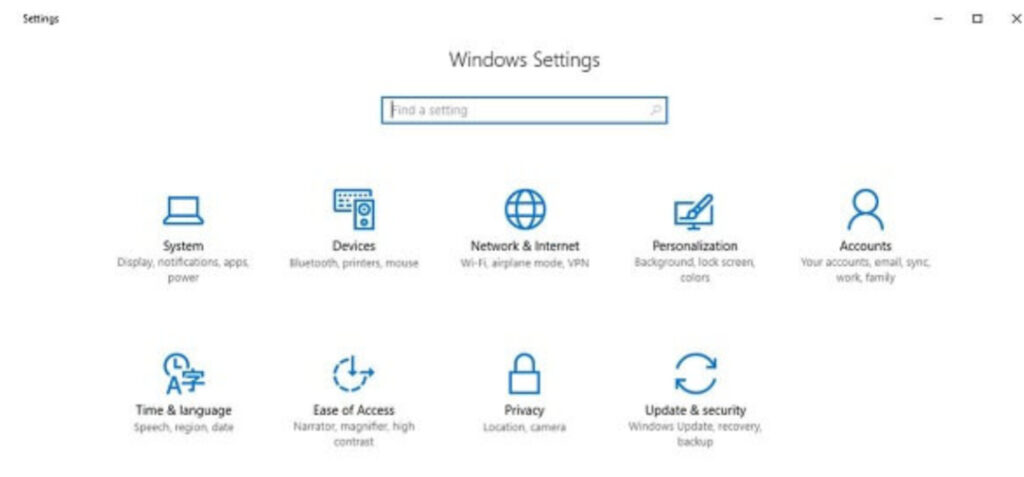 On the left part of the userspace, find Family and other people and click Add a child.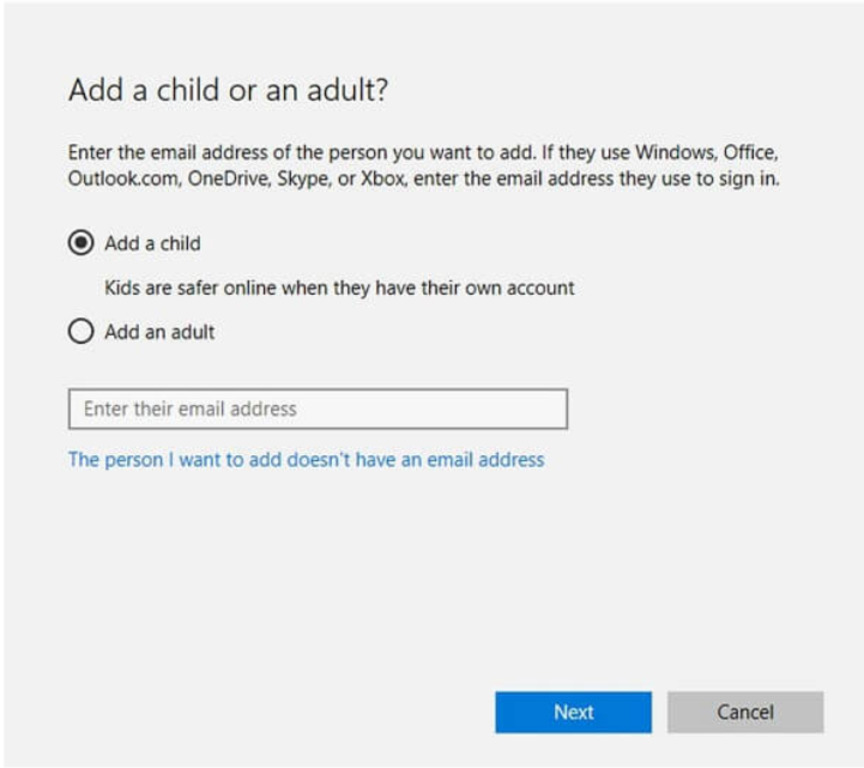 Create a new account for your kid
Set the restrictions for their online experience and choose how you want your kid to use their device
How to Manage Parental Controls for Windows 10
Now you activated your child's account successfully and can manage your kid's account. Once you set yourself as the owner of a parent Windows account, you can set up and start using Windows parental controls on all attached devices. To set up, you need to go to the Family and other people section and, under your kid's account, click Manage family settings online.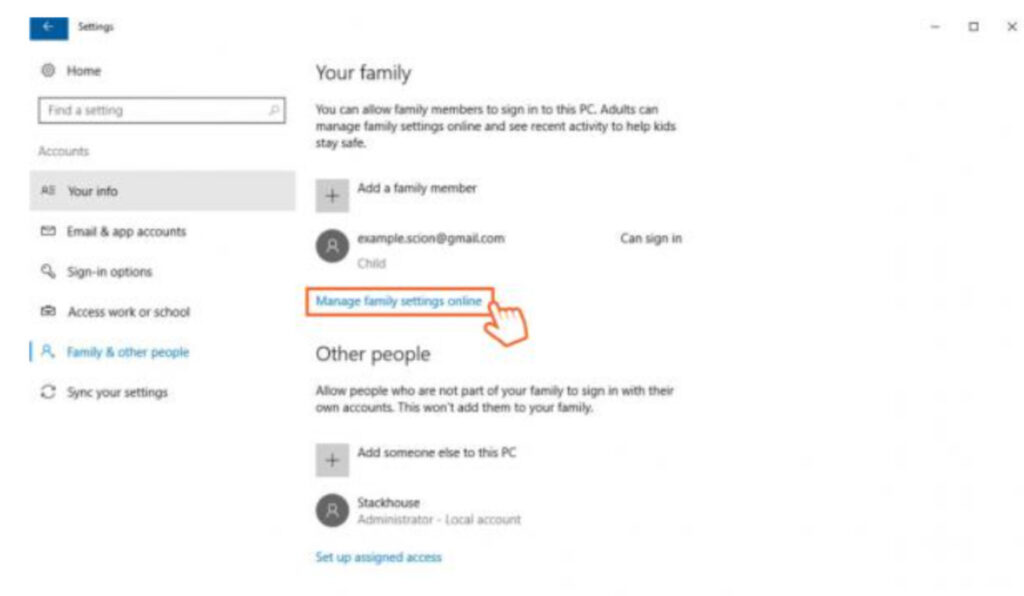 This is the place where you can set up all needed restrictions for your child's safe usage of their device.
Why Do I Need a Microsoft Account?
Suppose you use a Windows system-based device and want this device to be available for your kids. And to use all the features that Windows offers, you need a Windows Family account. And it is clear that you need a primary account that will be set as a parent account for all your devices.
Once you set any restrictions for your kid's windows, account all of them will be automatically applied to all your family devices, including the Xbox console if you own one. So as you see, the benefits of owning a Windows account will help you to enable children's accounts and monitor their online activities.
Find, Change, Enable, or Disable Parental Controls (Windows 10)
As we already mentioned, Windows parental controls allow you to monitor activity reports and location and manage screen time, apps and games available, and browsing. All these settings are customizable, and you can manage them directly in your account settings. To find parental controls, make sure your kid already has a dedicated account and it is activated. Under the Family section, you need to choose your kid's account and click Manage family settings online right below.
As soon as you go to the managing section, you will see your child account and the options you can set up: activity, screen time, app limits. Under the More options section, you will see a drop-down menu, customize content restrictions and spendings, and see device locations.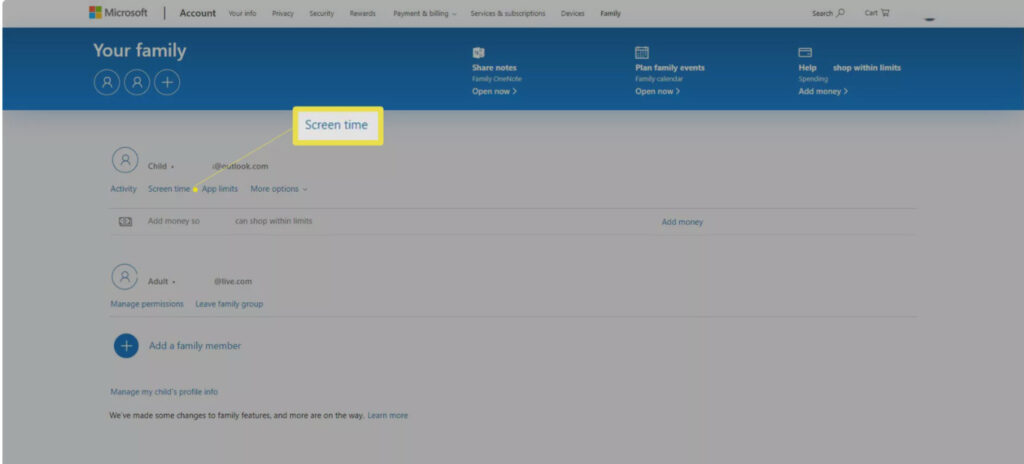 In this section, you can enable and disable all the restrictions when you want to. Windows gives you freedom of choice, and you can adjust all of these restrictions and monitoring features to your own preferences.
Windows 7 vs 8 vs 10 Parental Controls
In case your Windows system is Windows 8 or 7, the steps to set up parental controls are also pretty straightforward. As usual, you need to create an account for your child. You need to click change PC settings → Accounts → Other accounts → Add an account → Child's account in the settings section. Windows system will guide you on how to set up all the needed configurations for your parental controls. In case you will need to change these settings, go to User Accounts And Family Safety and click Set up parental control for any user. From there, you can customize the monitoring and managing functions of your parent account.
With Windows 7, it works in a similar way as for Windows 8. You surely need a child account added to your Main account. Once you add your child's account, you can start setting up parental control. The steps you follow to implement windows parental controls are the same. In the search box, type in parental controls, and open your child's account. Configure all the settings you want, and your child account is ready to use and monitoring.
How uMobix Parental Controls Can Help You?
Windows parental controls is not capable of covering all the needed areas of online activities. This is the case when you need to know which features are not provided from Windows. Browser restrictions only apply when you use Microsoft Edge, and it doesn't work with Chrome or Firefox. This means you cannot restrict any adult or harmful content on these browsers. Moreover, you cannot monitor any browser history in Windows reports. You only need to use a Windows-based device to use their parental controls features. Windows does not give you a chance to restrict apps separately. You can set time limits on those apps, you want your kid to use less.
It is clear that the function that Windows provides to parents is sometimes not enough. For those parents who want a more precise and comprehensive approach in terms of parental control – we recommend using a dedicated parental control software called uMobix.
uMobix system is compatible with both Android and IOS devices. This means you can install it on most of the existing devices. It helps you track online activity, see browsing history, social media activities, and much more. Apart from that, you can also monitor any deleted messages, calls, or search results. Such an approach gives you a wide variety of parental controls features that will help you to protect your kid from bullying, sexting, or developing an addiction to the device.
FAQ
– How to disable parental controls on windows 10?
To disable parental controls, you will need to go to Settings, find accounts and sign in with your local windows account. You will need to know the username and password. Once you are inside, simply turn off the parental controls, and there will be no email sent.
– How do I set up parental controls on windows 10?
If you want to enable parental controls for your kid, you need to go to the search bar and type Family Options. You will find them under settings. Create a separate account for your kid and turn on parental controls. By default, there will be two features on, but you can customize them.
– How do you edit the parental controls on windows 10?
In case you want to manage parental control settings, you need to go to the Family and other people section and, under your kid's account, click Manage family settings online. This is the place where you can set up all needed restrictions for your child's safe usage of their device.
– How do I set up parental controls on Windows 10 without a Microsoft account?
Windows parental controls do not work without a Windows account. To set it up, you need to create a separate account for your child as a parent. In case your kid doesn't have an email, you can create a new email address for your kid and follow all the guidelines you see on the screen.