Technology runs the world, and for this reason, many modern parents rely on smartphones to occupy their children and gain some personal time. Unfortunately, the consequences of this behavior are negative: children can become exposed to negative online content or, worse, find themselves in online hot water.
Luckily, there are free parental control software that can assist with it. But, with so many parental control apps available, how to choose the right one? Keep reading this review, as here we'll unveil the top parental control apps for iPhone to keep your kids safe and sound online in 2023.
Top Free Parental Control Apps for iPhone
So, what is the best parental control app for an iPhone, and how to choose the best one? With so many apps available, we'd point out the top 3:
uMobix – all-in-one best parental control app for iPhone, enabling parents to filter web content, track geolocation, monitor their kids' social media activities, call logs, messages, browser history, and more. Want to know who's around your child and what they're discussing? uMobix has you covered. Enjoy a free trial and round-the-clock live chat support for the best tracking experience.
iKeyMonitor – the best-in-class tracking application with geofencing, audio streaming, screenshot capture, text message and call monitoring, and more. Compatible with jailbroken iPhones and iPads, it allows one to extract iCloud backup data remotely with the right credentials.
Cocospy – lets you secretly spy on iPhone devices without jailbreaking or tool installation. Use the target's Apple ID credentials to monitor what your child is doing online, including SIM card usage, social media monitoring, location tracking, SMS viewing, etc.
What are the best parental control apps for iPhone? What sets the best tracking apps apart to ensure your investment hits the mark? If you are looking for the best one to satisfy your curiosity, the information below is a must-read.
Why Should You Use iPhone Parental Control App?
There are dozens of reasons to buy and set up parental control apps on your kid's device. Here are the most popular reasons:
Help Monitor Their Devices
As your kids explore the internet, it's important to watch their devices. Look for parental control apps to watch over their emails, texts, apps, and social media activities. These tools can notify you about worrisome conversations, e.g., bullying, online threats, problems with classmates, negative thoughts, drug use, etc.
Allow Web Filter
Search engines offer a vast wealth of information, which is incredibly beneficial in many ways. However, there is a flip side to this. Kids can find restricted or inappropriate for their age content. A good parental control app for iPhone has a web filter that can help you block harmful content from search results.
Restrict Access to Certain Apps
Online and offline games your child plays may look innocent at first glance. But, as you know, some may allow your kid to surf the web, make in-app purchases, and talk with other players. For kids, it makes the game even more entertaining. You may not want your child to use your credit cards to make online purchases or talk with strangers who may be online predators.
Track Their Whereabouts
Most reliable tracking apps come with a GPS location tracking feature, allowing you to stay constantly informed about their current, past, and most frequently visited places. There are advanced tracking tools that also include geofencing and alerts, allowing you to set up restricted zones, and as soon as your kid enters these places, you will be immediately alerted about it.
Set Screen Time Limits
Kids can spend hours glued to a device and playing games. Online communication can replace them in real life. Excessive screen time can lead to poor posture, bad marks at school, stress, insomnia, and poor eyesight, to list a few. Setting time limits and the ability to control app usage can help parents protect their kids from those mentioned above and show them how beautiful it can be to walk outdoors, play with friends, and drive a bicycle.
Teach Cyber Etiquette
Help your child make wise choices online, like in the real world. Explain the consequences of cyberbullying, sharing inappropriate content, and hacking, stressing the importance of behaving well online and offline and the laws that protect people from such actions.
Protect from Pedophiles
Online predators lurk on the internet, posing as friends to target unsuspecting kids. Using parental control app for Android and iPhone can help parents prevent this problem by using web filters, apps, calls, or messages. What is more, you can block their device completely if needed.
10 Best Parental Control Apps for iPhone
Finally, we've jumped to the most important part of our review about the best parental control apps for iPhone free. Here's a list of the top 10 picks.
uMobix: Best Parental Control App for iPhone with Advanced Features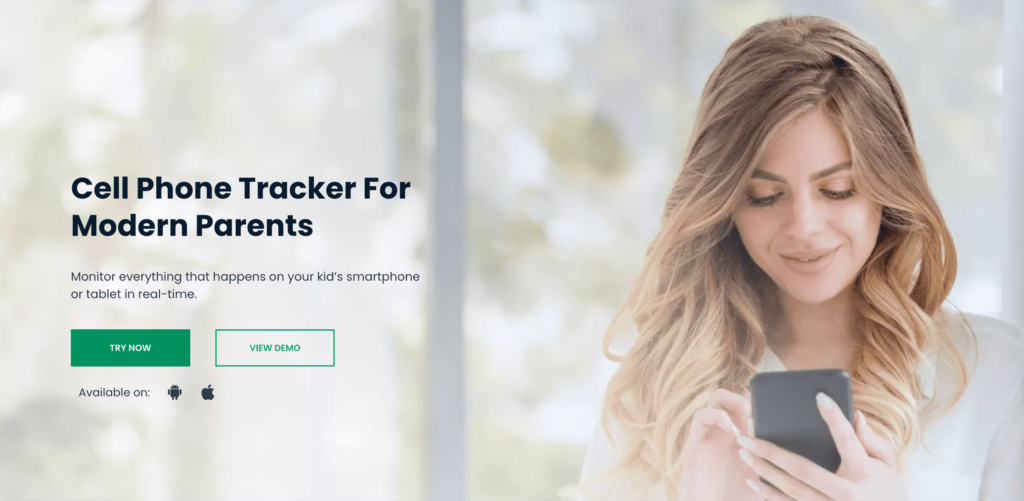 Are you looking for the best parental control software? uMobix is what you need. It offers more than just remote surveillance. With uMobix, you can discreetly keep an eye on your child's device and ensure their online safety 24/7. This powerful tool provides access to call logs, text messages, media files, browser history, social media monitoring, and more.
What sets uMobix apart is its remote app management and web filter features, allowing you to send commands and take an active role in device management rather than being a passive spectator. This level of control empowers you to ensure your loved ones' safety and responsible device use, making it a comprehensive parental control app for anyone seeking to protect their family interests.
What is the best app part? The devs offer not only a free demo version of the app but also a free trial, which significantly increases the trust level among users. So you can use uMobix to see everything on child's iPhone free of charge for 2 days.
iKeyMonitor: Free Parental Control App for iPhone That Doesn't Work Without Jailbreak
iKeyMonitor is a versatile monitoring spyware that ensures the safety of your kids. It offers essential features like call history tracking, SMS viewing, social media monitoring, access to media files, listening to voice messages and the target's surroundings, the ability to take photos remotely, remote control of device usage, using a web filter, and much more.
iKeyMonitor provides precise GPS location tracking and browser history access, valuable for monitoring your child's online interests. It includes an advanced keylogger for security and alert words to promptly notify you about specific words that your child receives or uses in text conversations.
Remember that these iPhone parental control app features are limited to non-jailbroken iOS devices. So, if you want to try all the app's features, you must jailbreak your kid's cellphone or iPad.
Cocospy: All-in-One iPhone Parental Control App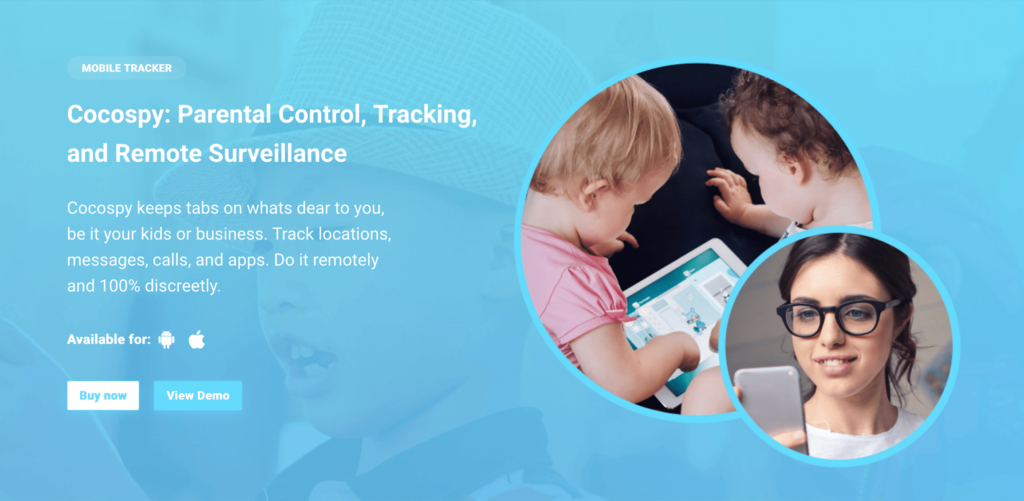 As mentioned earlier, a significant fact about Cocospy is that it does not require installation on the target iOS device, only iCloud credentials. Although it does not have a free trial, it does allow you to check its features with its free demo. Cocospy excels in social media monitoring and tracking messaging apps like WhatsApp, Instagram, Kik, Facebook, and more. It provides comprehensive internet tracking, including incognito tab browsing and browser bookmarks. Additionally, Cocospy allows precise location tracking through GPS hacking. Cocospy can be an excellent geofencing tool, enabling you to restrict specific locations and get alerts once your kid enters them. Want to block access to age-inappropriate content? With Cocospy, it's as easy as 2X2. Open your userspace and navigate to the web filter feature on your dashboard.
FamiSafe: Good Parental App to Keep Your Kids Safe Online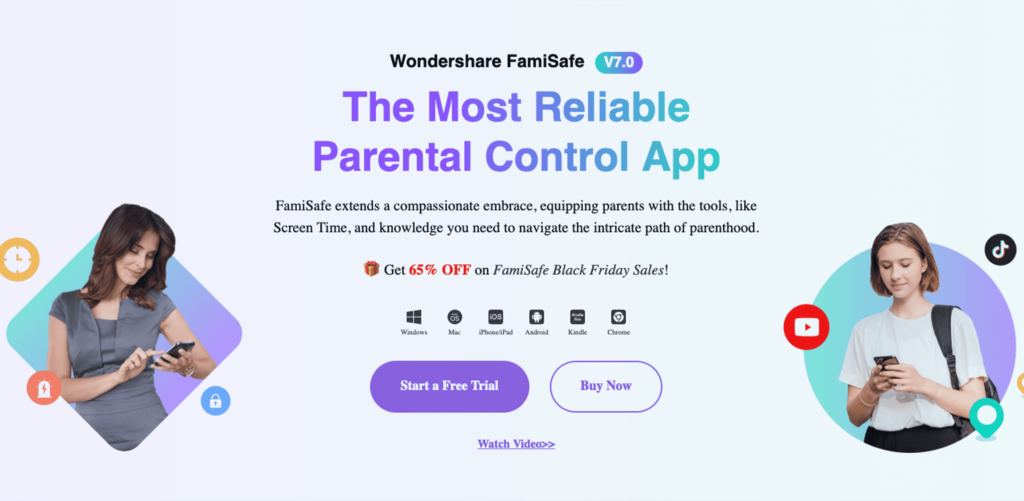 FamiSafe is a top choice designed to keep your kids safe online. Being a parental control app for iPhone free, FamiSafe offers real-time location tracking, location history checks, and geofencing, allowing you to set specific zones and receive alerts if your child leaves them. It's an excellent tool that allows you to track kids' location and check whether they tell you the truth. Parents can monitor online activities, block inappropriate websites, and limit screen time. FamiSafe even spots suspicious photos, making it great for teen safety. For teen drivers, it provides detailed driving reports on routes, speeding, and braking. This parental app also comes with "toxic content detect" and "inappropriate pictures detect" features, ensuring no harmful or adult content will be encountered by your kid. Although the devs failed to provide a demo app version interested in the software, users can download its free option and enjoy this free iPhone parental control app.
Spyic : Hidden Parental Control App for iPhone with a Free Demo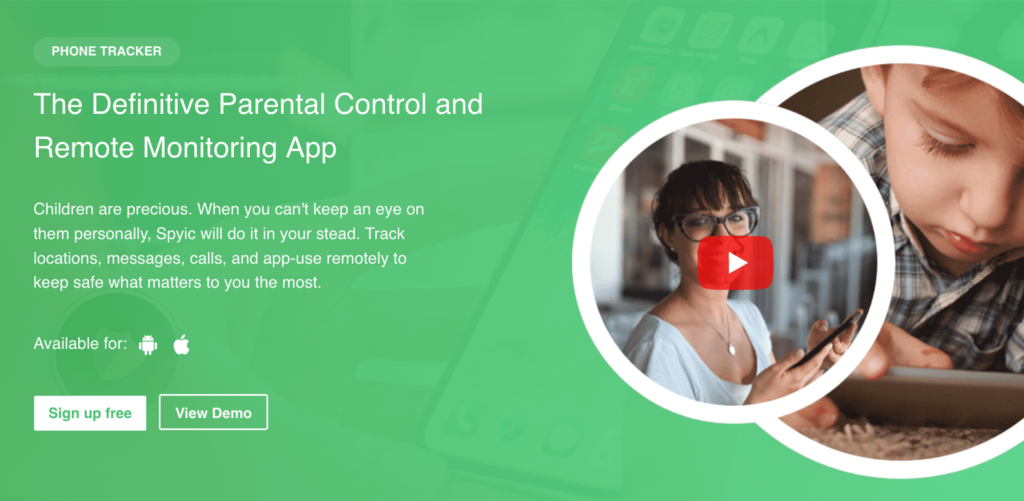 The next reliable parental control app for iPhone in our list is Spyic. It lets you secretly monitor your child's social media activities, view text messages, check their call logs, contact list, installed apps, and browser history, and track their location remotely with geofencing available.
No tool installation or device jailbreaking is required. All you need are your child's iCloud credentials. Spyic is compatible with iOS 7 and newer Apple devices, but it's essential to verify compatibility before use.
While there's a free demo for Android devices, we can't provide info on the iPhone user dashboard.
Nevertheless, Spyic is web-based and works secretly, so the kids won't know they're being watched.
Google Family Link for Parents: Google Chrome Web Filter with GPS Tracker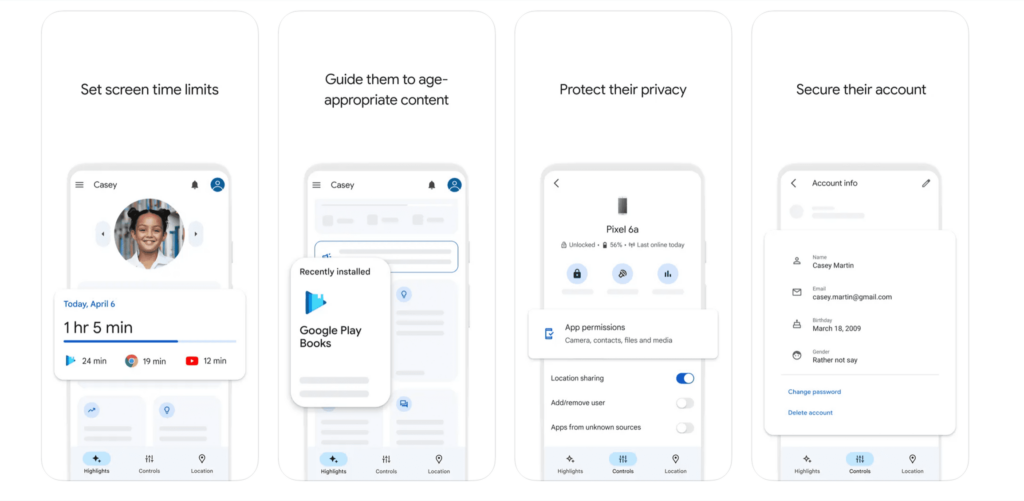 Google Family Link is an excellent parental controls tool that is free to use. Google Family Link offers many tracking features for iPhones and iPads, downloadable from the App Store. It empowers parents to oversee their child's activity and adjust settings and permissions.
When parents use Family Link to manage their child's Google Account, they can let their child sign in to some Google apps on their iPhone or iPad. Note that in comparison with the Android version, when managing your kid's iOS device, certain features won't work at all:
Screen time limits
Device location tracking
App usage activity report
Block apps
Google Chrome web filter
Qustodio: Free iPhone and iPad Tracker for Parental Controls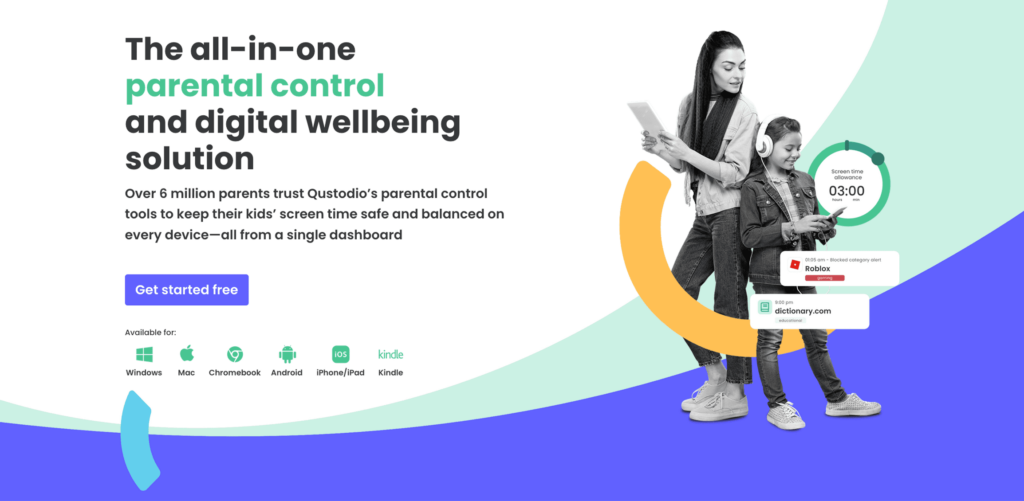 Qustodio is a comprehensive parental controls and digital well-being solution that promotes a safe and balanced child's screen time on all devices. With the Qustodio phone parental control app free, parents can create a secure online environment through a web filter and app blocking feature. You can also set time limits on your kid's iPhone and iPad to help them develop a healthy relationship with technology.
Suppose you're concerned about your child's contacts. In that case, Qustodio can allow you to monitor their calls, offering the ability to use social media monitoring and SMS checking to understand the character of their communication. Additionally, Qustodio offers GPS tracking, regular email reports, and alert notifications.
Apple's Screen Time: Free iOS App to Control Screen Time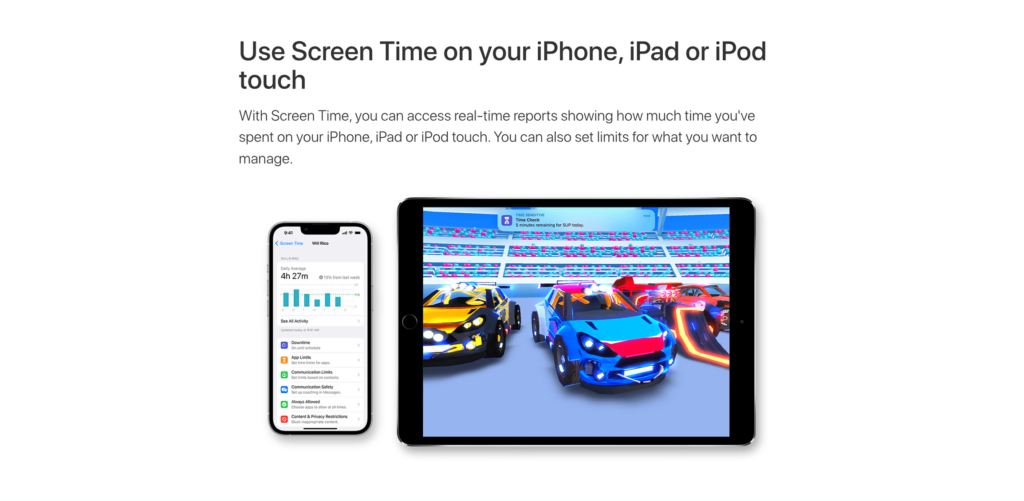 Do you know that the most accessible solution available for iOS tracking is right at your fingertips? What's even better is that it won't cost you a dime. Right, it's Apple's Screen Time feature, available on any iOS device, be it iPhone, iPad, or iPod. Using this iOS app, concerned parents can easily set limits for what they want to manage. Screen time will tell you how much time your kid spends on websites and apps, thereby providing data on how they use their devices and setting time limits if it's required. The best feature the app offers is that it allows you to create a dedicated password to secure settings, so only you can extend time or make changes.
Norton Family: Good App to Block Apps and Restrict Unsafe WiFi Networks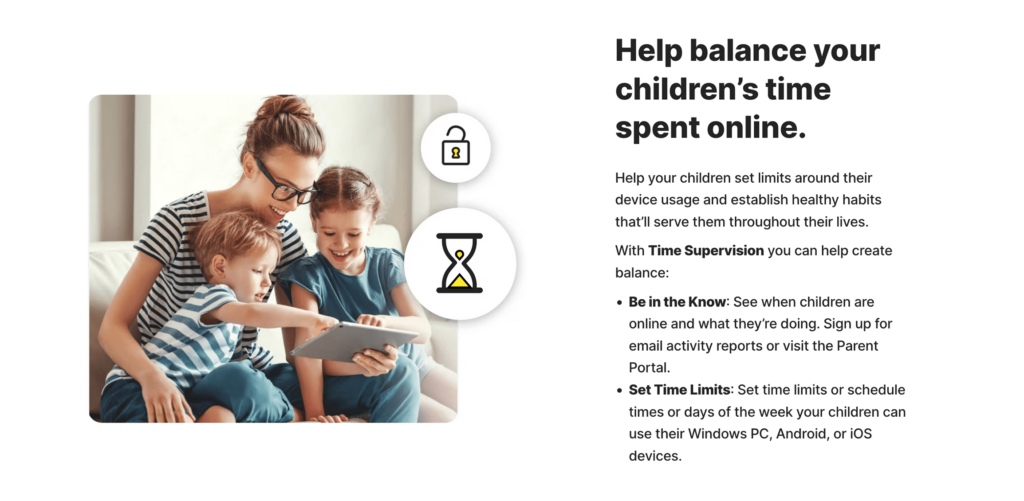 Norton Family is a great app that can help you keep your kid safe on the internet and protect their iOS devices. It checks for unsafe WiFi networks and warns about cybercriminals trying to snoop on your children's online activities or infect their devices with harmful software. Norton Family is a highly effective web filter, blocking harmful websites across browsers, texts, emails, social media platforms, and app blocking, creating a secure online environment for your child. Plus, it watches out for any weak points in the device's security and lets you know about them. It assists you in defending your kid's device from cybercriminals who might try to take over or steal their stuff.
With the Device Report Card, you get a monthly summary of the Wi-Fi networks, websites, and apps your child has used. It's like a digital safety report that gives you insights into their online protection. In case your child uses an unsafe WiFi network, Norton will notify you about it. SMS security is also supported, protecting your kid from fraudulent sites that compromise their personal information.
Net Nanny: Parental Control App for iPhone with Text Monitoring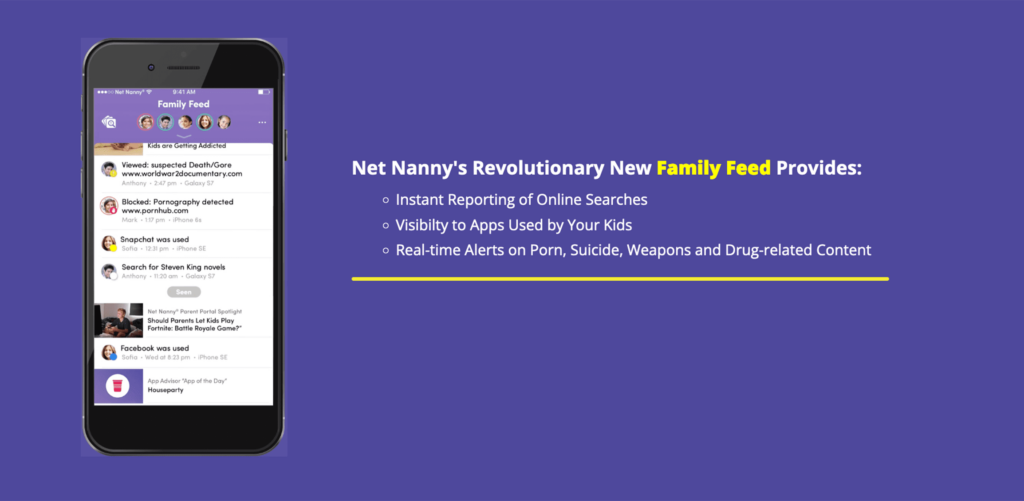 Net Nanny is advertised as "the best parental control to keep your kids and family safe online." But how does it work, and what are the core features of this iPhone parental control app free? Net Nanny is the go-to app for keeping your kids and family safe online. It's all about easy-to-use parental control features to protect your loved ones. You can keep an eye on what your kids do online, like the apps they use, and get instant alerts about stuff like inappropriate web content, including things like pornography, suicide, or drugs.Do you want to know what they are searching on the internet? Sure. Net Nanny will find out this info for you. It can block or let you disable social media activities like TikTok or Instagram. And, if you're concerned about your kids going to places they shouldn't, the app's geofencing feature will set boundaries effectively. This is the feature that lets you know if your child enters or leaves those designated areas, granting you peace of mind and enhancing their safety.
How to Choose the Best Free Parental Control App for iPhone?
Are you looking for the best free parental control app for iPhone, and yet find yourself unsure about the essential features it should possess? To help you make an informed decision, we've compiled a list of key questions you should consider before settling on a particular tracking app:
Is Everything Free or Should I Pay?
Unfortunately, many parental control apps that claim to be free cost money or offer free trials and might provide a free version where only the basic features are usable. Good and reliable spy tracking apps not only offer a free trial and a demo application version, but such apps allow you to monitor the target device using all the advanced features for free before purchase. It demonstrates that the developers are confident in their app's efficacy and reliability.
How Easy to Use Is the App?
As a parent, you may not have time to learn how the tool works, and tracking your kid's iPhone through a complicated dashboard may not be what you are interested in. Everyone loves simplicity. Therefore, look for an application that's easy to use. A reliable tracking tool offers a free demo version, granting you a sneak peek into the app's interface. This way, making an informed decision about whether it suits your needs becomes more straightforward.
What Features Does It Have?
Well, ask yourself what you expect from the best iPhone parental control app? What is the ideal software you are looking for? To answer these questions, think about what activities you want to monitor: SMS, calls, social media apps, and so on. Do you want the software to provide you with a remote mobile device control? Think about the features you would like the best parental control app to include.
Does This iOS Tracker Work Discretely?
It's one of the main features every reliable app for parental control should have. It's necessary if you do not want your children to notice and ask you about it. Good parental control apps do a great job of being discreet, running quietly in the background.
Is It Possible to Detect?
Reliable spy tracking apps like uMobix or Cocospy work in stealth mode, and the kid can't detect when installed on their cell phone. They are empowered with additional security tips to make removing difficult, such as 2FA and other ways to keep them secure.
Do You Need to Jailbreak Your Kid's Mobile Device?
Although jailbreaking the target cell phone is not a must for the most reliable spy tracking apps, by doing so, you'll get more power on the cell phones to install apps not approved by the store. In any case, do your research and see what the requirements are before installing a free parental control app on a kid's iPhone.
What About the Privacy Policy?
When choosing a trustworthy iPhone tracking app, the privacy policy is crucial. It keeps your data safe, ensures transparency, and follows the law. It ensures your info stays secure, giving you confidence in the app's reliability for parental control.
Does It Include a Money-Back Guarantee?
Nobody wants to buy a product that cannot be refunded in case of necessity. The same is true when using software for parental control. Hence, it's essential to examine the company's refund policy before purchasing. If a money-back guarantee isn't offered, it's a signal to reconsider the necessity of their tool and look for a better alternative.
Comparison Table of the Best Parental Control Apps for iPhone
| | | | | | | | |
| --- | --- | --- | --- | --- | --- | --- | --- |
| Our Pick | Social Media Monitoring | Remote Management | Ability to Set Screen Time Limits | Geofencing | Video/Audio Streaming | Live Chat Customer Support | Free Version/Trial |
| uMobix | Yes | Yes | Yes | No | Yes | Yes | Yes |
| iKeyMonitor | Yes | Yes | Yes | Yes | Yes | No | Yes |
| Cocospy | Yes | No | No | Yes | No | No | No |
| FamiSafe | Yes | Yes | Yes | Yes | No | No | Yes |
| Spyic | Yes | Yes | No | Yes | No | No | No |
| Google Family Link | No | Yes | Yes | Yes | No | No | Yes |
| Qustodio | Yes | Yes | Yes | Yes | No | No | No |
| Apple's Screen Time | No | Yes | Yes | No | No | No | Yes |
| Norton Family | No | Yes | Yes | Yes | No | No | Yes |
| Net Nanny | No | Yes | Yes | Yes | No | No | No |
What Are the Risks When Using Free Parental Control Apps?
Although using a free parental control app for iPhone can be a convenient way to safeguard your child's online interactions, here are some risks you should know about:
Some of these specific apps may put your child's data at risk. To avoid this problem, it's crucial to thoroughly review the privacy policies of these applications to determine if they align with your expectations.
They cannot block every potentially harmful online element. Therefore, parents need to maintain a proactive role in monitoring their children's online experiences to ensure their safety.
Parental control apps can lead to trust issues with your child, especially when they are in their teenage years. To avoid this, it's crucial to balance giving them freedom and ensuring their safety. Being a reasonable and understanding parent typically fosters a better relationship with your child and maintains their security.
FAQ About the Best Free Parental Control App for iPhone
Are the spy tracking apps detectable?

The spy-tracking apps we mentioned in this review are undetectable. They operate in stealth mode, making them difficult for users to identify or trace. Thus, you need not worry about the target person discovering their presence on their device usage.
Do the apps slow down the phone's performance?

Many parental control apps run silently in the background as long as your target cell phone is up-to-date. As a result, your child should not notice any slowdown or anything odd with their phone, helping keep the tool discreet.
Is it legal to monitor my child's phone without them knowing?

In general, monitoring your child's cell phone and app management is legal when they are under 18 and live under the same roof as you. If they are older, you should request their consent to track their phones.
How many devices can I track?

It depends on the cell phone tracking tool you opt for. As a rule, most spy tracking apps allow 1 device usage per subscription. However, some can track 5 or more gadgets under a single subscription plan. Therefore, it's essential to review the pricing details before selecting a cell phone tracker.
Can I track my child's iPhone from Android and iOS?

Yes, you can monitor your child's iPhone from an Android device using a reliable parental control service like uMobix. In fact, it does not mean what the OS of the device you use for parental controls. It is possible to use Android to monitor OS or vice versa.
Is it safe to use free cell phone tracking apps?

Sometimes, using a free parental control app for iPhone can be risky. It's because they may lack security and privacy features. Paid, reputable options typically provide better protection for you and the monitored child's device. Certain paid apps, such as uMobix, even offer free plan trials, striking a balance between security and affordability, allowing you to assess their effectiveness before committing.
Summary
The parental control software for iOS tracking we mentioned in this review offers effective solutions for safeguarding your children online. You can use them to set screen time limits, block inappropriate content with a web filter option, use app blocking, protect them from online threats and cyberbullying, provide detailed social media monitoring, and more. uMobix is deemed the best free parental control app and empowers parents to stay informed about their kids' digital interactions and be prepared for potential harm. With uMobix features on iOS, you can create a safer online environment for your children, ensuring their well-being in the digital realm.
try now