Nowadays, the popularity of Apple's iPhones is extremely impressive. According to Statista, the iOS operating system has a share of close to 60 percent, which is 10 percent higher than the popularity of Android operating systems. Their compact size, adorable design, great camera features, simple and user-friendly interface, regular automatic updates, and other characteristics make their owners fall in love with them.
iPhones are valuable for their owners not only because of their high price. They also keep massive amounts of personal information: our contact list, credit card statements, private conversations, intimate content, passwords, and location histories. So, losing this device means losing all your sensitive data at once. Things get progressively worse when your device falls into the wrong hands.
Sometimes, you need to know your loved ones' whereabouts to protect them. If you struggle to know "How can I check someone's location on iPhone without them knowing," this article will show you 7 proven ways to do it.
Why Should You Track Someone's iPhone?
iPhone tracking not only allows you to see the location of your stolen device on a map. There also are other situations when tracking someone's iPhone is helpful:
Keeping track of your child's location and safety.
Monitoring your employees' location during work hours.
Make sure your loved ones are safe while traveling or in emergencies.
Building trust in a relationship by sharing location information.
And while there are a lot of apps to track iPhone location history, this article will tell you about the 7 most reliable ones.
Method 1: How to Track an iPhone with uMobix?
"How can I check someone's location on iPhone without them knowing" is probably one of the most popular questions most people ask. Luckily, with uMobix, users can safely locate someone's iPhone or track a cell phone location by number. All the information about the targeted person is visible on an interactive map, accessible by logging in to your account and finding the relevant page. Typically, syncing the monitored device's data takes approximately five minutes. However, the synchronization period on iOS devices relies on the data backup performance and might occasionally take up to 24 hours.
Features:
Easy installation process: it's easy to use and won't take more than 5 minutes.
Auto update: the system is updated automatically without the need for physical access.
Full messages control: track all sent, deleted, or received messages. You may also disable outgoing or incoming messages from the target device.
Calls control: view or restrict incoming and outcoming calls.
Screenshot browser history: track recent browser history.
Audio and visual stream: get visual and audio control of your kids' devices.
Block website, device, or Wi-Fi: get a chance to block Wi-Fi access, unwanted websites, or device access.
Check deleted contacts and calls: detect when a targeted user deletes contacts or messages from their device.
View messages sent via social media: read messages sent via WhatsApp, Facebook, Instagram, and more.
Pull media files: pull all media files stored on the target device.
Compatible with iOS and Android: if you do not have iPhone to monitor the location of the other iPhone, no worries. uMobix also allows you to secretly track an iPhone from an Android smartphone.
To understand how the application works, let's analyze its pros and cons in terms of iOS location tracking in the table below:
| | |
| --- | --- |
| Pros | Cons |
| Allows iPhone tracking in real-time | One subscription provides access to only 1 device |
| Data is automatically updated every 5 minutes | |
| Compatible with all iPhones and iPads | |
How to Find Someone's Location Using uMobix?
If you are looking for an effective and fast way of tracking iPhone without app installed, then getting uMobix is what you need to get started: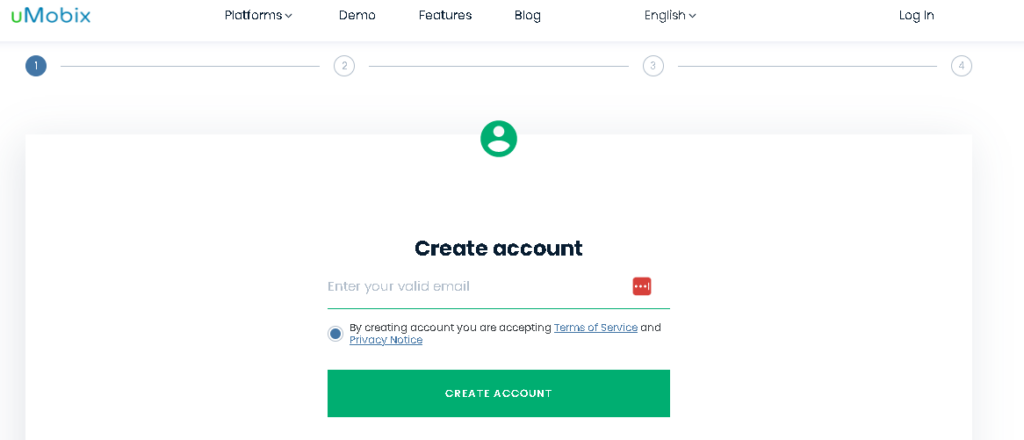 Step 1: Visit the uMobix website and register for an account (or sign in).

Step 2: Select the target device to be monitored: iPhone or iPad (for iOS) or Android phone or tablet (for Android OS).

Step 3: Choose your subscription plan.
Step 4: Enter your card information to proceed with payment (Google Pay or Crypto payment are alternatives to credit card payment).
Step 5: Install the app.
Step 6: Allow uMobix to sync the data.
Step 7: Monitor your child's activity in real time.
Method 2: GEOfinder: Best App to Track iPhone Without iCloud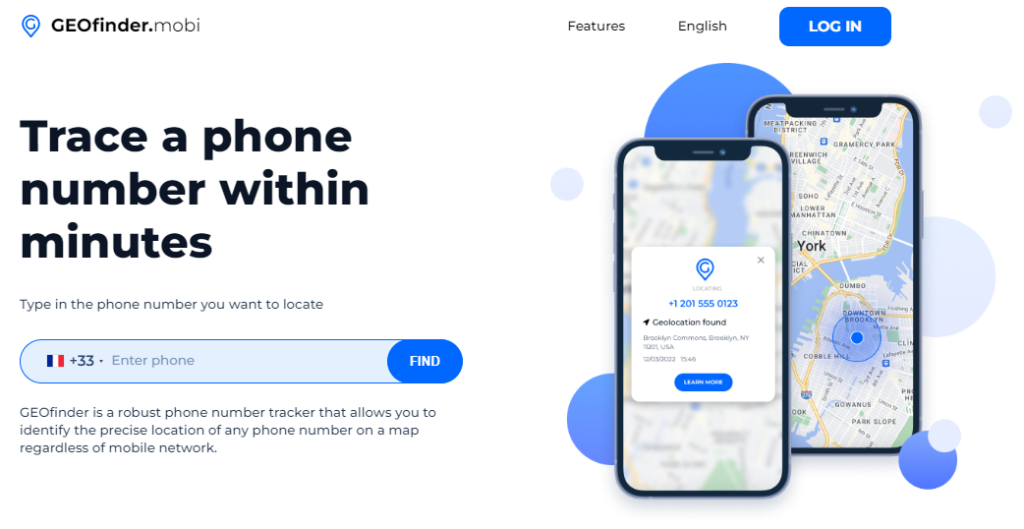 Suppose you're looking for an effective solution to track an iPhone without the owner knowing and without installing any app on their phone. In that case, GEOfinder is undoubtedly the best option available. This GPS tracker has been designed to assist users in tracking the location of a target person, especially when access to their device to install a spy app is not possible.
Features:
GPS tracker: monitor someone else's iPhone location on Google Maps by using the phone number.
Wi-Fi tracker: catch the main information about the user's connection and network name when the person's device is connected to Wi-Fi.
IP logger: monitor someone's iPhone location using the phone number only.
VPN checker: obtain access to the hidden Internet connections of the target person.
Cell phone carrier lookup: receive details about the carrier SIM currently attached to your loved one's device.
SMS location: create a text message, send it and find information about the person's current location.
| | |
| --- | --- |
| Pros | Cons |
| Supports Android and iOS | Does not include advanced features like social media monitoring |
| Runs without having to install an app | Requires a person to confirm a location request reveal each time you want to connect |
| Supports anonymous requests | |
How to Find Someone's Location Using GEOfinder?
If you want to find out how to find someone else's iPhone location with GEOfinder, read the guide below:
Step 1: Create an account or log in.
Step 2: Pay for GEOfinder via credit card, Google Pay, or crypto payment options.
Step 3: Choose the SMS to be sent.
Step 4: The target person gets the message with the tracking link.
Step 5: The recipient gives access to their location.
Step 6: Get info about the target person's location.
Method 3: Using the Built-In iPhone App Find My iPhone
The utilization of the Find My iPhone application can be the ultimate solution for those who have lost their Apple devices like iPhone, iPad, iPod touch, or Mac laptop, as it helps relieve the stress of finding them.
Complimentary with new Apple devices, the Find My iPhone feature comes as a free-of-charge bonus. In mobile phones with an iOS 6 operating system or higher, Lost Mode has already been incorporated in Find My iPhone. This mode secures the device by locking it with a personal passcode, and the app also enables presenting a message with contact information on the phone's screen.
Features:
Remote responsibilities: how to track iPhone locations remotely with this built-in iPhone app? Lock your device remotely and have it play a sound or display a message to anybody who finds it.
Battery charge level: check your iPhone's battery charge with the app.
Record location history: Lost Mode also allows recording the location history of your iOS gadget.
Multilingual support: iOS currently supports over 30 languages.
| | |
| --- | --- |
| Pros | Cons |
| Has a location-sharing feature that shows your device on the map | IP locations are not always accurate in the app |
| Has location tracking history | |
| iOS 15 and above allow location tracking even when the phone is turned off | |
| Over 30 languages are supported | |
How to Find Someone's Location Using Find My iPhone?
Would you like to know how to check someone's location on iPhone using Find My iPhone? Follow these steps to set things up: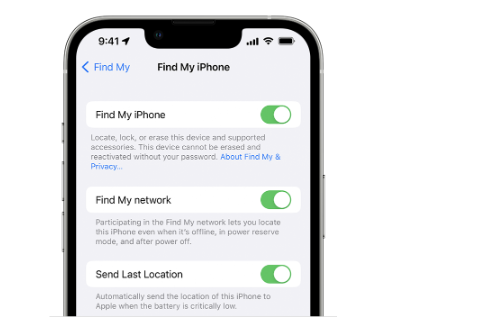 Step 1: Open the "Settings" menu.
Step 2: Click on your "Apple ID" and choose "Find My iPhone."
Step 3: Turn on the "Share My Location" feature.
Step 4: Click on "Find My iPhone" and enable it.
You can track someone's iPhone without them knowing with iCloud on any device: whether it's a laptop, iPhone, or iPad. So, if, for example, you want to monitor your friend's location using a laptop, then open your Safari browser, go to icloud.com, and select the "Find iPhone" option.
Method 4: Using iMessage Services
When connected to a Wi-Fi or 3G/4G network, messages can be received by iPhones, Macs, iPads, and iPod Touches through iMessage. Your iDevice will automatically send a message anytime you send an iMessage to another user that uses iMessage.
Features:
Location sharing in real-time: effortlessly share your current location with your loved ones.
Media exchange: iMessage allows seamless sharing of photos, videos, documents, contacts, and real-time location with your friends and family.
Visibility: location sharing activities on iMessage are never anonymous. Both you and the recipient can quickly know when the feature is enabled.
| | |
| --- | --- |
| Pros | Cons |
| Fast and easy location sharing without additional apps or tools | Users can disable tracking |
| You have full control over people who can see your IP | |
How to Find Someone's Location Using iMessage Services
Are you still asking yourself: "How to find my friend's iPhone location" with iMessage services? Here's a short guide for you: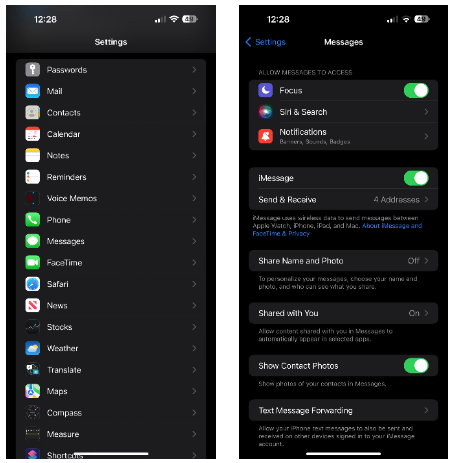 Step 1: Head to your "Settings" and locate "Privacy" to share your location with someone.
Step 2: Turn on "Location Services."
Step 3: Open your "Contacts" or "Messages" app and pick the person you want to share your location with.
Step 4: Select "Send My Current Location."
Step 5: Choose a sharing duration: one hour at the end of the day or indefinitely.
Method 5: Use Apple Maps to See Someone's Location
Another method of tracking iPhone locations is using Apple Maps. The individual must permit the tracking by sharing their location as a link in Apple Maps.
Features:
Standard app: Maps are preinstalled on all iPhones and are fully compatible with email and iMessages.
Share real-time: For one-time location tracking, it's optimal when traveling to an airport or other unfamiliar destination.
Advanced maps: Indoor building maps are included to help navigate larger structures.
Save locations: Frequently used locations can easily be saved within the app, simplifying sharing and subsequent navigation.
| | |
| --- | --- |
| Pros | Cons |
| You have full control over your location sharing | Not the fastest way to location sharing |
| There is an option to add other locations, like your home address, to your favorites | |
| Directions button that provides the route to the chosen location | |
How to Find Someone's Location Using Apple Maps?
Most iPhone users know how to find someone's location on iPhone with Apple Maps. It's easy, fast, and as easy as A, B, C: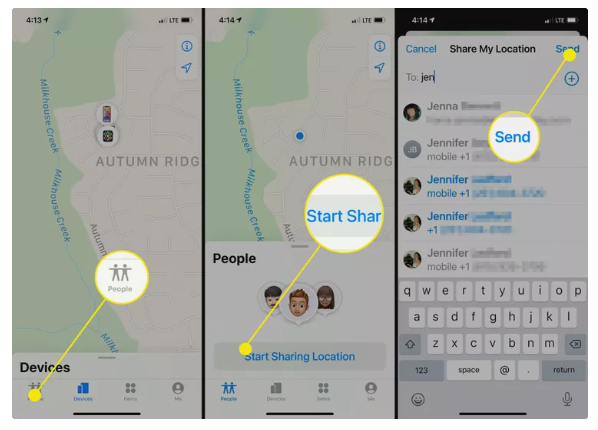 Step 1: Go and open the "Apple Maps" app.
Step 2: Swipe up on the tab at the bottom and click "Share My Location."
Step 3: The person being tracked must transmit the location link via message or email.
Step 4: Upon receipt, click the link to display the individual's position on Apple Maps.
Method 6: Track an iPhone Without Them Knowing with Google Timeline
If you need to view the location of an iPhone quickly, utilize the Google Timeline feature. This tool lets you discreetly track the device's GPS and pinpoint the whereabouts of the desired individual.
With access to a user's Google account, users are free to utilize the location data stored by Google to retrieve their updated location. This feature is only possible if the target device is powered on.
Features:
Auto-delete history: it allows automatically deleting your location history on Google Timeline that is older than 3 months, 18 months, or 36 months.
Real-time traffic updates: Google Timeline provides real-time updates about your commute.
Personalized maps: check and view recommendations based on places you've seen.
| | |
| --- | --- |
| Pros | Cons |
| It remembers places you've been and routes and trips you've taken | By default, history location is disabled for your Google Account/Account of the targeted person |
| It has real-time traffic updates about your commute | Users may edit or delete location history |
| | Deleted location history cannot be seen again |
| | Location history may not be available if: it's not available in your regionyou don't meet certain age restrictionsyour Google Account is through your work, school, or other group and needs permission to allow its use to youyou turned off location services or background app refresh |
| | After location history removal, some personalized experiences may be lost:recommendations on places you've visited information about the best time to overcome traffic jam, etc. |
| | History location can use a lot of data |
How to Find Someone's Location Using Google Timeline
To effectively monitor someone else's real-time location using Google Timeline, follow these steps:
Step 1: Login/sign in to the targeted user's Google account.
Step 2: Navigate to the Google Timeline website.
Step 3: Click "Today" or select the desired date.
Step 4: Review the device's location history for the selected period.
Step 5: Scroll down and identify your iPhone's most recent location update.
Method 7: Make Use of Family Sharing Apple ID
You can start a new family group and invite others to join it. Family Sharing allows you and up to 5 family members to share music apps, photos, films, and TV shows, set up parental control, share purchases, etc. Besides these features, you may use the location-sharing feature so that all family group members always stay informed about where you are and provide the same info about their current location to you.
| | |
| --- | --- |
| Pros | Cons |
| Up to 6 people may share their location | No way to set limits on iCloud storage usage by member |
| You all need an Apple ID and iCloud account | No way to hide purchases from family members |
| | If a family member leaves the group, the information about their location will also be lost |
How to Set Up Family Sharing Apple ID and Track Location?
How to find someone's location with Family Sharing Apple ID? To start sharing your location with the family group members, follow the instruction below: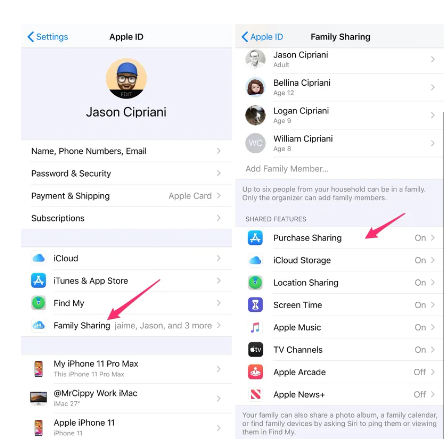 Step 1: Choose "Settings," your name, "Family Sharing," swipe below and choose "Location Sharing."
Step 2: Choose the name of the family member you want to share your location with and send them an invitation.
Step 3: Repeat this step for each family member you want to share your location with. Each family member will receive a message that you have shared your location with them. They can also allow their location sharing with you.
Can You Track Someone's iPhone Without Permission Legally?
Is it possible to legally locate someone's iPhone without them knowing? The answer to this question varies based on your location and certain circumstances. That is why we recommend you consult a local attorney. Generally, tracking someone's location without their consent is illegal, but exceptions exist. If the device is yours and used by your child, it is permissible.
Similarly, it may be acceptable if employees operate the phone and location tracking is necessary. However, it's crucial to research local laws and regulations before tracking any phone.
Conclusion
As iPhones continue to gain immense popularity and become a gadget of leisurely activity, grown-ups must identify measures to safeguard themselves from cyber threats.
Further, it is natural to desire the exact whereabouts of your child, who may not show up after school, or your partner, who may not return home on time. In such situations, locating your loved ones becomes a compassionate action, particularly if you perceive endangerment to their security. Fortunately, with the above-listed apps, you can safely and remotely locate an iPhone and keep tabs on your loved ones. For instance, the uMobix parental control app provides state-of-the-art features to oversee individuals' online activities. It permits you to track iPhone without them knowing, following their movements and ensuring safety.