Since the introduction of smartphones, these small gadgets have significantly changed our lives and become an extension of ourselves. And it is simple to explain: they carry our conversations, memories, and a wealth of information. As a result, they have become so essential that today, we could not imagine a day without them.
Yet, there are times when we need to find out the accurate location of our loved ones. Luckily, this issue has not become a challenge thanks to mobile phones. This article answers the main question: "How to find location by phone number?" We'll walk you through 13 methods to help you out. So, let's start!
Can You Track Someone's Location by Their Phone Number?
Although phone numbers are not directly tied to GPS coordinates or real-time location data that the general public can access, you can still find someone's exact location. But how can you do that? The issue can be resolved with the help of special tracking tools or services, be it spy tracking apps or free mobile phone tracker software.
Here are some critical reasons why tracking someone's location is important:
Parental control – there are cases when parents may be worried about their kids' online safety and suspect harmful online interactions that may negatively influence their child. Peeking up into their kids' whereabouts can be essential in preventing potential problems, especially when a child is communicating with suspicious individuals, such as in cases involving potential predators.
Safety concerns – does your child suffer from chronic or congenital health problems? Maybe it's asthma or another disease? Knowing their phone location can help you ensure their safety or quickly provide medical assistance in case of necessity.
Employee monitoring – businesses can use cell phone tracking apps or services to find out why their staff members are delayed, ensure timely deliveries, and track their personal drivers' whereabouts.
Tracking elderly parents – if you have elderly parents or close relatives who, for example, have recently relocated to a new city and you are bothered about their safety, using special location trackers can make things easier so that you will always know how to find them in crowdy places and help them find the route to a new home.
Locating friends – have you invited a friend who lives abroad to hang out with you in your state? Finding their location by phone number can ensure their safety during travel.
Regardless of the reason you need to track a phone number's location, understanding the right method and timing is crucial for anyone who values the safety of their loved ones. In the following section, we will discuss the most effective ways to help you find location by phone number of your target.
How to Track a Phone Number in a Nutshell
Finally, we have jumped to the most important part of our review – how to track a phone number. While numerous apps and online services claim to offer location tracking, we will focus on the most effective ones known for their security, accuracy, and reliability.
uMobix – excellent real-time location tracking spy software for Android and iOS devices
GEOfinder – web-based mobile phone tracker by number compatible with all OS and cell phone carriers
Google Maps – free location tracking tool requiring location sharing approval
LocationTracker.mobi – good GPS tracing tool that finds a person's location via picture
Find My – free mobile phone tracker for iPhones, iPads, and iPods
Find My Device – free cell phone monitoring app designed for tracking Android devices
Caller ID (CNAM Lookup) – built-in caller ID used to find the caller's location
Social Media – check location of number via posts and stories on social media platforms (Instagram, Facebook, Twitter, etc.)
Location Sharing Feature of Social Apps – requires a person to enable location sharing feature
Whitepages – a legitimate mobile phone number tracking tool that can tell you the person's home address
IMEI Tracker – look up a phone number location with a unique 15-digit number
Mobile Tracker Free – free mobile trace, real-time location on Maps, and much more
Cell Phone Carrier Service – track a person's whereabouts by simply logging onto your carrier's account portal
And now, let's talk about each of them separately.
Method 1: Track a Phone Anonymously with uMobix
uMobix is the most adored tool among individuals seeking to monitor the location of a target's cell phone. Regardless of the reason, be it for tracking your kid, cheating spouse, or elderly parent, uMobix offers a practical solution to trace a phone's exact location and then display it on Google Maps.
In contrast to conventional Google Maps location tracking, monitoring your kid's location with uMobix does not require a target person to grant you access to their GMs. Instead, once you have installed uMobix software on your child's cell phone, you may immediately start tracking their current, last, and most frequently visited places – all conveniently accessible from your user space.
The person won't know you are tracking them as uMobix works in stealth mode, guaranteeing its presence won't be felt on the target device.
What's more? The spyware comes with 43 advanced tracking features, which allow you to track the target's locations and calls, SMS, social media messages, email, access to their media files, and even see access to remote audio and video streaming.
How to locate someone with uMobix?
Go to the official uMobix website and create an account (use a valid email address).
Choose the OS of the target cell phone (iOS or Android) and the preferable subscription plan.
Proceed with payment.
Check your email, where you will get a detailed installation guide.
Follow it to install the uMobix on the target device.
Once installed, you can immediately start tracking.
Method 2: Type In Phone Number and Find Location Free Online with GEOfinder
GEOfinder is a web-based tracker, which, compared to uMobix, has fewer features but does not require installation on the target device. Its goal is to do its best and overcome all possible obstacles that may interfere with finding the actual location of your target. So, if you suspect your husband or wife is cheating and want to check their real-time location, GEOfinder will help.
With a 5-meter radius coverage, this spy tracking tool will instantly identify mobile number location, regardless of distance, phone model, OS, or cell phone carrier. Even if the person uses a VPN to hide their real location, for GEOfinder, it won't be a problem. It will tell you their GPS location, which WiFi network they are connected to, and whether a VPN is used. Right off the start, it is possible to activate a trial offer for $1. Contact customer support via live chat upon registering if any concerns arise.
How to find location by phone number with GEOfinder?
Enter the person's cell phone number and click "Find."
The system will generate an SMS message with a link sent to the person.
Once received, the target individual has to click on the link (they won't know that the link is there to get access to their real-time location), and their whereabouts will be immediately displayed in your userspace.
Note: one location request is allowed per 3 hours. So that you may send 8 location requests daily.
Method 3: Google Maps Location Sharing Feature (Android & iPhone)
Google Maps is one of the most popular and widely used mobile locator services worldwide. It's not only an excellent navigator but also a precise GPS tracker. The tool is free and available on an iOS or Android-running smartphone, making it accessible to everyone. However, to use the Google Maps location sharing feature, the person whose location you want to track must give you access to their Google Maps (i.e., add your email to the list with granted access for viewing location). Otherwise, it won't work at all.
Method 4: Track Phone Location for Free with LocationTracker.mobi via a Picture
Did you know you can find anyone's location using a simple picture? Yes, and with LocationTracker.mobi, it is child's play. This web-based tracking tool lets you find the person's GPS coordinates via any messenger. Downloading this app is unnecessary, and it is possible to use any web browser. All you need to do is to register and provide some basic info to get started.
Regardless of where the target person is, this tracking tool will detect their accurate whereabouts within a few minutes, anonymously and without delays. Equipped with a GPS tracker, IP logger, cell phone carrier lookup, VPN checker, and WiFi tracker, no important data about your target person will be missed.
But what about the pictures? Everything is simple. Here is a quick description of how to find location by phone number with this method: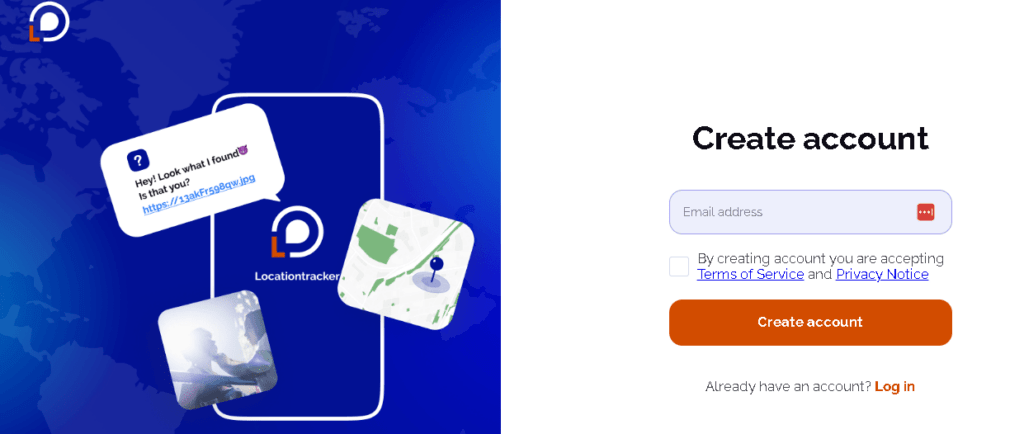 Create an account on the website (enter a valid email address and accept the "Terms of Service" and "Privacy Notice.")
Tap "Create an account."
Buy a preferable subscription package.
Log into your userspace and upload an interesting image to the site (you can either use a picture saved on your cell phone or insert an image URL).
Wait until LocationTracker.mobi generates a special location-tracking link for you.
Once the link has been made, copy it and send the person whose location you want to track through any messaging app (Facebook, Instagram, WhatsApp, Snapchat, etc.)
When the target receives the message with the link and taps it, you will automatically get their accurate whereabouts in your userspace.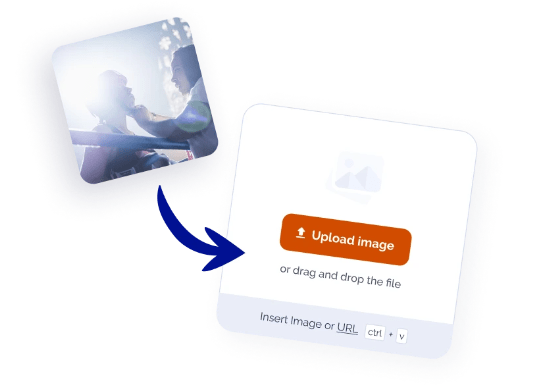 Method 5: How to Track Someone's Location with Phone Number via Find My (iPhone)
Find My app is an official tracking tool for iPads, iPods, and iPhones. If your iOS version is 13 or later, sharing your location with other iOS devices via Find My will be easy. However, for iOS 9 to iOS 12 users, it is recommended to use Find My Friends instead. Apart from that, it is possible to track down iOS 15+ even if the device is turned off.
Whether you need to ensure the safety of a loved one or just stay connected with them, Find My serves as a user-friendly tool for tracking someone's whereabouts while making it challenging for thieves to steal Apple devices.
How to find someone's location with Find My?
Open the software on the target iOS device.
Tap "Start sharing location."
Tap the plus icon to add yourself to the list (if the one has already been created) and add your Apple ID email.
In your profile, select your email, tap "Send" and "Share Indefinitely."
Open Find My on your device and start tracking the location of your target device.
Method 6: Track Phone Location with Find My Device (Android)
Do you want to find the location of your lost cell phone, or simply want to know where your loved ones are? Regardless of the purpose of using this app, the target cell phone should run on Android OS.
First, you need to install the Find My Device app from Google and link it to your Google account to access it. This tool seamlessly integrates with Google Maps, ensuring that if your cell phone is ever lost, you can track its real-time location on the maps easily.
Method 7: Check Your Phone's Caller ID (CNAM Lookup)
Another way to find location by phone number is through caller ID name (CNAM lookup). It helps you see a caller's name when your phone rings and find the caller's location by phone number. Briefly, it provides info about the caller's name, state, and city.
Remember that CNAM lookup will not function if the person who calls you has a CNAM blocker installed on their cell phone. In such cases, their identity may remain anonymous, and CNAM data won't be accessible.
Method 8: Search for the Number on Social Media
Social media sites are great for keeping tabs on people's online activities. Whether you want to find an old friend or check out your ex-boyfriend's new girlfriend, these platforms have you covered. However, that's only part of the information social media apps can provide. Popular communication platforms like Facebook and Instagram allow users to post stories or posts with their real-time location, even if their cell phone number location has been outdated.
Method 9: Track Mobile Location for Free via Location Sharing Feature of Social Apps
Tracking a mobile phone's location has become more accessible thanks to various free social apps. With the help of social apps like Facebook, WhatsApp, Telegram, and Snapchat, to list a few, people can stay connected with their friends and family members and know each other's whereabouts in real-time.
To use this feature, it should be enabled by default. If not, request location sharing with the person you want to track. The person can also enable location sharing for a specific time and then turn it off. It can be very useful in particular cases, such as, for example, ensuring the safety of your children, keeping tabs on your elderly parents, coordinating meet-ups, etc.
Method 10: Search for People and Businesses with Whitepages
Whitepages is a reverse phone number lookup service provider designed to find people and their contact info and provide background checks. To find the person, you should know their phone number. Enter it in an appropriate field on their website, and you will get a home address associated with that number.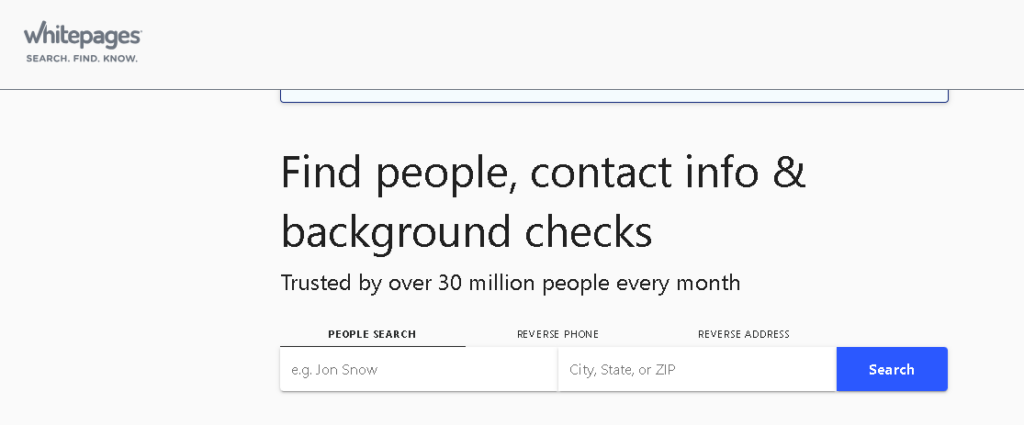 Whitepages is web-based and thus is an excellent and safe-to-use tool to find location using phone number legally. It works with the SS7 network, which includes personal information linked to the phone numbers stored in its database. It ensures a secure and reliable way of locating individuals, all within the boundaries of the law. The service is handy when you need to reconnect with long-lost friends, verify the identity of a contact, or simply gain info about someone's whereabouts for legitimate purposes.
Method 11: Use an IMEI Tracker
Using IMEI is another method to trace a phone number's location. How can an IMEI be used, and what exactly is it? IMEI, or International Mobile Equipment Identity, is a unique 15-digit number assigned to every mobile device, serving as a global identification code.
How to find the IMEI number? Here is a quick guide:
Take the cell phone.
Go to "Settings."
Tap "General" and "About."
Scroll down and find the IMEI number.
If you are looking for a shorter way, dial *#06# on the phone. But how to find location by phone number with IMEI? There are three options to choose between: contact your service provider and ask them to track a cell phone location by IMEI number, use special IMEI tracking apps, or reach out to the police in case of a lost device.
Method 12: Track Phone Number with Mobile Tracker Free
Mobile Tracker Free is a free mobile phone monitoring software that lets you know in detail what is happening on an Android mobile phone. To use Mobile Tracker Free, install it on the target cell phone. Luckily, the devs offer a demo version of the tool so that users can see how it looks inside:
As you may notice, it shows all the location history data on the Maps. In addition to this, the application allows live location monitoring. Is that all? No. The software also tracks WhatsApp and Facebook incoming and outgoing messages without rooting the phone. You can also monitor your kid's calls, SMS/MMS, social media activities (track sent/received messages), and media files. You can get a remote control of the target device and take phone capture, record the ambient sound, and take a photo.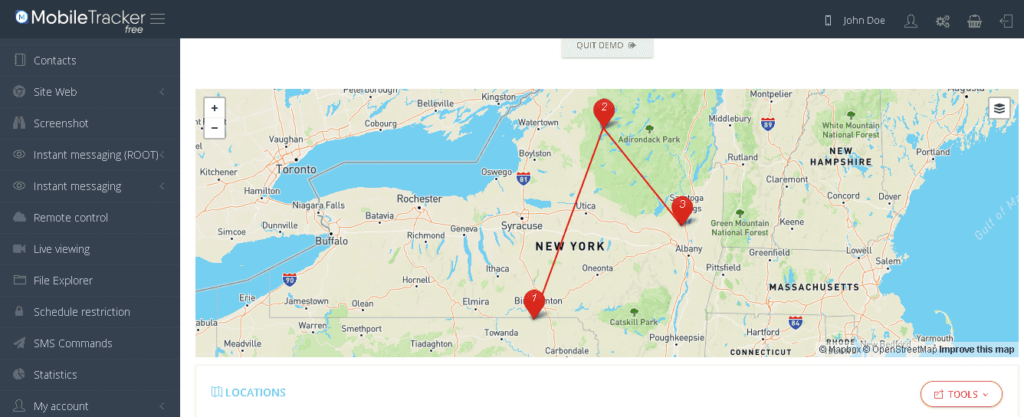 Method 13: Track a Phone Location for Free with Cell Phone Carrier Service
Did you know you can track a phone location using a cell phone carrier service? Most cell phone carriers offer free mobile phone tracker services, allowing you to find your lost cell phone or locate one of your family members if they are on the same plan (e.g., Verizon Smart Family, AT&T Secure Family App, etc.)
Such services rely on the GPS technology of smartphones. So, if your family uses the same cell phone number's carrier plan, you can easily find their whereabouts by simply logging onto your carrier's account portal.
Note: location tracking services are accessible with certain plans or gadgets. So, clarifying this information with your service provider beforehand is advisable.
Wrapping Up
Tracking someone's location was a challenge not long ago, causing stress and anxiety, especially for parents. However, with the advent of mobile phones with built-in GPS technology and special spy tracking tools, it has become not a problem anymore. Now, businesses, concerned parents, and those who want to reveal the truth can benefit from the advanced technology. It can keep tabs on the target's location and do it discretely without raising any suspicions.
FAQ
Which is the best method to track someone's location with a phone number?
It depends on the target person's OS and your personal tracking needs. You can choose between free and paid location tracking tools. If the target person does not know you are tracking them, then it is advisable to opt for spy-tracking apps like uMobix or GEOfinder. If you want to monitor your kid's location, then choosing Find My or Find My Device would be enough.
How do you track someone's location without them knowing?
Installing a spy tracking app is the best way to track someone's location without them knowing. Apps like uMobix will not notify the person that you are following them, and what is more, you can monitor their real-time location at any time without any limitations.
Is it necessary to approach a mobile network provider to track someone?
No, it is not necessary to approach a mobile network provider to track someone, especially if it is your kid. Luckily, smartphones have built-in features or apps that allow tracking their real-time location for free (Find My, Find My Device, etc).
Is it legal to track a cell phone location by number?
If the service is web-based and does not require installation on the target cell phone, then yes, it is legal. In other cases, you can track the location of your kid under 18 or another person under request.
try now