Are you feeling like a cat on a hot tin roof, suspecting your partner of having an online affair, or wanting to safeguard your child from potential Instagram-related threats or cybersecurity issues? Regardless of the reason, rest assured we are here to lend a helping hand.
In this article, we will tell you how to look at someone's Instagram without them knowing and what methods are the most effective.
Method 1: Click the Next Instagram Story and Swipe Back
If you want to view someone's Instagram story without them knowing, the first method to assist you with it is the swipe-back trick. Here is a quick guide.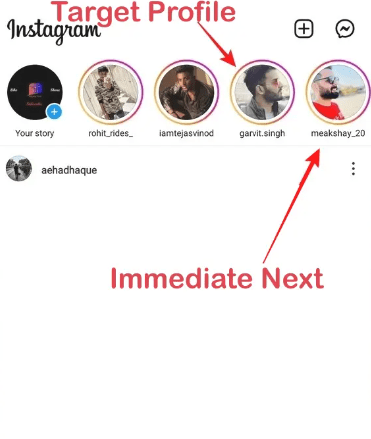 Step 1: Log into your Instagram account and find the user's story in the stories section. 
Step 2: Open the next story on the profile you're interested in viewing.
Step 3: Tap on the story and hold it, gently swiping back without letting it go.
Step 4: Now, you will have a chance to peek into the person's story hiddenly. However, remember that you should not let the story go; otherwise, the person will see that you have viewed their story.
Step 5: Once you have hiddenly viewed the story (keep your finger attached to the phone screen), gently move it back to the story where you started.
Once done, rest assured that the target person won't know you have viewed their story. However, bear in mind that this method won't allow you to view the middle stories of the user. Moreover, this method only works with photos.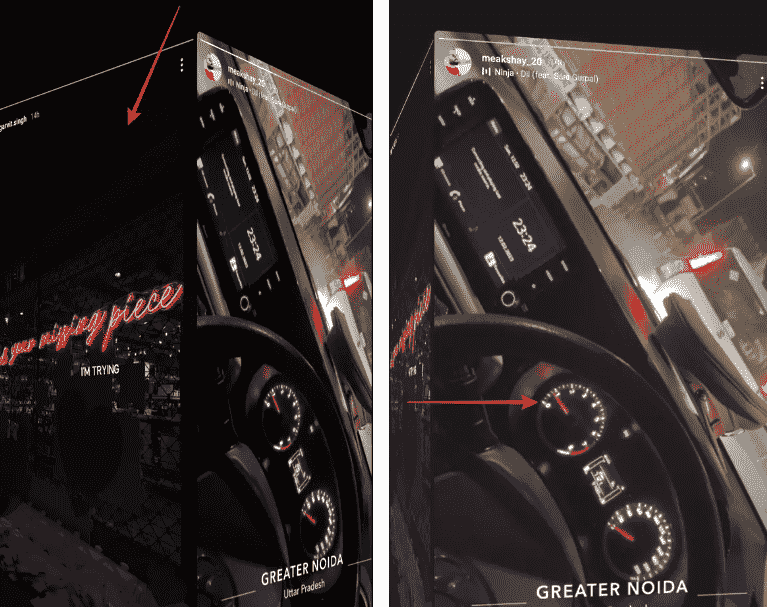 Method 2: Use a Third-Party Monitoring App
Using third-party apps is an excellent way for those who want to view Instagram without account. This method is your secret weapon if you have an IG account and want to stay hidden. With a safe spy tracking app, you will be able to discretely delve into someone's stories without worrying that you will be caught.
Reliable third-party monitoring software will encrypt the data so that you do not have to worry that your personal data will be revealed. However, the key question is how to look at someone's Instagram without them knowing, and what app should you choose?
We understand that with so many apps available on the internet, choosing a reliable one is a challenge. Therefore, we'll discuss two Instagram story viewers we consider the best choice on the market based on features, reliability, legitimacy, price, customer support, and accuracy to view Instagram anonymously.
uMobix – Instagram Anonymous Viewer for Android and iOS
uMobix is a reliable Instagram app tracker that allows viewing stories, posts, videos, and reels of other people hiddenly. Do you want to know how to check messages on Instagram? If you are worried about your kids' safety and must read their Instagram messages, uMobix will also help. It's an excellent tool for concerned parents who want to peek into their kids' conversations to safeguard them from bullying or online threats. Additionally, it acts as a covert asset for individuals in relationships who may have suspicions of infidelity and seek to gain insight into their partner's activities.
While it is compatible with Android and iOS devices, the app is a perfect bet to monitor other's Instagram activities if the target's cell phone is an iPhone. Why? Because it provides full access to the person's IG account and allows you to manage it as if it were yours. Concerning its advantage for Androids, it also serves a significant plus, as uMobix makes screenshots of the target user's social media activity and sends them directly to your user space.
How to See Someone Else's DMs on Instagram with uMobix?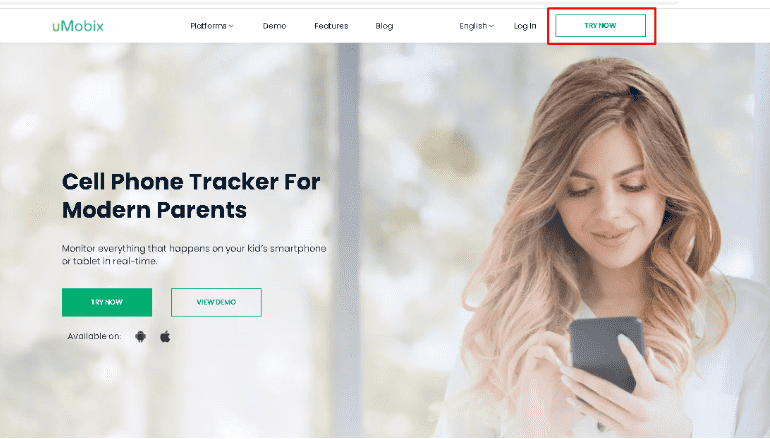 If you want to know how to log into someone's Instagram account without them knowing, here is a detailed guide with step-by-step instructions on the app installation:
Step 1: Go to umobix.com and create an account. For this, click the "Try Now" button on the website's top right corner.
Step 2: Enter your valid email address and click "Create Account."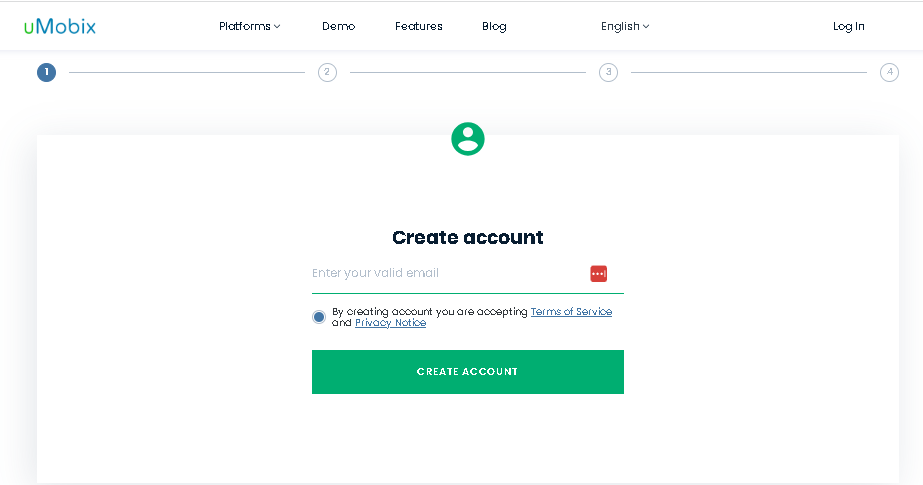 Step 3: Now select the OS of the target device whose Instagram activity you want to track.

Step 4: Choose a preferable subscription package, click "Try Now," and proceed with payment. Payments are accepted via credit cards, Google Pay, or cryptocurrency – choose the most comfortable for you. If you have a coupon code – insert it in an appropriate field on the website – it will give you some discount on your uMobix subscription purchase.

Step 5: Check your email (the one you used for registration). You will see the uMobix login URL, credentials (your login and password necessary to log into your uMobix user space), and registration code, which you will need to use to install the software on the target cell phone.
Step 6: Use login and password to sign into your uMobix userspace. There, you will get a detailed user guide on how to install the app on the target device and a registration code you will need to use. Do not close that page, but take the target cell phone and follow the instructions provided (see the screenshot below).
Once the app is installed, you can start tracking the target cell phone.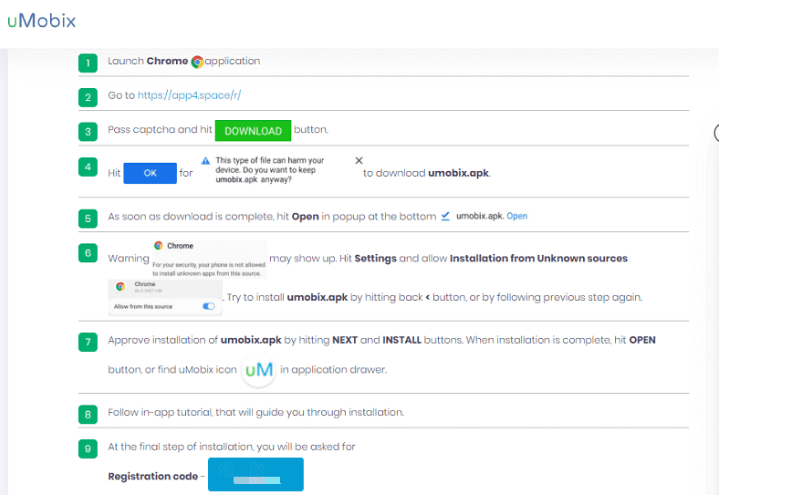 Glassagram – See Public and Private Instagram Stories Anonymously Without Installation
Do you want to find out how to look at someone's Instagram without them knowing? Use Glassagram, a web-based Instagram viewer application that does not require an app installation and is compatible with all cell phone models, operating systems, and carriers.
Glassagram will allow you to view real-time stories and save them for an unlimited time in your userspace so that you will never miss one. Do you want to know who pays too much attention to your loved one IG profile? Glassagram will do that for you with its "hot like" feature, which will let you know someone's increased interest in your target (e.g., liking three-year-old photos).
What is great about the app is that it can view private Instagram profiles, not only those that are public. Using the tool, you are able to view reels, comments, followers/following, tagged photos, and location tags – all these entirely anonymously.
How to Get Started with Glassagram?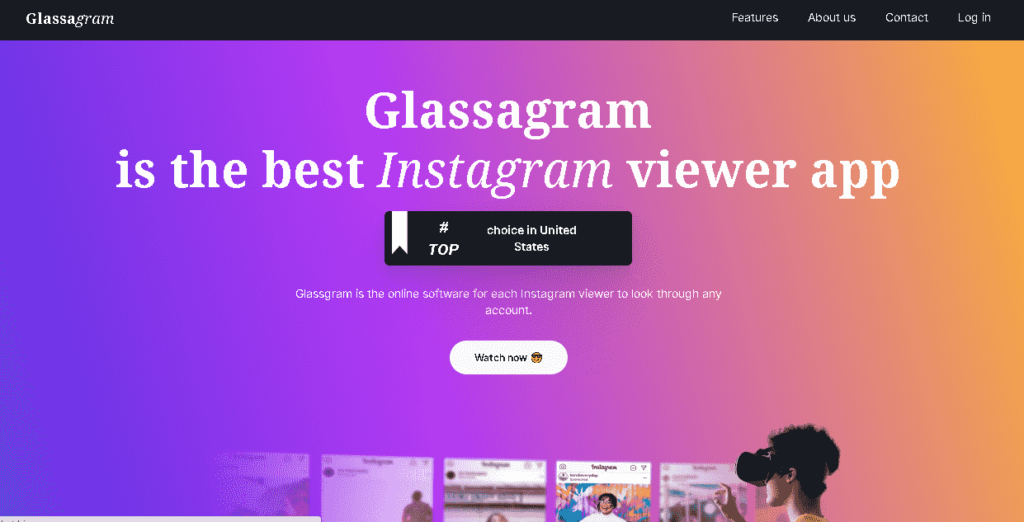 Step 1: Go to glassagram.com and click "Watch Now."
Step 2: Choose the type of IG account you want to monitor and click "Next."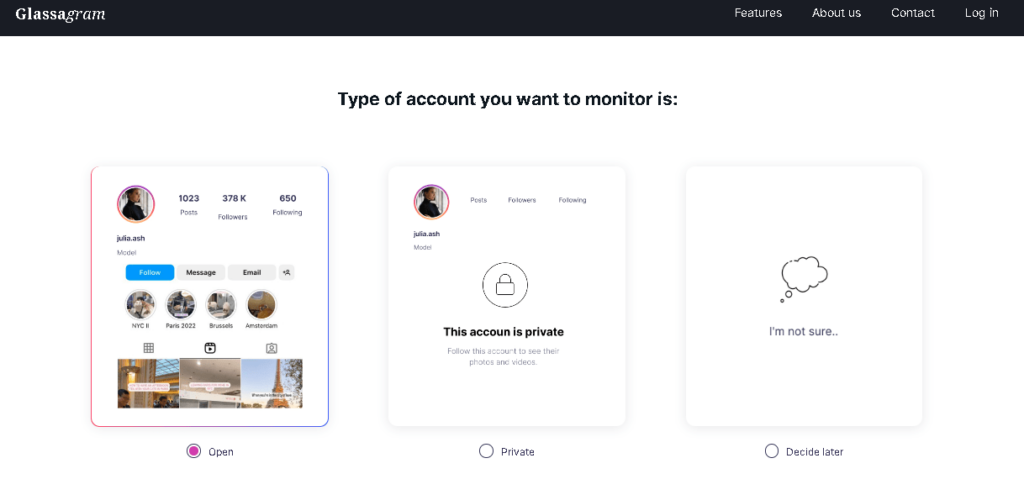 Step 3: Enter the target username in an appropriate field on the website and click "Watch".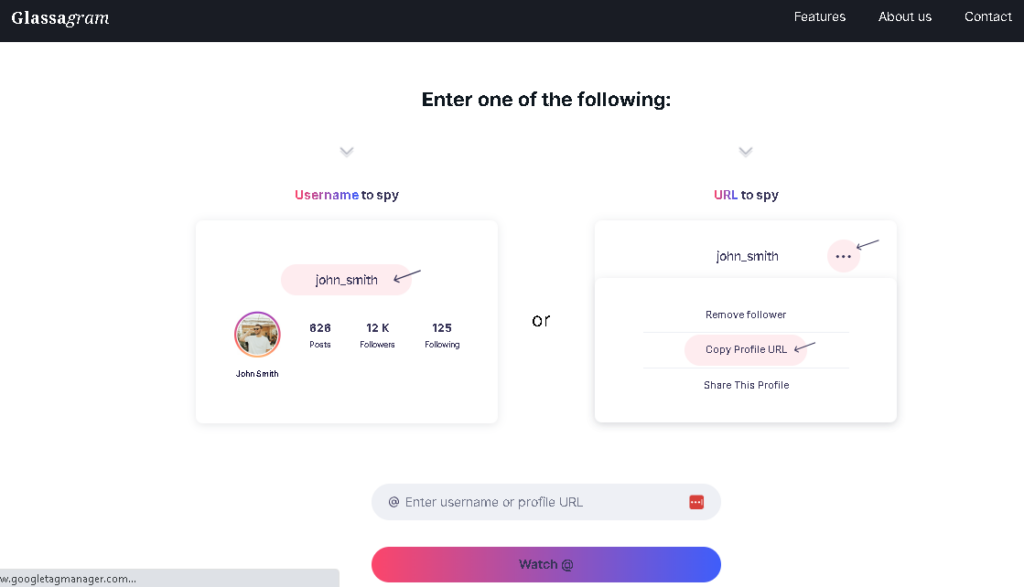 Step 4: Create your account (you may sign with a Google account or email address).
Step 5: Select a preferable subscription plan.

Once paid, visit your userspace and monitor the target user's IG profile.
Method 3: Reset Their Password
If you are exhausted with guessing the target user's account password and only fail with each attempt, do not worry. There is still a way to log into someone's IG without knowing their password. You may ask how. The answer is to reset their password.
Keep in mind that to access someone's Instagram account hiddenly, you will need to know the target's email (login and password) or phone number (and access to their phone for a few minutes).
So, how to look at someone's Instagram without them knowing with this method?
Step 1: Enter the username of the person whose IG account you want to hack and press "Forgot Password."
Step 2: Instagram will send you a password reset link to the account email.
Step 3: Log into the user's email to check the information. That's it.
Note that the person may rechange their password, and you will temporarily lose access to it.
Method 4: Look at Someone's Instagram Story Without Them Knowing Using the Airplane Mode
This method is as old as the hills. Besides the fact that using the flight mode trick to view an IG account story anonymously is as simple as 2×2, it's available on any smartphone with Internet access. When the Internet connection is turned on, once you have logged onto your profile, Instagram will automatically refresh all people's stories. However, when you switch on the flight mode, all subsequent actions, such as viewing and posting, are temporarily paused until your device regains internet connectivity.
So, if you desire to find out how to get into someone's Instagram account with airplane mode, follow the next steps:
Step 1: Turn on the Internet access. Using a mobile network or VPN is better to avoid any possible red flags Instagram may put on you.
Step 2: Now log into your IG account and find the person's profile whose stories you want to view (but wait to tap on the stories).
Step 3: Switch the Airplane mode on your cell phone (ensure the internet is turned off).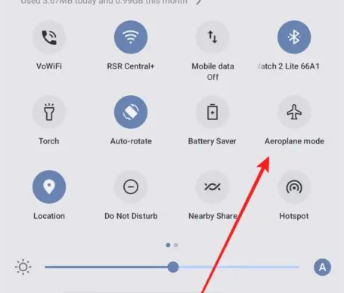 Step 4: Now navigate to the user's story and tap on it to watch.
Step 5: Once viewed, close the Instagram app from the recent section.
Step 6: Turn off the Airplane mode.
Method 5: Install Chrome Extension to Watch IG Story Without Them Knowing
Do you use a computer to log into your Instagram profile? If so, use Google's extensions to watch IG stories anonymously. You may ask, "How to look at someone's Instagram without them knowing. " Luckily, we have the explanation for you. Use Ghostify Extension.
Step 1: Search for Ghostify on the web to install it on your Google Chrome browser.
Step 2: Click "Add to Chrome."

Step 3: Once downloaded, click the extension button at the top right corner of your screen menu.

Step 4: Activate the Ghostify extension's toggle.
Step 5: Log into your IG profile from your computer using Google Chrome to view any IG story hiddenly.
You can use this method anytime needed when you want to view someone's story on Instagram in incognito mode.
Method 6: Create an Anonymous Account to See Instagram Stories Secretly
Creating an anonymous account is a way to go to secretly watch someone's Instagram stories online without them knowing. This method lets you keep your privacy intact and enjoy hidden story-viewing. So, if you want to know how to watch IG stories anonymously in this way, follow these steps:
Step 1: Turn on the internet to log into your IG account.
Step 2: Once logged, long-press your profile icon at the bottom right corner of your smartphone screen.
Step 3: Choose "Add account" and "Create new account ."
Step 4: Enter any username you want for your new account and a strong password.
Step 5: Fill in all the required details to complete the registration process.
Step 6: On a new IG account, find your target Instagram account to view their stories.
Step 7: If the account is private, you'll need to send a follow-up request and wait until the user accepts it (note, if you have no posts on your page and no followers/followings, your account will look suspicious, and the person may decide to decline your request).
Access Someone's Instagram Account Legally: All Ins and Outs
The main thing you should know about before you start monitoring someone's Instagram account is to understand whether it is legal. If the person whose activity you want to track is your kid under 18, you are likely within your rights to use parental controls. It falls within the realm of parental responsibility and ensuring their safety.
However, if the person is your employee or friend, you should get the green light from them to allow you to track their activities. Otherwise, you should be ready to face legal issues, which may lead to negative consequences.
When you want to watch someone's Instagram account, respecting their privacy and following the rules is super important. Therefore, you should always ensure you are always doing things the right way according to the law.
So, Can You Look at Someone's Instagram Story Without Them Knowing?
Yes, now you know how to look at someone's Instagram without them knowing. Different ways allow you to watch someone's story hiddenly. However, choosing one is up to your specific needs and personal requirements.
try now