Choose the best parental control routers and protect your children from online threats and inappropriate content. The parental control function allows you to enter Internet access restrictions for individual devices. The best routers with parental control function.

Top parental control routers 2020
To date, the home router has turned into one of the most indispensable objects of contemporary users. Virtually any "smart" device in our houses requires an Internet connection. Nowadays, routers are irreplaceable. In case you haven't selected the best router yet, we recommend you to keep reading this article.

At times, the need to cut off access to social networks or any other webpages arise. It can be done for certain devices, such as tablets and smartphones. Parental control function is designed for this purpose.

This feature permits to choose specific websites and block access to them. For instance, you can deny access to the global network when your kid must sleep or study. Certain models allow the user to blocking the webpages and set the time restrictions.
Our experts have studied the market of home routers and chosen the TOP of the budget models. In spite of their low cost, they provide a protected connection without any problems. Also, they have a nice design and established themselves as stable devices working round-the-clock.

Netgear

Netgear DGND3700v2 offers Live Parental Controls software. This is a free program that offers flexible monitoring and limits access to inappropriate content online. Live Parental Controls is a fully functional program supported by OpenDNS. It is the main provider of security and infrastructure services. It makes the use of the web safer by means of including anti-phishing, Domain Name System and content filtering.

This model has an ADSL modem and a gigabit port. The latter is intended to connect a cable/fiber optic modem – an all-in-one router. Therefore, it allows you to switch to any broadband network without worrying about replacing the router and addressing the difficulties of resetting your home network.
Mercusys MW301R

Mercusys MW301R is the most affordable router in our list. This model is very cheap but nevertheless reliable device with a beautiful design and an very simple setup. The speed of the device is 300 Mbps. Two antennas offers a great and stable coverage of a little room.

In spite of an extremely simple initial setup interface, it has greater opportunities than you can imagine. It is possible to activate the Wireless Distribution System (WDS) and thus replace (for instance) the repeater with this device. The model also includes remote restriction and parental control. Overall, low-cost Mercusys MW301R is perfect for those who require a cheap an immediate solution for replacing an old router or to ensure a stable work 24/7.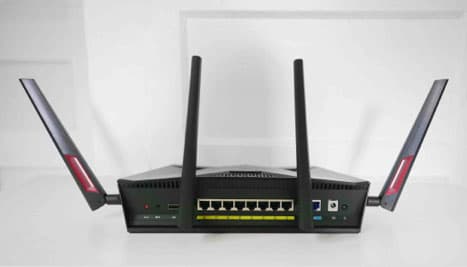 Asus RT-AC86U
This dual-band router provides lots of exciting features and solutions. For instance, one internal and three detachable MIMO antennas are aimed at increasing signal coverage, while the work of the router itself is based on the dual-core ARM-processor with a frequency of almost 2 GHz. The amount of RAM is 512 MB.

In addition, the user can select one of the few network connection modes by means of the feature Adaptive QoS. At the same time, the technology AiProtection ensures the protection of all existing connections to the router, even if they don't have their own antivirus systems. Another nice feature is the support of parental control and backup program Time Machine.

TP-Link Archer A5
If you're looking for a router that would work in two wireless networks simultaneously, you should consider buying TP-Link Archer A5. This model offers a dual-band connection 802.11ac.
AC1350 provides a bandwidth of 5 GHz, as well as a rate of almost 900 Mbps and 2.4 GHz with a rate of 450 megabytes per second. Using this router, you can easily play online games and download the huge files. In addition, four Ethernet LAN ports and one Ethernet WAN port are at your disposal.

Sophisticated settings of TP-Link Archer A5 allows you to maintain parental control and switch on the guest network mode by highlighting the speed and MAC filtering. The application called Tether permits you to control your home network easily. Most importantly, the router possesses two antennas, which ensure a strong signal. And the cherry on top is an excellent design for any interior.
TP-Link Archer C5400
TP-Link Archer C5400 is a tri-band model, which creates one network at a frequency of 2.4 GHz and two networks at 5 GHz. All network ports (1 WAN and 4 LAN) are gigabit. Moreover, there are two USB connectors – 2.0 and 3.0.

C5400 obtained the remote restriction feature, parental control, antivirus, as well as the support of NitroQAM, which allows you to achieve higher data rates with the use of compatible adapters.
D-Link DIR-605L
DIR-605L from D-Link is ideal for medium-sized and large rooms. This is a 300-MB Wi-Fi router with four Ethernet ports. This model is compatible with the standard devices IEEE 802.11n. DIR-605L has a structure with two fixed antennas, intended for reception and transmission of signals. Other significant characteristics are URL filtering, MAC filtering, a support of Network Address Translation and Wi-Fi Protected Setup.

DIR-605L can boast of a very simple configuration and strong encryption (the protection of WPA/WPS). The application QRS allows you to view the history of all users in real-time, while MyDLink Lite makes it possible to maintain your home network from any part of the world, which permits you to establish parental control without problems.
Linksys EA6900
A home router Linksys EA6900 is an excellent alternative to the previous option. It includes three antennas and can broadcast a 2.4 GHz and 5 GHz connections synchronously. The main advantage of the router is the convenience of use – for instance, the availability of particular mobile application Linksys Smart Wi-Fi.

This debugged app Android- and iOS-based for tablets and smartphones facilitates the work with this router and simplifies its configuration, permitting you to activate the parental control or reset the password in a few clicks.

Linksys WRT32X

The router WRT32X is mainly aimed at the fans of games, all due to Killer Prioritization Engine, using which the router gives preference to the game traffic of PCs. But there is also a parental control feature, able to regulate the child's attendance to specific webpages.

The router complies with the specification 802.11ac and has a dual-core processor, who works at a frequency of almost 2 GHz. The bandwidth of this model is 600 Mbps in the band of 2.4 GHz and 2600 Mbps for 5 GHz. The equipment consists of a USB 3.0 port, five Gigabit Ethernet ports and a combined USB 2.0/eSATA port.
Asus ROG Rapture GT-AC5300
Asus ROG Rapture GT-AC5300 is intended for the fans of games, which is why its opportunities are superfluous for most common users. This model ensures the quickest performance in its segment (5 Gb).

Other pleasant functions are the presence of the function AiMesh, which permits you to extend the radius covered by connecting the router to another router, the programming interface Gaming Center, as well as the control panel Game Dashboard, which presents exact information about all active network connections and attached devices. In addition, the protective system IPS fights the Internet threats, the feature Game Boost expedites the work of network games, while the parental control limits children's access to a certain list of webpages.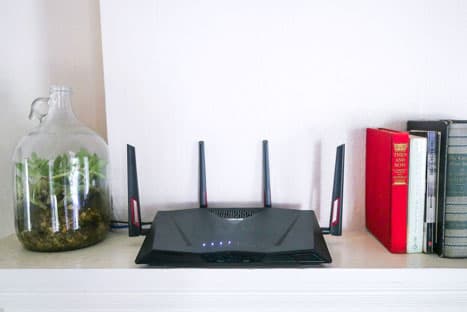 Asus RT-AC88U
The main attraction of this router is the presence of eight Gigabit Ethernet ports. Using them, the user can establish the wired LAN connections for PCs and other network devices, while restricting access to the 18+ webpages with the help of parental control. Moreover, RT-AC88U is provided with four external antennas, which have a high gain and use a separate stream for every antenna for data transfer.

The functioning of this model is based on the latest dual-core processor with a clock rate of 1.4 GHz, which has a high efficiency. It ensures a high speed of data sharing between the wireless customers with the devices connected via USB interface (more than 100 MB/s).
Netis
This model possesses its own software, which permits you to adjust your Internet connection. Virtually all Netis routers have the same firmware, and the configuration is performed almost on the identical principle.

This model can be used both at home and in an office. You can choose between a wired and a wireless device. Netis is compatible with other devices supporting 802.11b/g/n standards. The speeds of the model is about 150 Mbps.

As a whole, the parental control functionality on the Netis router is implemented to the fullest, which permits the clients to use it efficiently both at home and at work.
Conclusion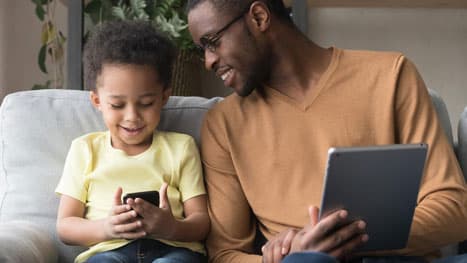 Although the wireless networks are comfortable, they are not 100% secure. If you don't do anything to ensure the safety of your network, any hacker in proximity can block or intercept the Internet connection, gain access to any of the files stored on your computer, infect your PC with viruses and lead to other problems.

Whatever model you choose, it has to support the WPA2 certification program. Moreover, any device you're adding to your network must support it.

Keep in mind that certain routers are developed taking into account the corporate or extended family security. Such devices are provided with numerous extra features, such as the opportunity to add extra encryption, monitor the devices, block unwanted users from the network, and even see what websites the users visit.