Gaming consoles are created to bring entertainment and great virtue to all their users. However, even this world of console gaming might require a specific definition. It should be based on the age group to prevent unwanted content. There are multiple rating systems that help identify if the game is appropriate. But parents should still check carefully if the game is suitable for their kids. Knowing this, PlayStation 5 offers extensive parental controls features. They give you the power to protect your child from all dangers that might be present in online communication or games themselves.
How do PS5 parental controls work?
You finally brought your first console home, and can't wait to get started using it. But before you begin gaming freely and your child enjoys the console, you ask yourself how to make sure your child does not get hurt while gaming. Here is why you have parental controls features available on every PlayStation console. To start setting up parental control features, you need to create an adult account on PlayStation Network. Through the Family management section, you can add every family member and give them their own account. PS5 parental controls features allow you to customize every account and make the use of the system safe. As manager of the account, you are enforced to set the following limits:
Duration and schedule for playing time;
Monthly purchases for every family member;
Accessing games, videos, and other applications;
Online communication through chats, video, and voice messaging;
Accessing other user's content, such as live streams;
Make sure you don't forget to adjust system settings. Make sure nobody can change any of the features of your parental control without accessing a family managing account first. This needs to be done first thing. Otherwise, somebody else can become in charge of the account.
What is the default PS4 parental control password? How to change it?
As soon as you are a Family manager of the account, you can now access PS5 system restrictions on the console settings menu. If it's your new account, you will need to know your default code to access this section, which is "0000". Make sure you change this passcode so that you are the only person who will be able to manage the account and configure the accounts of other family members. To change the parental control passcode, you need to go to: Settings → Parental controls → Restrict the use of PS5 → Change passcode. It is recommended that you change this passcode to some numbers that are hard to guess to keep your Master account safe.
PS5 parental controls time restrictions: Can you set a PS5 to turn off at a certain time and hours of gaming per day?
PS5 provides its users with features that allow them to set when and for how long each child can spend gaming throughout the day. Time regulation is based on three settings that allow you to customize playtime by:
Setting the amount of time available for playing;
Setting when the time for playing is over, with logout function included;
Setting playable hours and duration of play, adjusted by days of the week;
This feature is useful because it lets parents set a more extended playtime over the weekend, which is not usually allowed during the studying days.
What is the PS5 parental controls age limit?
PS5 enables you to adjust which content your child can access while using the console. Even though most movies and games are suitable for all ages, it is always better to check age restrictions before making a purchase. When setting an account for your child on PSN, you can set your child's age. Based on their age, the number of actions within your child account will be limited. Most content on PlayStation Network is filtered by numerous rating systems, available internationally: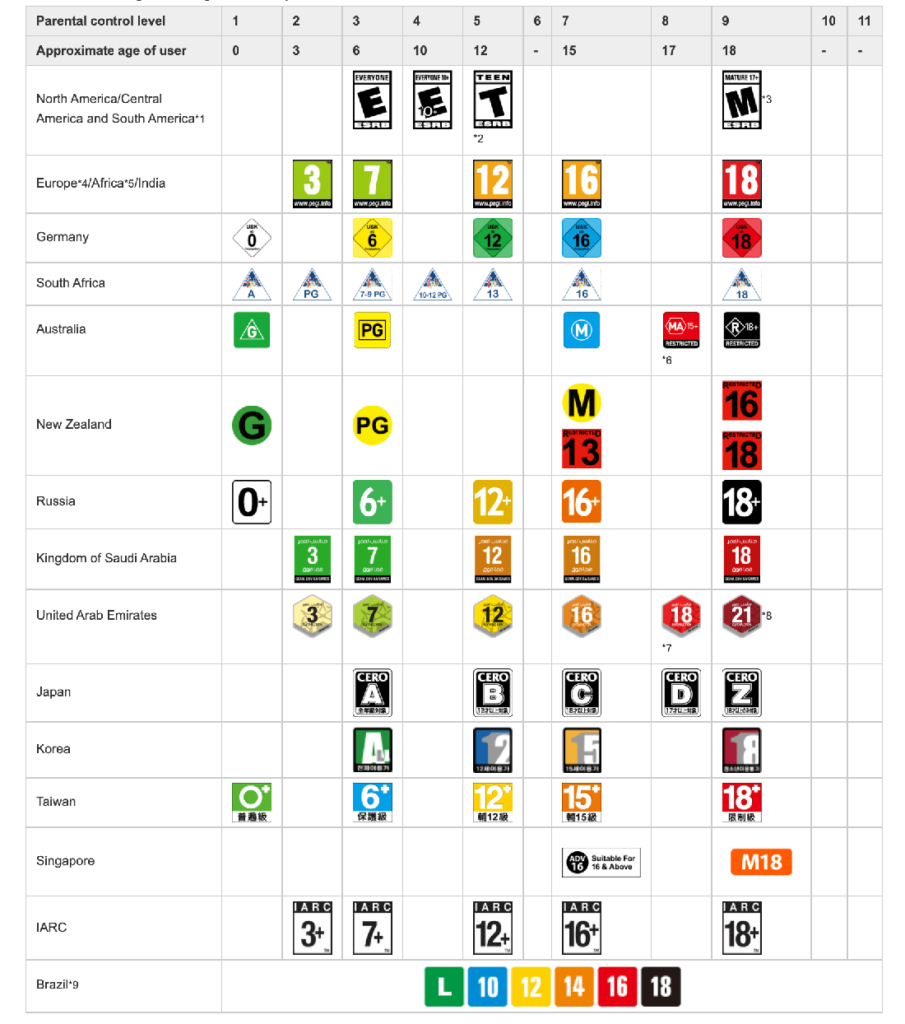 These rating systems are created to ease the process of game purchasing without being afraid that it might not be completely suitable for your child's age. Along with such rating systems also comes PS5 age limits. During the process of setting a child account, you can choose one of 3 available presets. They limit access to certain features based on the age groups:
Late teens or older
Early teens
Child
This setting will enable all parental controls for each child's account and make the process of setting a family member account faster. A big advantage of these presets is that they also restrict your child's web browsing process and are fully customizable. Your child will be limited to exchange messages with other members online or view and share content based on the age group. Along with setting the age limit for the game, you can also set the age limit for Blu-ray discs/DVDs. Once these age restrictions are set, your child's experience of using the platform is going to be much more safe and pleasant.
As a parent, make sure you develop a trustworthy relationship with your children. Leave yourself some space to adjust your parental controls. Let your kid understand that you want to guard your kid from all the danger and inappropriate content. As your kids grow, you should apply fewer restrictions. It is clear that primary schoolers might have different restrictions from high schoolers. PS5 Parental controls features obtain a wide variety of settings, enabling you to customize any restriction any time you want. If you want to prevent kids from all existing threats in the digital world, such limits are often not enough. This is when the cell phone tracker comes into play with its GPS locator and Web history tracking features.
FAQ
– How to reset the ps5 parental control password?
By default parental control passcode is set to "0000". In case you want to change it, go to PS5 system restrictions and find there a change system restrictions passcode. Using the hints from the system is easy to reset the password. Make sure you don't forget it.
– How do I change my child's account to a parent account on ps5?
PS5 allows you to appoint parent/guardian permissions to other family members. You can select an adult family member you want to appoint and put a tick on the parent/guardian box from your family management section. A child's account can become Master after reaching 18 years of age.
– Can I change my child's age on ps5?
If you want to give your child more freedom regarding what games to play, the best way is to increase age limits, using parental controls. If this option doesn't work, you could also create a new family member account. PlayStation does not allow to change the birthdate of an underaged subaccount.