The Internet is a whole dangerous world with a lot of inappropriate pages. If you want to find out how to block websites on android with no root – here are the two most reliable options!

Reasons to Block Websites on Android Phones
The Internet is a whole different world. Full of beautiful places, precious knowledge, and friendly communities. But, as well as the real world is full of dark corners. Adult content, gambling, racists, and nazi communities. It would be better to block websites like that because children are easy to influence. That's why this article brings up the most reliable ways to block websites and protect your child.
How to Block Websites on Android Using a Firewall
Indeed, the most powerful and universal tool to block websites is firewall apps. They give no chance to get to blocked websites via browsers or any mobile apps. Except for users with a lot of experience who can use VPN. But the drawback of firewalls is that they mostly do need rooting. And rooting is pretty hard to do for an average user. Moreover, rooting blows away the warranty and all privileges of using the device according to the policy. Not really a good idea. Don't hack your phone without a real reason.
How to block websites on Android without rooting? There are some options!
Usually, web browsers on mobile devices are just less functional versions of their desktop relatives. They do have fewer features, and they mostly do not support add-ons. And add-ons are essential to blocking web pages on a web browser. But there is an exception.
The Firefox browser pretty much conserved all its functionality while traveling from personal computers to Android OS. And it still has the option to work with add-ons. So, you can block a web page just in seven easy steps:
Download and install the Firefox browser from Google Play Store. (You can trust it: Over 100 million downloads and 4,4 stars rating.) It won't take up too much space on your mobile device.
Open the Firefox web browser. Enter the menu by pressing three vertical dots in the top right corner. And tap Add-ons.
Tap: Show me recommended add-ons. (the actual wording can be different)
Type BlockSite in the search box on the top.
Add the BlockSite add-on to Firefox. It has a logo that looks like a Stop sign. (over 30 thousand people use this add-on, the overall rating is 4,4)
Go to the home page. Return to Add-ons and tap on the BlockSite extension. Then tap the settings button.
Add as many websites' URLs as you want to secure your child from on this specific device. The interface is pretty simple. If not – press the Instruction button to have detailed guidelines on how to use it.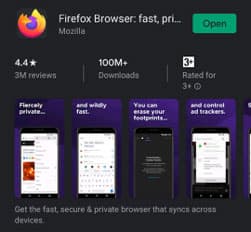 This extension works just like a non-root firewall for your Android device. It completely cuts out connections to websites you blocked. And even more. This handy add-on allows you to schedule access, set redirection, or send a warning message to the user of the device. 
Johnny! We have already talked about it. You are not allowed to go to this bloody website!
By the way, the BlockSite extension has password protection. So, the smart one won't be able to unblock anything.
Is BlockSite extension a reliable way to block a website on Android?
As for the Firefox online web browser – it is. Outside of this web browser user is free to enter every website he wants. Remember, there are also built-in web browsers like the Internet and Google Chrome. Both have no internal options for website security. So, what to do?
Website blocking mobile apps – the total firewall for the mobile device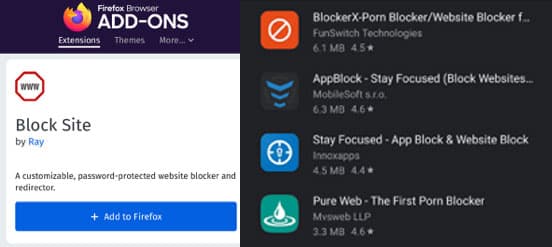 In the Google Play Store, you can find a lot of products for protecting kids from adult content, phishing, scam, data stealing, etc. The ones in trend:
AppBlock (one word) – primarily made for adults. This app helps with procrastination issues and helps to stay focused while working.
Pure Web, Adult Block – these apps are basically browsers with DNS filters. They cut off all connections to adult websites, gambling platforms, etc.
There are also firewall options for phones or tablets. But they mostly do need rooting. And we have to avoid rooting the device because it is dangerous and useless.
Antiviruses! Protection and parental control in the same box
 Antiviruses such as Avast have mobile versions too. You can find and install them in the Google Play Store. But most importantly, they can have built-in parental controls or have it in a separate app. For example, Avast provides it with the Avast Family Shield app. This handy program provides you with the next services:
Content filter – no adult websites, gambling, or unwanted social media.
App blocker – blocks apps before a child can install them.
Internet control – you can remotely cut off their internet connection at any time.
GPS tracking – see where your child is at any time. Also, you can set up alerts for specific areas you don't want him to be in.
Phone status – see the battery status of your child's phone or tablet.
Why not use antiviruses? The answer is simple. They are not free. Yes, the abilities they grant include everything you need to be sure your child is safe. But there is a free option as well.
 Before going further, antiviruses with parental control are worth their price. And you don't have to ruin the phone or tablet with rooting. Everything is simple and extremely reliable. Also, these apps allow you to manage parental control via the Internet wherever you are and have constant contact with your child. Whatever device you use. Just signing in with your Facebook or Google account and setting it up will be enough.
Another good thing – in such a way, your protection will be completely immune to any hacks. The parental control app requires a password to access and change any settings. A child cannot install a VPN app without your permission, and it covers all the Internet connections for all web browsers.
If you already are using AVG or Norton antiviruses on your PC, it would be great to use their apps for parental control as well. They have the same set of options as the Avast Family Shield.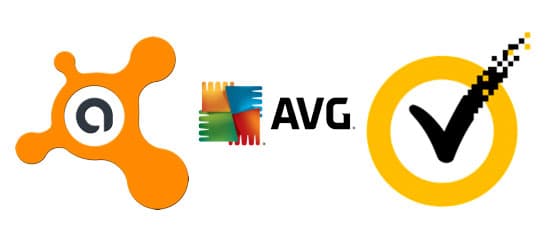 What about Android built-in parental control?
The Family Link is a way of protecting your child from overusing the device. It is about screen time limitation, app time limitation, and overall usage control. It has no options for protecting your child from specific websites. But it has its positive sides:
The Family Link allows to set screen time – it blocks the ability to use the device for certain hours. (bedtime, classes, homework time, family time)
Limit screen and app time – for example, no more than 2 hours in games and 4 hours overall in a day. In-game micro-transactions control.
No installations without permission – your child won't be able to install any app until you grant access from your device.
Location and status control – as well as antiviruses, the Family Link provides you with information about his location and alerts you if he is somewhere you don't want him to be.
Recommendations – a little additional function allows you to recommend some apps to your child or even install them remotely.
Why do I even need the Family Link?
The answer is simple – it works perfectly in combination with Firefox and BockSite. And you won't have to pay anything to make it run. This is a pretty good security upgrade for free.
That's how it works:
Install the Firefox web browser and set up BlockSite. In such a way, the only possibility to access an adult website would be via the Internet or Google Chrome. At this point, you have to block access to these web browsers. And block any ability to install any apps without your permission.
Set up parental control via Family Link. To do it, go to settings -> Digital Wellbeing and parental controls -> parental control -> start -> follow the instructions for both your and your child's phone or tablet (you need to set both to make it run smoothly). The guideline is as simple as possible, so you will be able to do it even if you are an Apple iPhone user and rarely touch anything running on Android OS.
Now block both the Internet and Google Chrome in Family Link. So, the only web browser your child can use is the Firefox web browser.
Alternative: Disable the Internet and Google Chrome. To do it, go to settings -> apps -> The Internet -> delete. Repeat with Google Chrome.
By the way, you won't be able to erase these apps completely. But they won't be usable without re-installation. And for re-installation – your permission is a must. But this is probably overkill.
The only problem can be if you use an iPhone while your child sticks to Android devices. In such a situation, you won't be able to monitor the location, grant app installations, etc. But Internet connections will be filtered – it is working, and it is free. And you don't have to root the device or lose the warranty and ability to use all the privileges Google official services have.
At this point, the only way to access an adult website would be by factory resetting. But you definitely won't miss it. The app will instantly report an error, and you will know that something is wrong.
Jumping to conclusions
There are two ways: free and paid. By the way, the paid path is not pricy at all. It costs up to $100 per year to be sure about the safety of your child. And your safety as well. No phishing, viruses, malware, etc. And complete privacy. It is worth its price.
What about a free option – it is reliable too. All you need is to install the Firefox web browser. Then set up the BlockSite extension. And set up Family Link. The combination of Firefox and BlockSite will cut off all the websites you don't want your child to see. And Family Link will cut off any chances to use other web browsers or VPNs. But, this can be a little inconvenient because you have to input all the websites by your hand into the extension. The list of pages is pretty long. What to choose is up to you!