Block Wi-Fi
Minimize the time your kid spends online and browsing.
Manage your kid's internet activity.
Help your kid to develop healthy digital habits.
Disable wi-fi connection when your kid should not go online.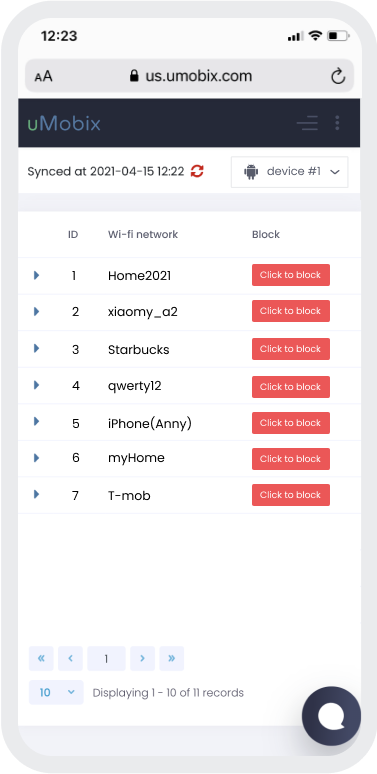 What does Block Wi-Fi mean?
There are moments when you need your kid to stop using their device. And sometimes, disabling their Wi-Fi connection can be really helpful. If your kid overuses their device and spends too much time online, you can block internet access for them and ask your kid to do something useful. This is a feature that allows you to disconnect your kid's device from a certain Wi-Fi network. On your dashboard, you will have a dedicated tab where you will be able to block Wi-Fi for your child's phone. In this way, you can minimize the time your child spends online and browsing. This is a tool for managing your child's internet activity and helps you to develop a more healthy relationship between your kid and their gadget. The feature allows you to implement some customized settings. You can select what Wi-Fi you want to block and which should remain connected. And, of course, you can always unlock any Wi-Fi connection and let your kid browse when it's the right time.
Why is the block Wi-Fi feature so important?
It is quite clear how gadgets can become addictive, especially when you overuse social media and have uncontrolled access to the digital world. If adults are more or less capable of setting some boundaries for themselves, the younger generation should still learn how to do it right. And the best teachers for them in this journey are their parents. No matter how much you talk about healthy digital habits, having a tool to control your kid's online activities is a must. The tool that allows you to block internet access gives you a chance to control your kid's online activity. Why need this feature? Imagine a situation when you notice how active your kid gets online while being at school. Your first thought is that your child is probably not studying. You have a tool available within one click that allows you to disconnect your kid's phone from a certain Wi-Fi network. With uMobix, you have a chance to check what exactly your kid is doing on their phone, and then based on what you see, you can disable Wi-Fi or apply any other restrictions.
How does this feature work?
Before using the block internet access feature, you will need to install uMobix software on your child's device. It won't take a lot of time since the setup process is quite easy. After you create your uMobix account, you will be given all the needed guidelines about installing a target device. Once all these steps are completed, the uMobix parental control app gets activated. You will start seeing the first data uploaded to your dashboard within some time. When you need to block internet access on your child's device, you need to open the Wi-Fi tab. There you will be able to see the list of all Wi-Fi networks to which your kid's device is connected. Next to the name of each network, you will be able to see a block button. As soon as you click on it, your child's device won't be able to get connected to this network. These settings are pretty flexible and allow you to select which Wi-Fi network is to be blocked. As you see, you can block internet access for your kid's device with only one click on your dashboard.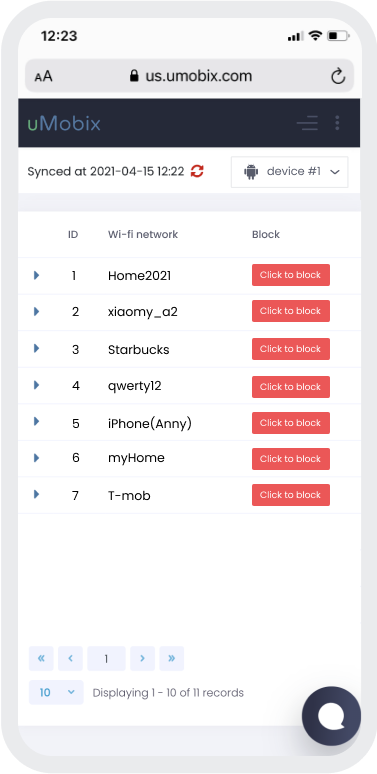 3 easy steps to start tracking
Register

Choose your subscription plan. Complete the purchase and receive the email with your login & password.

Install & Set up

Install uMobix on a target Android device, or provide iCloud credentials of a target iOS device in your user account.

Monitor

Go to your account and wait until we start sending data. Enjoy your tracking!
Frequently asked questions
Is there an app to turn off the Internet?

The variety of such apps is quite impressive, but not all of them have the necessary features to work properly. If you need an app that, along with blocking WiFi, gives you access to all the activities on the target device, you should install uMobix. With the help of this app, you will be able to come up with a customized list of blocked networks.
Can you block the Internet on an iPhone?

You can do this in the setting of your iPhone. Everything can be done inside the screen time tab. Additionally, you can also set the passcode so that your child won't be able to change these settings back. Additionally, you can use the uMobix app for effective parental control and block WiFi remotely on your kid's device.
How do you block the Internet on Android?

Under the network settings on your Android device, find the Data usage tab. There, you will select those apps that can get access to the network on your device. Additionally, you can install tracking software, like uMobix, on a target device. With its help, you will be able to block certain WiFi networks and track every activity.
Can you block devices from WiFi?

With the help of MAC address filtering, you will be able to block certain devices from using the WiFi network. You only need to know the device's MAC address you want to block from accessing your WiFi. Also, with the help of uMobix software, you can manage the key setting of a target device.
Ready to begin?