Call History
View all incoming, outgoing, missed, deleted calls.
Check call durations, timestamps, and a number of calls made.
Monitor in real-time.
Get caller names and numbers.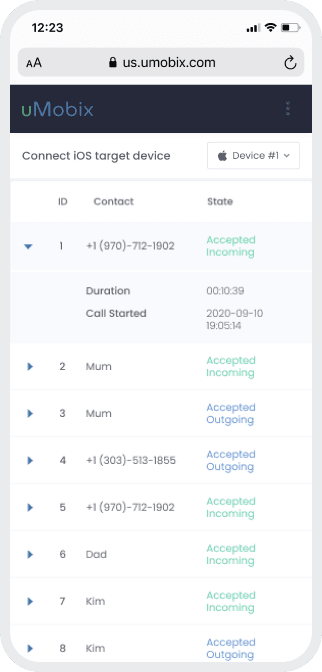 How to find Call history
After you've logged in to your userspace, choose between iOS and Android, and follow the prompts. Wait until your userspace is loaded.
On the left side of your userspace, you'll see the navigation sidebar. Here all the tabs with main sections are displayed. Each section contains its unique data visualization.
The first section, 'Calls', contains all user information regarding phone calls that have been made. There are accepted phone calls, declined, and missed ones. Scroll pages to see the full list. If you want to view most frequent calls, go to the Dashboard at the top of the menu and check the list on the left side of your Dashboard.
Above the list with phone calls, you can see when data was updated. To refresh, click on the cycle-arrow icon.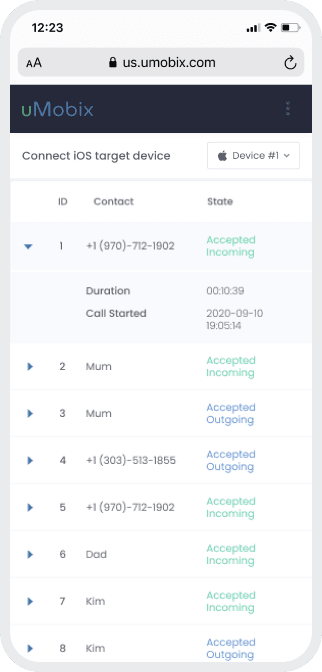 3 easy steps to start tracking
Register

Choose your subscription plan. Complete the purchase and receive the email with your login & password.

Install & Set up

Install uMobix on a target Android device, or provide iCloud credentials of a target iOS device in your user account.

Monitor

Go to your account and wait until we start sending data. Enjoy your tracking!
Frequently asked questions
Is it possible to export call logs?

We don't have a particular option for exporting data, but you can copy phone calls that have been tracked and transfer them to your document or any other place.
How long are call logs stored?

Once data is uploaded to your account, it will be stored there for 3 months.
What information do call logs contain?

Call logs contain information about all phone calls that have been made, received, missed, or deleted, as well as call duration and contact info.
Where can I find my call logs?

If you want to view call logs that are being monitored, please, go to your user account > call history. That's the main call log screen. Scroll down and tap right to comb through call history.
How to distinct outbound calls from inbound?

There is a separate field in your list that identifies the type of each phone call, so you'll never confuse them. Each call will be marked accordingly: outgoing, accepted, missed, or deleted.
What are the benefits of phone call logs monitoring?

Knowing who your kid is contacting can greatly help in plenty of situations: you can spot an extensive communication with unknown contact and call back to identify who calls your kid all the time; figure out if your child is lying about the amount of time they spend on their phones. If you're worried about your child doing drugs or joining a bad company, they might be getting suspicious phone calls from unknown numbers, and uMobix is the way to detect such activities right on time. It's imperative for business owners to ensure their employees don't use business phones for personal calls. Our call log tracker is the way to have full visibility over employees' communication.
Can I search and sort call logs in my user space?

We store all call logs in your user account, which you can access in a few seconds. Just log in to your account, tap "Calls" at the navigation menu on the left: the list of all call logs will be launched. Scroll down and tap right to view the next page. Scroll right to comb the full call history. There is no need to sort phone calls because they are already organized according to their type for your convenience. Besides, each phone call contains information about its duration along with contact info. The way we arrange them lets you to navigate through smoothly, keeping logs in order.
Can I check call history online?

We update information every 5 minutes, so basically, you monitor call logs online.
Is call history sync to iCloud?

Yes, call logs are stored on iCloud's servers and all devices associated with your Apple ID.
Will I be able to track the time of phone calls?

Yes, there is a separate field in your call list that displays each call's details: its duration, time and date, contact info.
How do I download my call history?

There is no option to unload data yet. However, you can always copy needed information and save it locally on your device.
Ready to begin?