Call History
View all incoming, outgoing, missed, deleted calls.

Check call durations, timestamps, and a number of calls made.

Monitor in real-time.

Get caller names and numbers.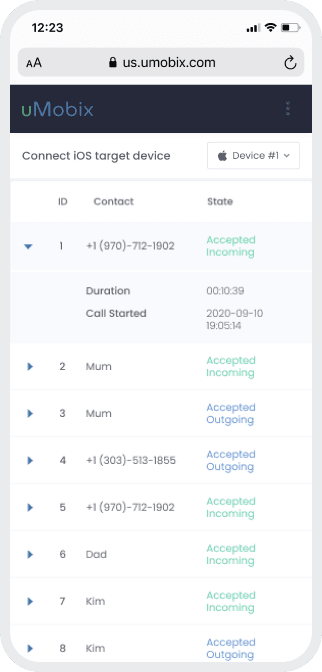 How to find Call history
After you've logged in to your userspace, choose between iOS and Android, and follow the prompts. Wait until your userspace is loaded.

On the left side of your userspace, you'll see the navigation sidebar. Here all the tabs with main sections are displayed. Each section contains its unique data visualization.

The first section, 'Calls', contains all user information regarding phone calls that have been made. There are accepted phone calls, declined, and missed ones. Scroll pages to see the full list. If you want to view most frequent calls, go to the Dashboard at the top of the menu and check the list on the left side of your Dashboard.

Above the list with phone calls, you can see when data was updated. To refresh, click on the cycle-arrow icon.