Dating apps
Detect which dating apps your kid has on their device.
Monitor all the chats and see with whom they talk.
Track all the media files they share or receive from others.
Get a chance to protect your kid from online predators.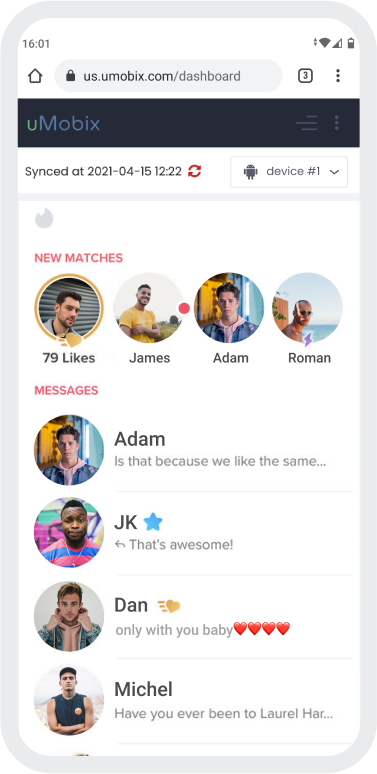 What does this feature tell about dating apps?
The reasons for using a dating app by a kid or teenager may vary. If your child is younger than 11 years, most likely, it's only out of curiosity. If your kid is already in their teens, it can be that they want to have this feeling of being grown up. Dating apps allow you to be whoever you want. Teenagers use dating apps as a way to get inside the adult world. You can use any photos you want, build up a personality you don't have in real life, discuss any topic with strangers, and find friends. So if you notice your child is using any dating app - don't panic. Using a uMobix tracking software will allow you to track everything your kid does on these apps. With the dating app scanner, you get access to everything that happens there - messages, contacts, shared media. This is a solution for parents. Who doesn't want to forbid the use of apps, but at the same time want to be aware of what their kids are doing there - using uMobix tracking software will be of big help since you cannot be sure of all the other users online who can try to reach your child.
Why do you need to know about dating app's use?
Dating apps are not an assembly of vast minds. You or your child can meet different people there. Unfortunately, a child or a teenager can meet with a fraud, pedophile, or psychopath. This is not a characteristic of only dating apps but an internet space overall. You could hardly call such communication something useful. If you forbid your kid to use any dating sites, most likely, they will find a chance to access them without you knowing it. The best way is to use tracking software that will help you to monitor what your child is doing on dating apps. Since limiting your kid is not a way out, then simply use uMobix tracker to keep an eye on your child. With its help, you will know who texts your kid, the messages, and the media files your kid receives or sends. All this information will help you track any suspicious person in contact with your kid. And don't forget to tell your kid what to do if they face any bullying, sexting or offers to meet from unknown users.
How to monitor a child's dating app activity?
The reason your child starts to use dating apps is to find someone on dating sites. The romantic image that flies around dating sites makes them extremely attractive for young users. But what you, as a parent, can't do is limit access of suspicious users to your child's profile there. When you decide to install monitoring software on your kid's device, you will know what your child is doing there. To check the data loaded from dating apps, you only need to go to your dashboard and open the dating apps section. There, in the form of screenshots, you will be able to track your kid's actions even while using any dating app. You will be able to see who your kid likes, with whom they chat, or share any personal information if they share any media files or receive any. Detect right away if your kid is in contact with an online predator or a pedophile. Your fast reaction will help to protect your kid from getting into trouble. Use the data provided in the dating apps section as real proof of abusive behavior.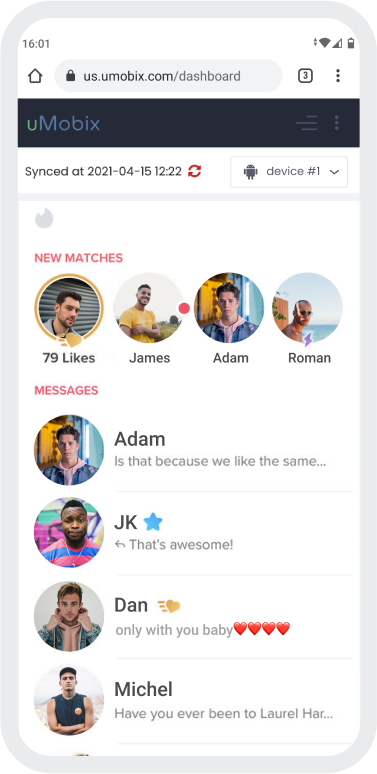 3 easy steps to start tracking
Register

Choose your subscription plan. Complete the purchase and receive the email with your login & password.

Install & Set up

Install uMobix on a target Android device, or provide iCloud credentials of a target iOS device in your user account.

Monitor

Go to your account and wait until we start sending data. Enjoy your tracking!
Frequently asked questions
How to find out if someone is registered on a dating site for free?

If you want to find out if someone uses any dating apps, you can check their browsing history. Try to keep an eye on the phone alerts. If you see an alert on the locked screen from Tinder, they have an active profile. To find out what this person is doing on dating apps, try to install uMobix tracking software.
How to find out if my husband has another email address?

The best way to find out is to ask directly. If your husband tries to tell too many details and it sounds more like an excuse, he probably hides something from you. If the answer is still no, try to use tracking software. uMobix will help you to find out much more information than only another email address.
How to see if my husband is on a dating site?

First, try to check in the browser history and monitor any notifications. If you spy a tinder notification - he is on Tinder. The most reliable method is to use a uMobix tracker. With its help, you can spy on everything your partner does on all dating apps, such as messages, matches, shared media, and much more.
Can you be anonymous on dating sites?

Even though your dating profile is visible to hundreds of users, you can easily keep it secret. While you sign up, you decide which information is present there. It's always good to keep your real identity private until you start talking to your match. If you want to detect if your partner has a dating app account, you can use tracking software to find it out.
Ready to begin?