Text Messages
Read sent and received text messages.
Explore a social circle of target users.
View text messages online.
Retrieve deleted SMS and contacts.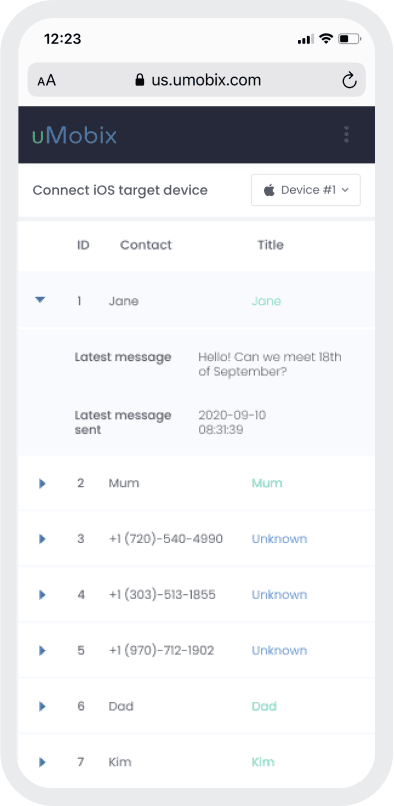 How to find Text messages
After you've logged in to your userspace, choose between iOS and Android, and follow the prompts. Wait until your userspace is loaded.
On the left side of your userspace, you'll see the navigation sidebar. Here all the tabs with main sections are displayed. Each section contains its unique data visualization.
The section "Messages" is located under the "Contact Book" section. It collects information regarding SMS that the user has sent or received. View text messages online and read the content of each message. By clicking on a particular contact, you can open the whole message history between the phone owner and this contact.
Above the list with text messages, you can see when data was updated. To refresh, click on the cycle-arrow icon.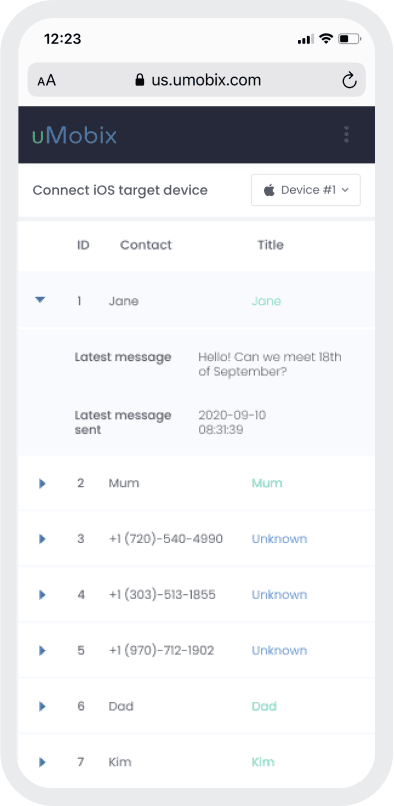 3 easy steps to start tracking
Register

Choose your subscription plan. Complete the purchase and receive the email with your login & password.

Install & Set up

Install uMobix on a target Android device, or provide iCloud credentials of a target iOS device in your user account.

Monitor

Go to your account and wait until we start sending data. Enjoy your tracking!
Frequently asked questions
How to see what text messages are being sent?

The section with text messages is divided into several columns. Find the column with the name of the contact and tap on the name. The whole message history with this person will appear. In the right column, you can see the type of each message: sent, received, or deleted.
How to get access to text messages?

After you've completed your purchase, you'll proceed with the installation process. When it's over, you'll get into your userspace, where all information retrieved from the target phone will be delivered and sorted. In your user account, there are several tabs named after the type of information it contains. The section with text messages is called "Text Messages." Tap on it to view text messages online. Track the full list of text messages that the target user sends and receives. To view the older messages, scroll down and tap right.
What information could I pull from text messages?

Many people underestimate the role of text messages in investigations: however, via SMS we receive confirmation codes, taxi booking details, passcodes, restaurant orders, and much more. By tracking text messages, you get a clear picture of what kind of places your child is visiting, and what products and services do they buy online.
How to read someone's text messages without accessing their phone?

You can use the app to see texts on another phone in stealth mode. If the target user owns an iPhone, you can register, purchase your subscription, enter iCloud credentials of an iPhone you're going to track, and that would be it. No access to the phone. You only have to know iCloud ID and password to be able to monitor the device instantly. If the person whom you want to track owns an Android, you'll have to take the phone and install uMobix on it. The process will take several minutes, though.
How to track text messages on someone's phone for free?

There is no such thing as a free monitoring app. They may not come with an upfront cost, but after a free trial, you'll get billed anyway 😊
How to tell which messages my kids send and receive?

We organize all data retrieved from a target device in a way that is as convenient as possible: you tap on the name of the contact and open the message history, where each message is marked as "sent" or "received" accordingly. You can even view even deleted messages because if a user erases a message, it is still stored in your userspace.
Can I spy on text messages without installing software?

Yes, for iOS users, you can start tracking text messaging without installing the software on an iOS device. But if you want to see other people's text messages on Android devices, you'll have to install uMobix manually.
How to read someone's text messages without being detected?

With a cell phone tracker, you can view text messages online without being detected because the tracker runs in stealth mode. Target users will never know their activities are being monitored.
Is it legal to check text messages?

It is legal to use the tracker app, if you own the device of your child under 18 y.o., or if you have informed the designated users about your intentions to monitor their activities.
Can I access text messages online?

Yes, you can check text messages online, because uMobix updates data every 5 minutes.
Ready to begin?