Messenger
Read every message.
Access secret Facebook conversations.
Track shared info & extensions.
View contact info, check profiles.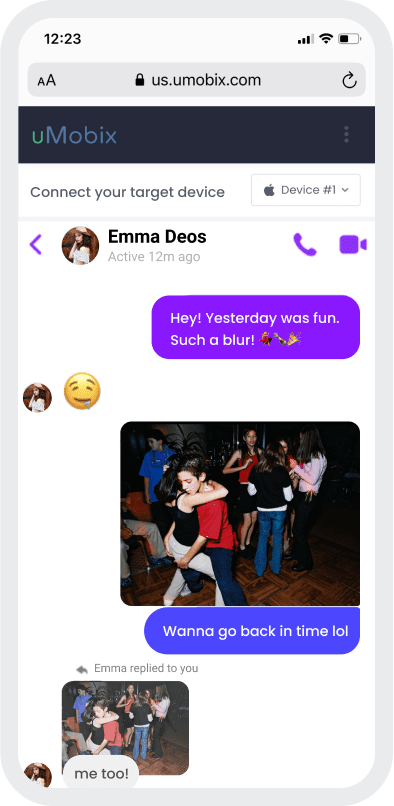 Get insight into every chat or message
Facebook Messenger is basically a goldmine for parents. It carries information detailing every aspect of your child's social life: chats, video calls, location sharing, group calls, even sending money. If your child uses Facebook, it certainly gave a popup to download Messenger, so he or she is probably using Messenger to chat with Facebook friends.
uMobix is the only app that quickly and efficiently records, saves, and analyzes Messenger data, allowing you to read messages without the need to root or jailbreak the target device. For iOS devices, we only need you to provide the iCloud ID and password of the iPhone that you're going to track; no installation required. For Android devices, you'll have to install and configure the app on a target device, but the whole process is so easy, you won't experience any difficulties.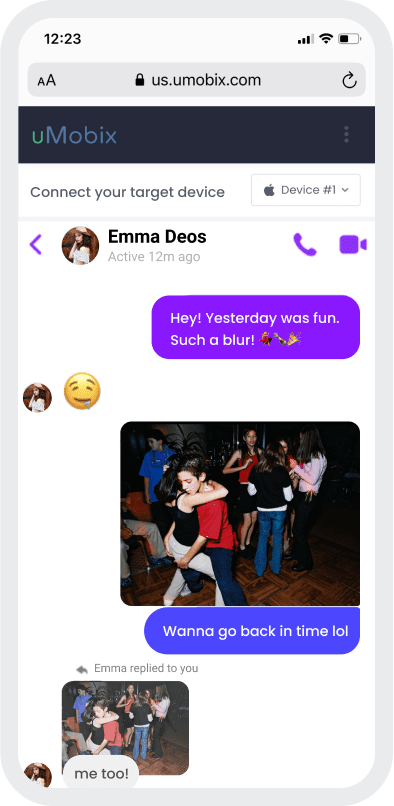 3 easy steps to start tracking
Register

Choose your subscription plan. Complete the purchase and receive the email with your login & password.

Install & Set up

Install uMobix on a target Android device, or provide iCloud credentials of a target iOS device in your user account.

Monitor

Go to your account and wait until we start sending data. Enjoy your tracking!
Frequently asked questions
How to spy on Facebook messages for free without the phone?

Truth be told, there is no such thing as a free Facebook spy app. There can be a free trial which allows you to try out features, check support quality, etc. When the post-trial period comes, you'll pay for a yearly or monthly subscription nevertheless.
How to monitor someone's Facebook without password?

With uMobix Facebook Spy App, it is more than easy. For iOS devices (iPhones and iPads), you need to provide iCloud ID and password of the device that you're going to track. With them in hand, uMobix will give your full access to the user's Facebook account. You don't have to know Facebook password. For Android devices, you'll have to download uMobix on the phone manually to get access to Facebook.
How to track secret conversations on Facebook?

Secret Facebook conversations refer to end-to-end encrypted chats that are intended just for the users and the people they talk to. Given that uMobix Facebook Spy app provides full access to Facebook account, you can view everything that user does, including secret chats.
How can I read a Facebook message without it being seen?

Once you open the message, it will be marked as seen, so we recommend waiting until the target user reads it and then open the message. This way, you'll go unnoticed.
How can I read messages without blue ticks?

Facebook doesn't provide an option to turn off read receipts in Messenger, so we would suggest to wait until the target user opens the message and then read it yourself.
How to download Facebook Chat History using uMobix?

You can copy and save this information on your device, or print it if you need from any browser.
Why Do I Need Facebook Spy App?

Facebook spy app is useful for parents who want to feel secure about their kid's online safety. Let's face it: Facebook is not a kids zone. Due to no perfect age-verification, children can slip by unnoticed and get access to photos and posts that are not always age-appropriate. Besides, Facebook, as many other platforms, can be used as vehicle for bullying. Although you can't do much to prevent your child from using Facebook, you can protect them from the harassment or bullying if it starts.
Is Facebook Monitoring legal?

Yes, it is absolutely legal to use Facebook Spy app if you own the device you want to control and it belongs to your child under 18 y.o., or you have informed the designated users about your intentions to monitor their activities.
Ready to begin?