Hangouts
View online video conferencing.
Track shared documents and files.
Check Google Meet & Google Chat.
Monitor one-on-one video chats.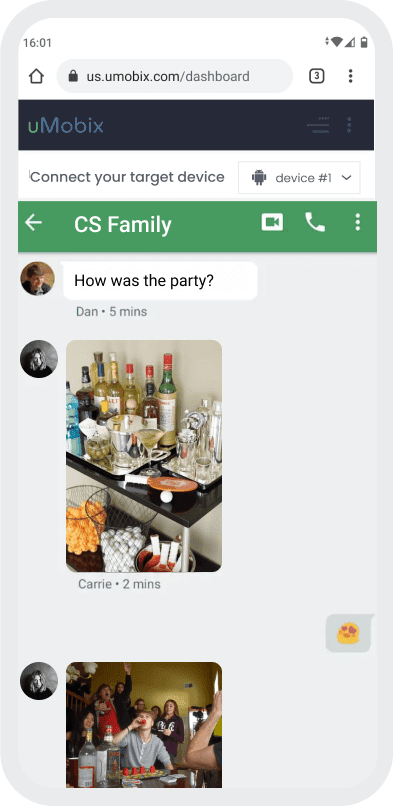 Inspect Google Hangouts
Some people prefer Googe Hangouts, mainly because it's integrated into Google+ and Gmail. It is also popular for handling large meetings. If your children haven't set privacy correctly, strangers can contact them directly. That's why it will never hurt to keep an eye on your child's Hangouts activities. Moreover, there is a feature of turning off message history, which allows children to hide their activities.
uMobix provides information about the content of messages, presents time-related information, reveals names of communicating parties. The software systematically analyzes the most frequent activities and gathers information into the comprehensive reports available in your Dashboard. To start using this feature, tap the "Hangouts" on the left of the navigation menu. View screenshots that display your child's Hangouts activity.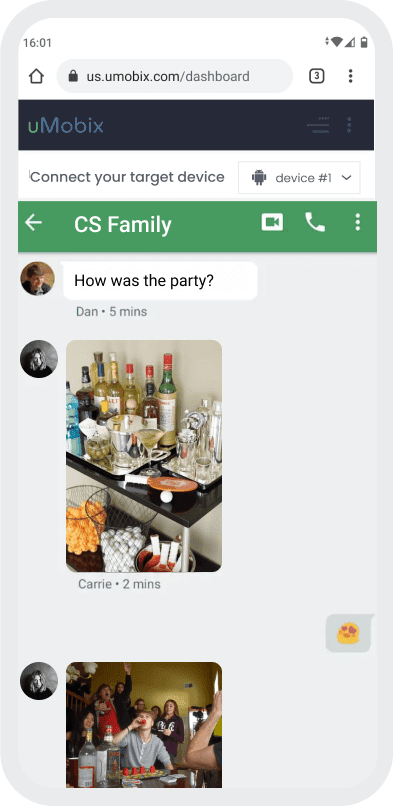 3 easy steps to start tracking
Register

Choose your subscription plan. Complete the purchase and receive the email with your login & password.

Install & Set up

Install uMobix on a target Android device, or provide iCloud credentials of a target iOS device in your user account.

Monitor

Go to your account and wait until we start sending data. Enjoy your tracking!
Frequently asked questions
Why should I use Hangouts tracker?

Google Hangouts doesn't have very strict policies when it comes to sharing photos. Strangers can ask children to send nudes without much fear of being banned. That's why we recommend to keep an eye on this Messenger to avoid such threats.
How to track Google Hangouts?

After you've completed your purchase, you'll proceed with the installation process. When it's over, you'll get into your userspace, where all information retrieved from the target phone will be delivered and sorted. In your user account, there are several tabs named after the type of information it contains. Tap the "Hangouts" to track the full list of text messages that the target user sends and receives. To view the older messages, scroll down and tap right.
Ready to begin?