Messaging Apps
Read sent and received text messages.
Explore a social circle of target users.
View text messages online.
Retrieve deleted SMS and contacts.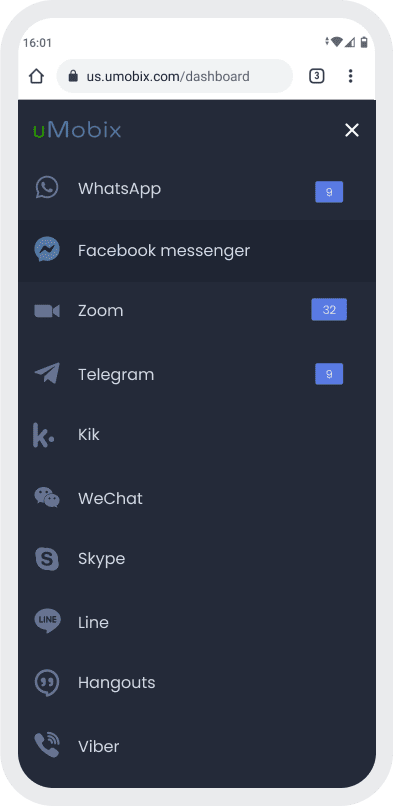 Messaging Apps for iOS
Obtain the most valuable data from messengers with our advanced Messenger Tracker! Quickly access chats, review who your kids are interacting with, access photo and video files exchanged via chats.
3 easy steps to start tracking
Register

Choose your subscription plan. Complete the purchase and receive the email with your login & password.

Install & Set up

Install uMobix on a target Android device, or provide iCloud credentials of a target iOS device in your user account.

Monitor

Go to your account and wait until we start sending data. Enjoy your tracking!
Frequently asked questions
Can you track calls on Messenger?

Yes, uMobix delivers all information from Messengers, including calls.
Can I log into someone's Facebook Messenger without them knowing?

For iOS devices, uMobix Messenger Tracker gives an access to Facebook Messenger. You can log in to the target account as your own and read messages, but you have to be careful, because each message you've read will be marked as viewed.
How can I track WhatsApp messenger?

Log in to your userspace, click on the tab "WhatsApp" at the navigation bar on the left. There will be screenshots that display what the target user has been seen in Messenger, including chats, media files, contacts, etc. You'll view everything. uMobix Messenger Tracker is packed with advanced features to keep you informed about all WhatsApp activities.
Can Instagram DM be tracked?

uMobix Messenger Tracker gives users full access to target Instagram accounts, given that the monitored device is iPhone or iPad. Click on the "Instagram" tab and wait until the account is loaded. Browse through the news feed or read text messages — just remember that every message you open will be marked as viewed (which can raise user's suspicion).