Photos/Videos
Display album contents.

Monitor each picture.

View files name & timestamps.

Play each video stored on a target device.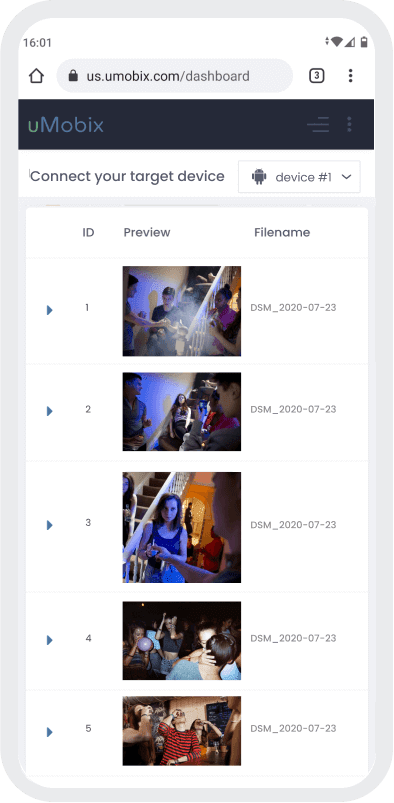 Hold a visual record of your child's activities
Using unique technology, uMobix retrieves user shots and displays them in your userspace in chronological order. The "Photos" tab contains all photos stored in the library, giving you a curated view of all files with their names and data. All shots are stored in your userspace in their original version.
Playing videos on target devices is one of the most valuable feature for collecting evidence. It gives a more objective account of what happened, highlighting visual details that may not be captured in photos. However, not every monitoring app offers this ability, which you can easily add using uMobix's recording feature.
To find the gallery, go to the menu bar on the left of your userspace. Tap "Photos" to view the entire library the user has been taken. Scroll down and right to see the full collection. The list of videos is located in the section below and called "Videos." Listings are accompanied by the name of the files and timestamps. Tap play to start watching the video. You may see a spinning circle for just a moment, and then the video will begin.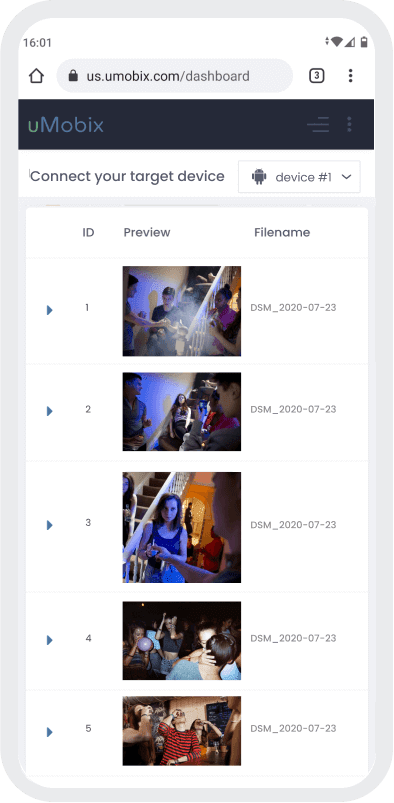 3 easy steps to start tracking
Register

Choose your subscription plan. Complete the purchase and receive the email with your login & password.

Install & Set up

Install uMobix on a target Android device, or provide iCloud credentials of a target iOS device in your user account.

Monitor

Go to your account and wait until we start sending data. Enjoy your tracking!
Frequently asked questions
Will I be able to see which photos my child has sent to someone?

No, the photo gallery displays only the photos that are stored on your child's device with files names & timestamps. However, with our teen phone monitoring features, there is an option to access Social media apps, and track files that your kid sends to others.
How do I know which video my child has shared with others?

You can access your child's Messenger and check media files that are being exchanged through it. In the gallery there is no possibility to track which video your child shared with others. Some of our teen phone monitoring features allow you to view media files exchanged via Social apps. Check them out in the menu.
Ready to begin?