WhatsApp Tracker
Get access to all sent and received messages.
Find names of people from contact list.
Read group chats.
View all media files exchanged via Whatsapp.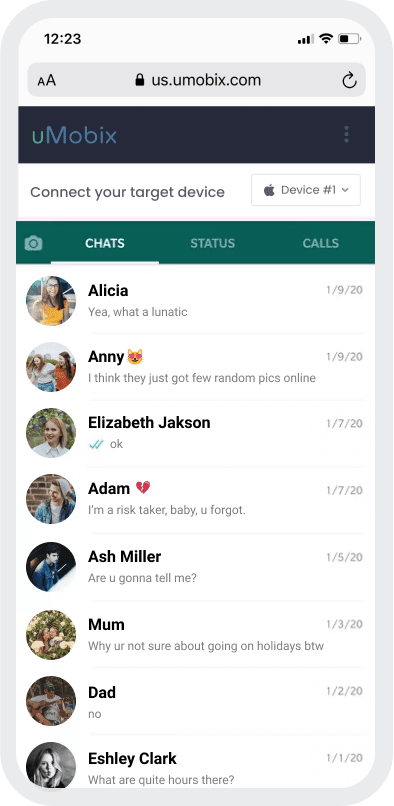 How to use WhatsApp Tracker
Boasting more than 1 billion users, WhatsApp is especially popular among teens, offering a mix of text messaging with the ability to share media files. uMobix WhatsApp Tracker is a comprehensive safety solution that allows parents to keep an eye on child WhatsApp activities, including monitoring group chats, private photos, and conversations. You can also view screenshots taken and exchanged in chats, watching for signs of cyberbullying, sexting, and other potential dangers.
To start tracking WhatsApp on an Android device, go to your user account, click on "WhatsApp" in the navigation menu. This section contains all information from target WhatsApp. Track chat history, read the content of each message, access contact personal info. Scroll right to see older messages.
Above the report section, you can see when data was updated. To refresh, click on the cycle-arrow icon.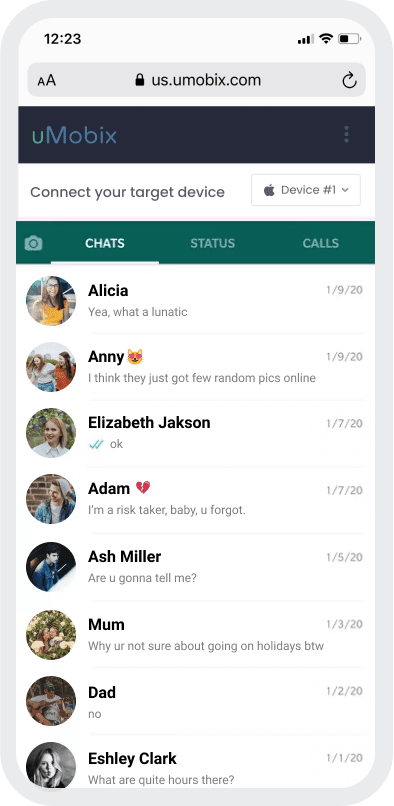 3 easy steps to start tracking WhatsApp
Register

Choose your subscription plan. Complete the purchase and receive the email with your login & password.

Install & Set up

Install uMobix on a target Android device, or provide iCloud credentials of a target iOS device in your user account.

Monitor

Go to your account and wait until we start sending data. Enjoy your tracking!
Frequently asked questions
How to spy on Whatsapp messages without access to the target phone?

You'll have to take the target device for several minutes to install uMobix on it. Once it's installed, log in to your userspace and start tracking. uMobix Whatsapp tracker will help you to monitor Whatsapp messages in real-time.
How to spy on Whatsapp messages?

After you've logged in to your userspace, go to the navigation menu on the right, tap on "WhatsApp" and enter the section. There all WhatsApp activities will be displayed, including text messages. Once you've purchased and set up our WhatsApp spy app, you'll get access to all messages of a person.
Can I read deleted WhatsApp messages?

Deleted messages are still in servers. iCloud keeps backups until the user runs out of iCloud storage. So unless they turn it off or run out of storage, you'll be able to view all deleted messages as well. With the help of our WhatsApp spy app, you will easily retrieve all deleted messages.
Can I spy on someones WhatsApp without installing the software?

Yes, if the user owns an iPhone, you're able to track WhatsApp without physically installing uMobix on a target device. In case of Android, install the app on the phone to be able to track it.
How to Monitor WhatsApp Chat on iPhone?

Start with deciding on which subscription plan suits your needs best. Then make a purchase, log in to your account, provide iCloud ID and password of the target device. Go to your userspace > WhatsApp. Start receiving data.
How to track WhatsApp messages on Android?

Our WhatsApp spy app organizes all data retrieved from a target device in a way that is as convenient as possible: you tap on the name of the contact and open the message history, where each message is marked as "sent" or "received" accordingly. You can view even deleted messages because if a user erases a message, it is still stored in your userspace.
How can I track locations shared in chats?

You can view the location that has been shared via WhatsApp and find it on the map. uMobix WhatsApp spy app lets you see the exact location of a person if it was sent via chats.
What benefits can you get with uMobix WhatsApp Spy?

uMobix is the only app that lets you monitor WhatsApp activities in real-time, arranging the flow of reports that display everything that happens on your child's WhatsApp. Provided report also informs on the contact name & phone number, date & time of the message. With our advanced WhatsApp spy app, you'll be able to not only monitor all WhatsApp activities, but be aware of everything that happens on this social app in real-time.
Ready to begin?