Keylogger
Monitor and log all keystrokes.
Find out passwords & keywords.
View timestamps.
Receive notifications each time new keystrokes appear.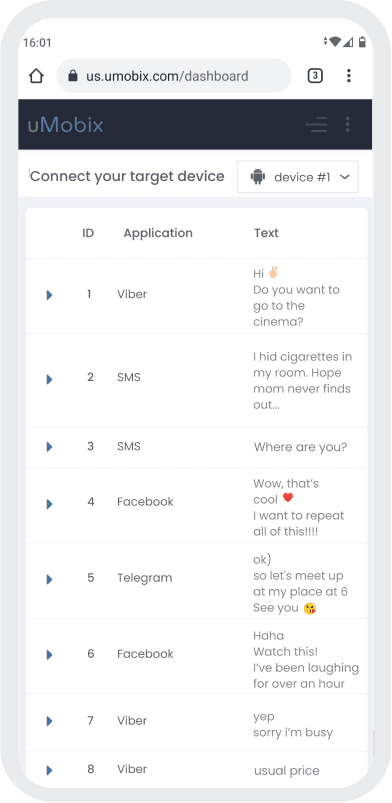 Secretly monitor and log all keystrokes
There are many ways children can hide what they're doing on their phones. uMobix tracks all information typed through the user keyboard. We record everything users type no matter the application, web browser, including information that is copied and pasted. With this technology at your disposal, you're constantly in the loop of everything that happens on your child's phone.
Go to your account, scroll through the sections to the "Keylogger." Tapping will open up the screen with all keylogs displayed. Listings are accompanied by the timestamps and application info. Scroll right to view the full list.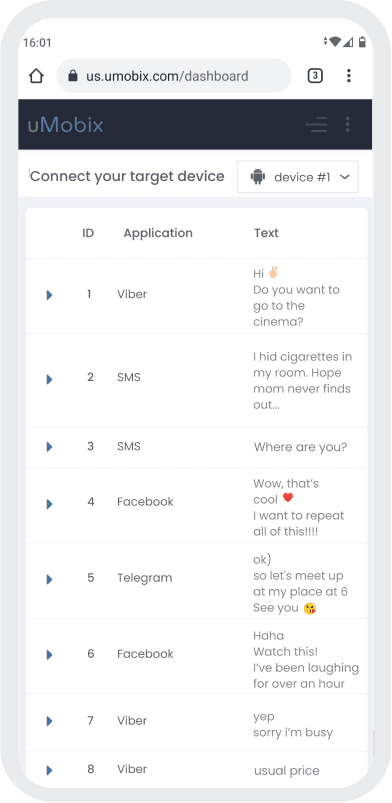 3 easy steps to start tracking
Register

Choose your subscription plan. Complete the purchase and receive the email with your login & password.

Install & Set up

Install uMobix on a target Android device, or provide iCloud credentials of a target iOS device in your user account.

Monitor

Go to your account and wait until we start sending data. Enjoy your tracking!
Frequently asked questions
Can I install a keylogger on an iPhone?

No, as of today, you cannot install uMobix Keylogger on iOS devices.
Can you install keylogger remotely?

To start using Keylogger, you'll have to install uMobix on a target Android device manually. The whole process will take no more than 10 minutes. Once it's installed, the app will run in stealth mode, and you can easily track keystrokes from your userspace.
Can a keylogger see pasted password?

Yes, Keylogger records all keystrokes typed by users, including pasted passwords (because they're typed nevertheless).
What is the best free keylogger?

There is no such thing as a "Free Keylogger." Any software requires time and investments to be developed. Products that "come for free" always have cost in the end. It's either a free trial or a scam.
How does a keylogger work?

Simply put, uMobix Keylogger captures keystrokes, decodes data and stores it in memory. Each time a target user presses a key, a notification is sent to your userspace.
How do I know if my keystrokes are being recorded?

Basically, there is no way to tell, unless you've been searching for keylogger software and tried to install one on your device. In all other cases, the software runs silently and doesn't influence device's productivity in any way.
Is there any free keylogger for Android?

No, there is no such thing as "Free Keylogger for Android." They may not come with an upfront cost, but after a free trial, you'll get billed anyway.
Do keyloggers show passwords?

Nothing is secure from uMobix Keylogger. We capture all passwords entered by your child and transfer this data to your userspace.
How many types of keyloggers exist?

The term "Keylogger" means a record of everything that is entered through the interface: keyboard, phone screen. Keylogger tools log keystrokes and store them. All such programs may differ only in their functionality, but they're mostly constructed for the same purpose.
Ready to begin?